To help bring awareness to the U.S.-recognized Mental Heath Awareness Month, Alo Yoga has added 11 new avatar items to its Alo Sanctuary experience that can all be obtained for free during the month of May. This isn't the first time that Alo Sanctuary has offered free items to its players, with the brand originally implementing a different set of free avatar items upon its debut in Feb. 2022.
Alo Sanctuary free items
The 11 new items added to this experience and how to obtain them are listed below. For a more detailed walkthrough, continue reading past this list.
Completing meditation sessions
In order to collect all of the items that require meditation sessions, you'll need to visit the Mediation Hall once a day for up to 20 days, depending on which items you're interested in unlocking. This hall is located to the right of the Alo Store.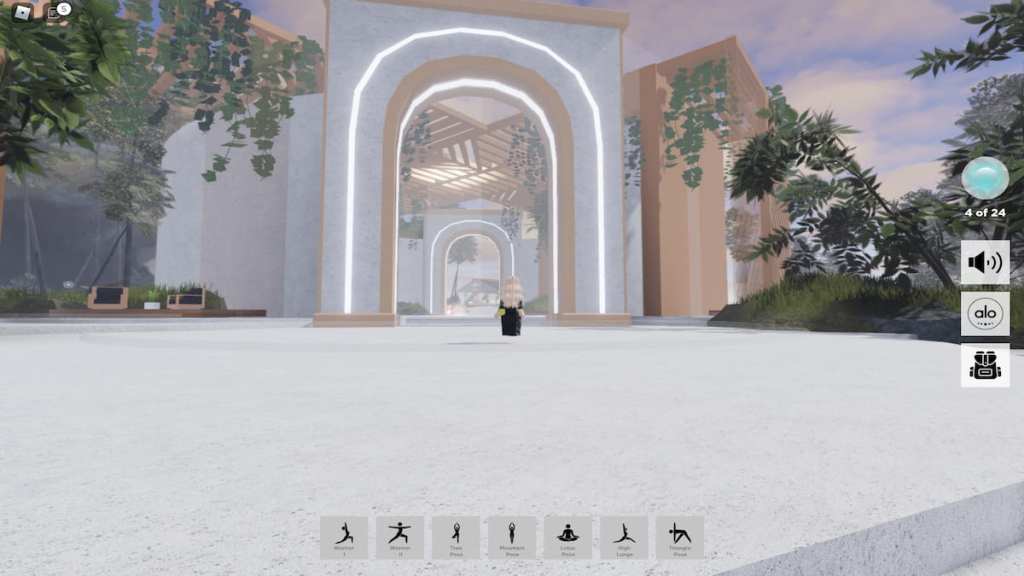 To begin meditating, walk through the large archway and approach the platform surrounded by water. Once you've stepped onto the platform, you should see an interaction button appear that says Begin Meditation—press E to do so.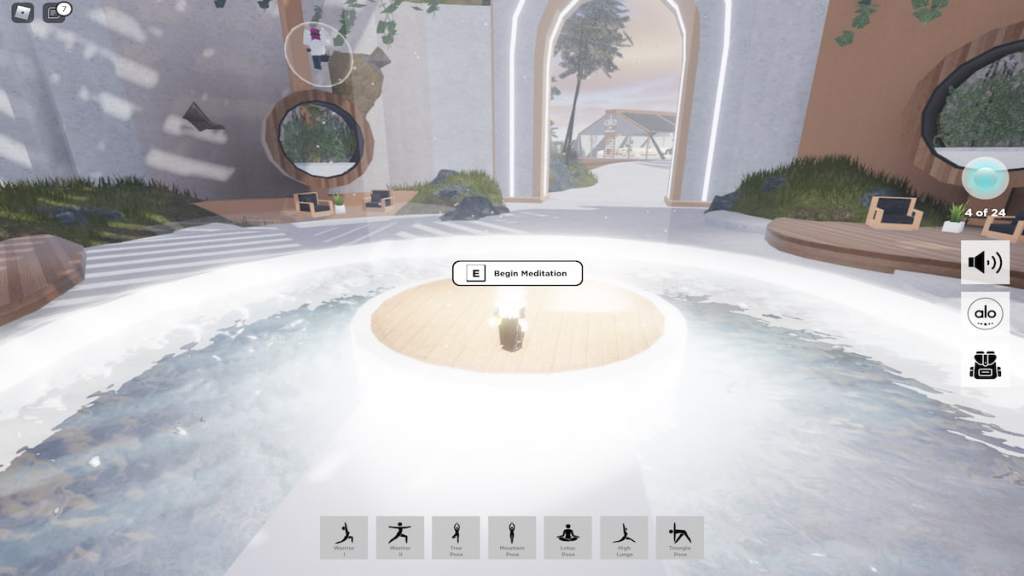 After pressing E, the Mindfulness Meditation menu will appear. To earn the two tie-dye yoga mats and white trucker hat, select each of the bottom three options, Accessing Motivation, Navigating Stress, and Developing Self-Compassion, at least once. Upon sitting through each of these meditation sessions, you will earn the three corresponding avatar items.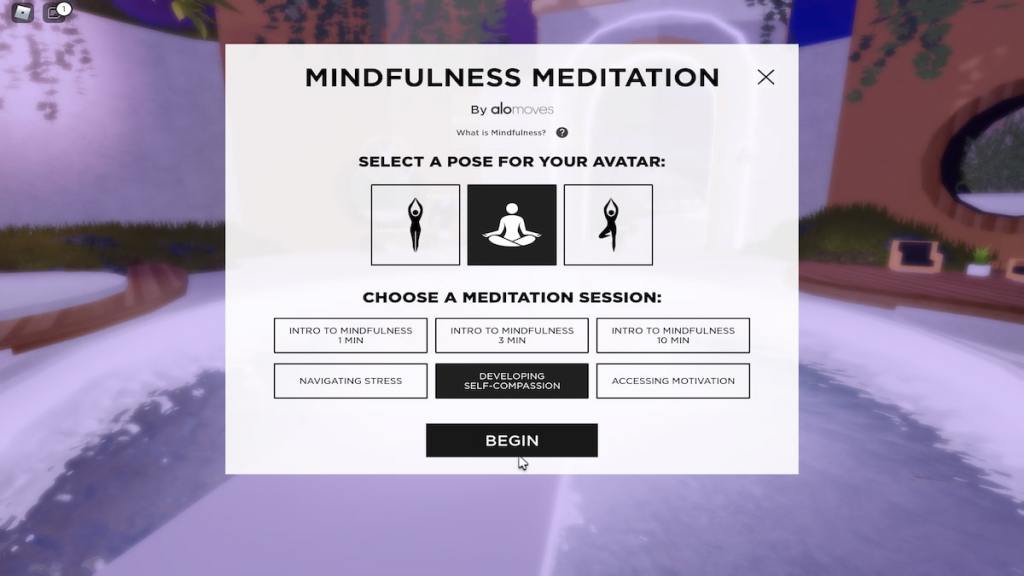 To earn the other three meditation items, the Black Renown Crewneck Pullover, Black G.O.A.T Jacket, and Quilted Arena Set, you'll need to return to the Meditation Hall and meditate using any option for five, 10, or 20 days. These days do not need to occur in a row, so don't worry if you miss a day!
Related: Roblox Promo Codes List (May 2022) – Free Clothes & Items!
Collecting daily affirmations
In order to collect daily affirmations, you'll need to find the Daily Affirmation Stone. This task is a bit more difficult than meditating, as the daily affirmation stone appears in a new location every day. To find the stone and obtain your affirmation, you'll need to explore the map high and low. An example of the stone's location can be found below.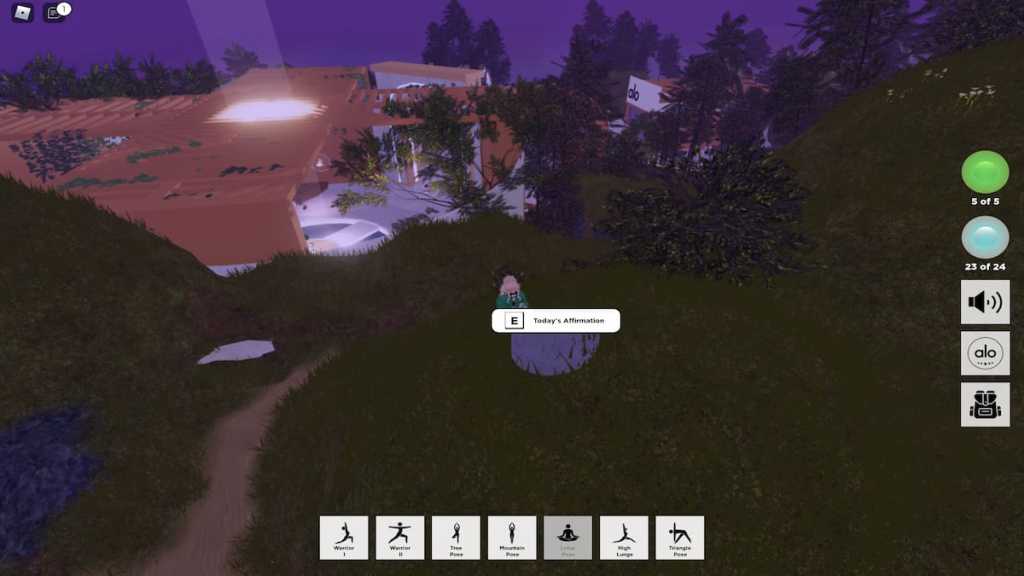 Once you'e found the stone, simply walk up to it and press E—doing so will trigger an audio that gives you a daily affirmation. In order to earn the Affirmation Crown, Sprinter Jacket, and Ombre Set, you'll need to find this stone once a day for either three, 10, or 20 days. Similar to the meditation sessions, the 20 days of finding the stone do not need to occur in a row, so there's no punishment if you miss a day.
Tracking progress
To track your item collection progress at any item, locate and click on the Alo button on the right-hand side of your screen. Doing so will open the Achievements menu where you'll be able to see all of the currently attainable items and your updated progress toward unlocking them.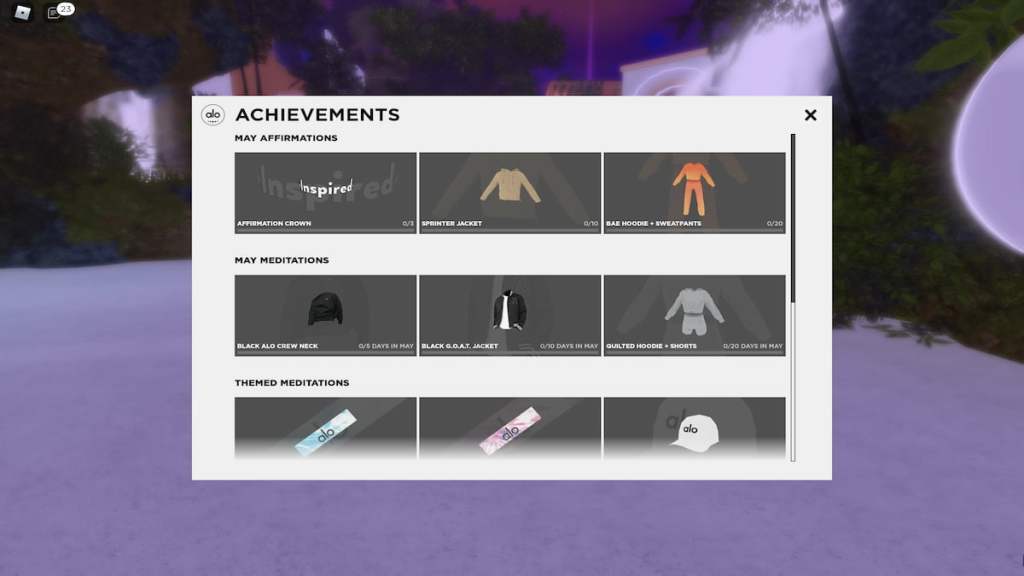 End
If you follow this guide, completing all of the steps above, and don't immediately see your rewards in your inventory, don't be discouraged! Event badges and their corresponding items can take hours, days, or even weeks to appear in player inventories, so it's likely not an issue on your end, but rather a glitch in Roblox's process. These items should appear in your avatar inventory within the next week, if not sooner.
Looking for more Roblox content? Check out our recent guides on How to get the Cinnamoroll Backpack in Roblox My Hello Kitty Cafe or How to get the free Luchador Champion avatar item in Roblox!