In Raise a Floppa, you devote yourself to raising and taking care of your pet Floppa, while also carrying out essential tasks to keep your Floppa well-fed, safe, and happy. In fact, keeping Floppa's happiness levels high will increase the amount of money you earn from clicking on him. Therefore, players should always make sure his happiness meter is over 100% at all times to ensure double earnings.
There are two ways you can increase Floppa's happiness meter—by petting him or feeding him food. While you can buy milk and ready-made food from the virtual computer's shop, there is also the option to buy separate ingredients, and make a meal for Floppa by using the oven. These specially prepared meals increase Floppa's happiness exponentially and allow you to make huge bucks in the process. In this guide, we'll tell you all the food recipes, and how to get them, in Roblox Raise a Floppa.
Where to get all recipes and ingredients in Roblox Raise a Floppa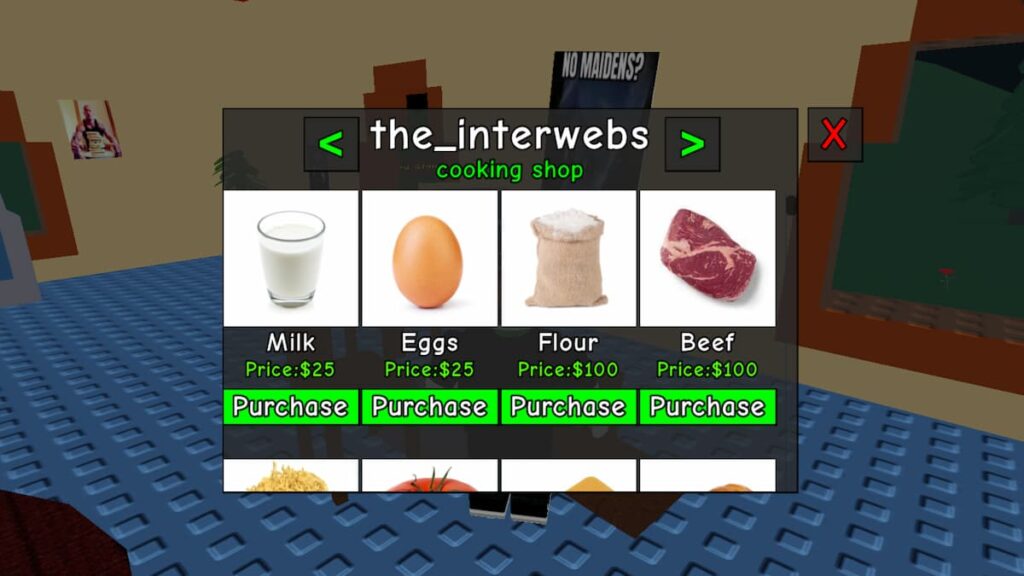 In order to buy ingredients to prepare food, you need to visit the shop from the virtual computer. Simply open the Interwebs and go to the Cooking Shop section. Here, you will find items like milk, tomato, cheese, bread, and various other ingredients. Various combinations of these ingredients, along with varying degrees of heat in the oven, will determine which food you get.
How to use the Oven in Roblox Raise a Floppa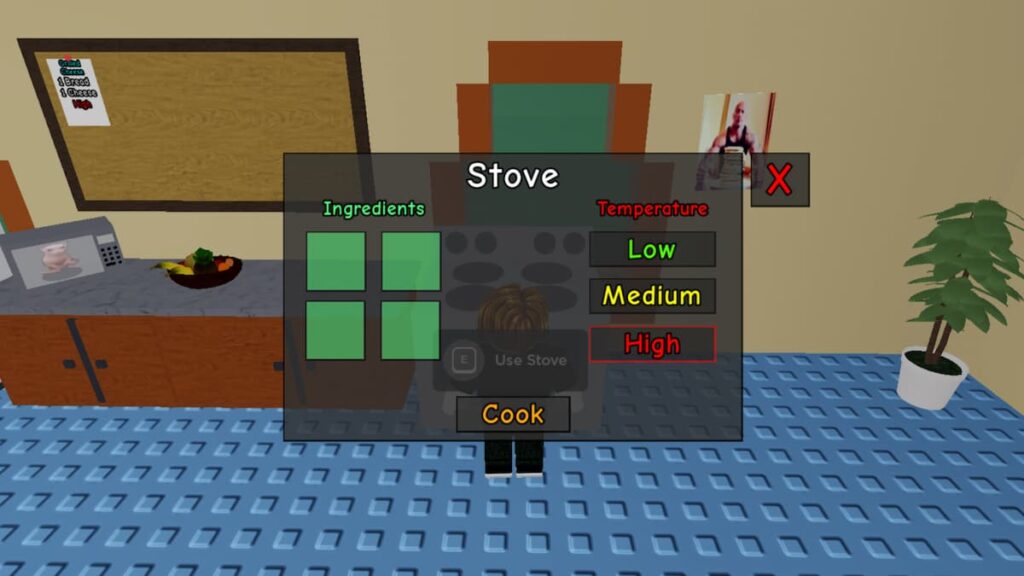 Using the stove in Roblox Raise a Floppa is fairly straightforward. All you have to do is approach the oven, and then select the Use Stove function. Then, add the ingredients, set the heat level, and wait for the food to cook. There are a total of four ingredient slots in the oven, and three heat settings—low, medium, and high. Low temperature takes 60 seconds to cook, medium takes 40 seconds, while high takes 20 seconds. Be careful to set the correct heat temperature for the recipe, otherwise, you might end up with burnt food.
All Recipes in Roblox Raise a Floppa
| Food | Ingredients Required | Heat Temperature | Happiness |
| --- | --- | --- | --- |
| Grilled Cheese | 1 Bread, 1 Cheese | High | +110 |
| Salad | 2 Lettuce, 1 Tomato | High | +110 |
| Ramen | 1 Noodles, 1 Egg, 1 Soy Sauce | Medium | +125 |
| Spaghetti | 1 Beef, 1 Tomato, 1 Noodles | Medium | +125 |
| Pizza | 1 Flour, 1 Tomato, 1 Cheese | Medium | +125 |
| Mac and Cheese | 1 Noodle, 1 Milk, 1 Cheese | Medium | +125 |
| Cake | 1 Egg, 1 Milk, 1 Sugar, 1 Flour | Low | +150 |
| Burger | 1 Bread, 1 Beef, 1 Lettuce, 1 Tomato | Low | +150 |
| Space Soup | 2 Meteorite, 2 Almond Water | Low | +300 |
While every ingredient can be bought from the Cooking Shop, Meteorites and Almond Water are pretty hard to come by. You will find Meteorites after a meteor shower at night time. For Almond Water, you will have to use the Black Market located inside the Backroom. You can also get Almond Water by fishing, but the chances of you finding a bone for Chop is higher. Cooking all nine recipes will grant you the badge Bone App The Teeth.
Looking for the Time Cube to unlock the ending in Raise a Floppa? Check out How to get the time cube in Roblox Raise a Floppa, here on Pro Game Guides.