There are loads of towers to collect in your inventory in Tower Defense Simulator. Some of these towers, however, are unobtainable from the Shop, like the Cowboy. This unique tower can only be unlocked by completing a particular map. Find out how below!
---
---
How to get Cowboy in Tower Defense Simulator
To get the Cowboy in Tower Defense Simulator, you must beat the Badlands Map on Fallen mode. Molten mode is equal to normal, Golden to hard, and Fallen to extreme. The Cowboy used to be obtainable on Molten mode, but was made more difficult to unlock in an October update. The Cowboy tower most definitely cannot be unlocked on Easy mode, either.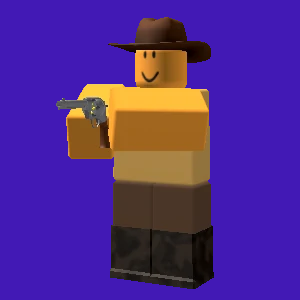 For Badlands to be considered triumphed, you must survive all 40 rounds. The map becomes more difficult as you advance, with stronger waves of enemies appearing in more numbers. You will need to react fast, add as many towers as possible, and upgrade your towers the further you progress. If you're playing with a team, then proper communication is key - don't be afraid to use chat.
There really is no "right" way to complete the Badlands map, as it depends on the type of towers you (and your team) have in your inventory. With that said, we've gathered some strategic tips to help make the process easier. Check them out below:
Build farms as soon as you have enough towers on the field. Farms generate extra cash, and the more you build, the faster your cash will increase over time.

Place farms away from roads so that towers have room to defeat zombies.
Upgrade your farms for additional cash.

Fully upgrade your towers. This will make them as strong as possible to take down zombies, which you will need the further you advance.

Sell useless towers when necessary, to replace the field with even stronger towers.

If playing with a team: communicate! Everyone should have a role. Divide the map into sections per player. If your section is taking extra hits, speak up for assistance.
When you've completed Round 40, you will receive a Badge for completing Badlands and obtaining Cowboy. The Cowboy tower will be in your Inventory when you return to the main hub.
If you're looking for codes for other games, we have a ton of them in our Roblox Game Codes post! You can also get a bunch of free stuff via our Roblox Promo Codes page.