Roblox Bot Clash is an exciting sci-fi adventure where players can collect various rarity bots with their unique abilities and fight opposing bots as they venture into the large, fascinating world. Coins and Gems are an essential in-game currency that players need to upgrade their abilities, purchase new bots, and unlock fresh locations. While Coins might be easy to obtain, the more rare currency, Gems, can be a little more challenging to save up. Here's how you can get some as quickly as possible!
Head to the Shop
Buy the VIP Pass
If you're really trying to get significant amounts of Gems without any extra hassle, heading to the Shop menu and purchasing the VIP Pass is the best thing you can do. This Pass will make getting all currency much more straightforward and allow you to collect 200 Gems every day. It will only cost you a one-time purchase of R$ 399.
Collect and buy Gems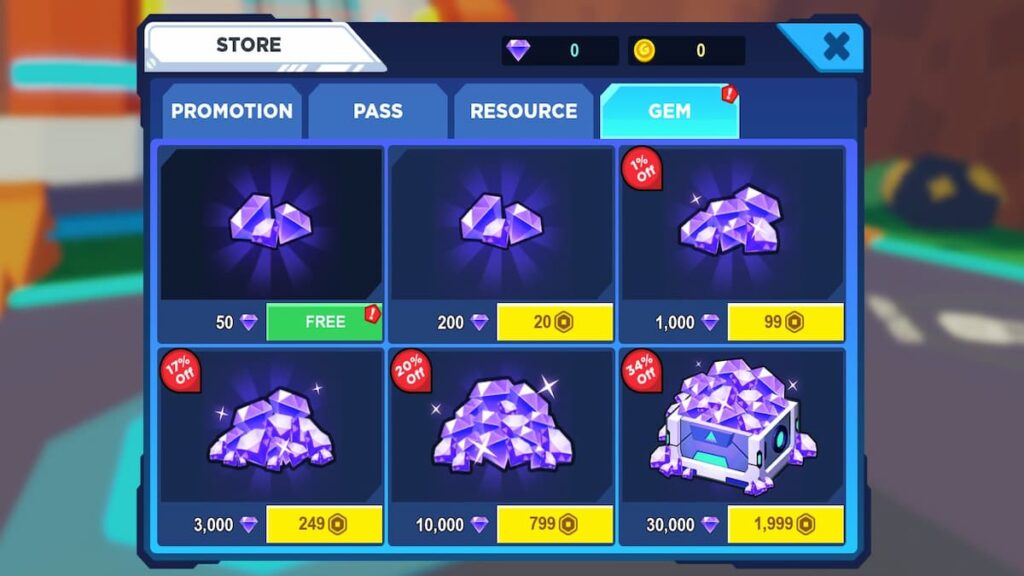 If you're looking for a one-time purchase of a large number of Gems for a lesser cost of Robux, then heading over to the Gem tab in the Shop is a better option. You can buy large amounts of Gems, and it will cost you less than purchasing the VIP Pass––R$ 99 for 1,000 Gems. This page will also allow you to redeem some free Gems every day!
Related: How to get Coins and Gems fast in Roblox Survive the Killer
Check Promotions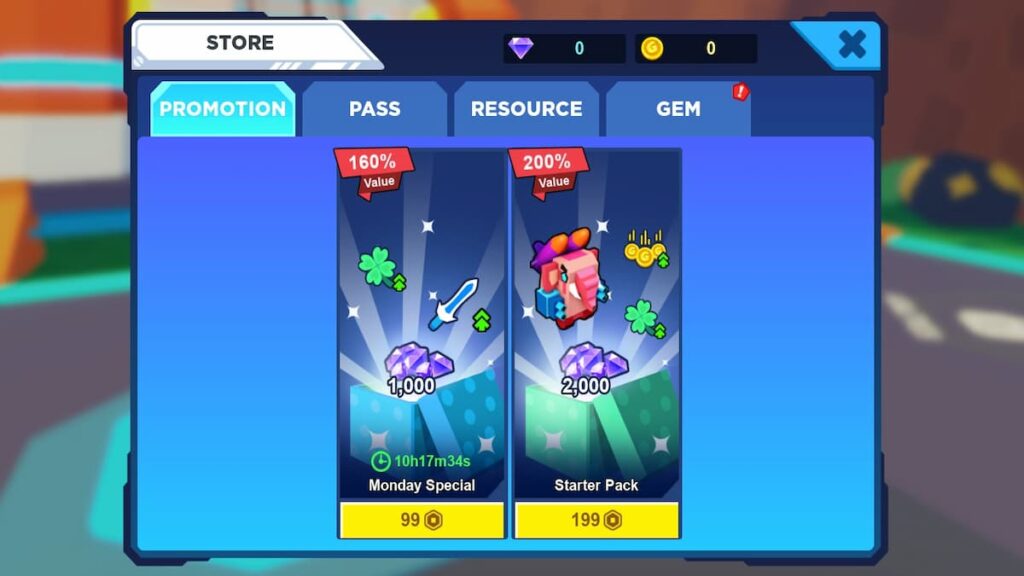 While you're in the Shop, check out the Promotion page whenever you can. Sometimes you will find terrific deals that will be more beneficial than solely purchasing Gems. Such as this Monday Special for R$ 99 that gets you 1,000 Gems and some added other bonuses, or the Starter Pack that includes even more great items for a low cost!
Complete Tasks
Achievements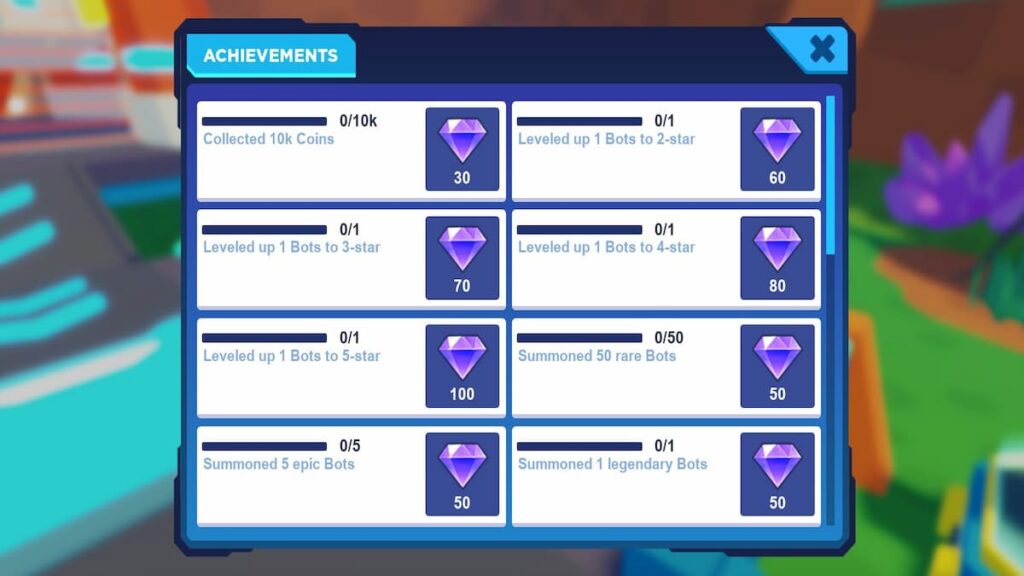 What's great about Bot Clash is that you don't have to spend Robux to earn Gems! You can earn some Gems in-game by completing different tasks such as completing Achievements. You can check out these various tasks by clicking on the medal icon on the left side. These are relatively easy things for you to work toward as you play and can add up to a grand sum of Gems without spending a cent!
Fight Enemies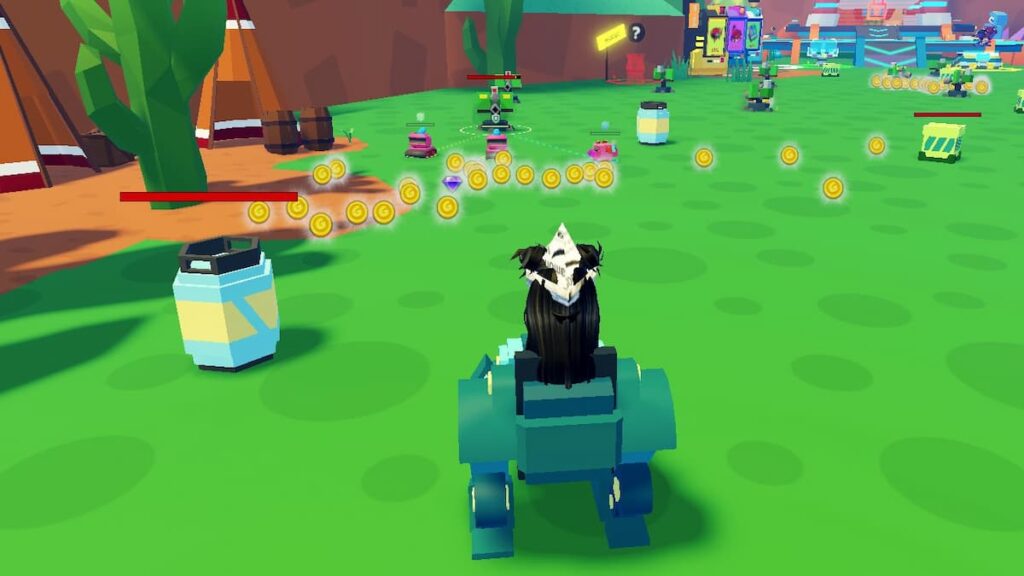 Another easy way to earn Gems is to start battling some enemies. They have a chance to drop a few Gems once in a while. That means the more you are fighting, the more Gems you are likely to collect this way. You'll see the little purple Gems that hover over the floor after defeating an opponent, and to collect them, you simply have to step over them.
Check Boost Stats
Upgrade your Abilities
Another excellent way to increase your Gem supply is to upgrade your Abilities. You can increase the income of Gems that you receive from battles by purchasing an upgrade. Head over to the Space Ship in the starting area and step on the Abilities circle. From there, you use some Gems to buy the upgrade. While it may seem counter-intuitive to spend Gems to get more Gems, it will be worth it in the long run because you will end up receiving more significant amounts.
Play During an Event
It's also a great idea to keep an eye out for events taking place in the game. These events can sometimes offer unique bonuses such as better Gem Drops. While you are in the Abilities menu, switch over to the Boost Stats, and from here, you can identify all the boosts currently in effect. If you're looking to make some big Gems, playing during an event is a great time to do that!
These are some of our methods on how you can collect Gems quickly in Bot Clash, but there are so many other of the best Roblox games covered right here on Pro Game Guides for you to check out!
Looking for more Pro Game Guides Roblox content? Check out our guides on How to get all free items in Roblox Tommy Play or How to get secret fighters in Roblox Anime Fighters Simulator!