Having the strongest, rarest, and coolest pets is one of the most, if not the most, alluring parts of Pet Simulator X, and many players will do just about anything to get their hands on them. From remaining in-game for numerous hours, to paying real money for toys that have exclusive codes—the lengths that players will go to get their hands on a special pet can be pretty wild. In the case of the exceptionally rare Huge Meebo in a Spaceship pet, hopeful players will need a hefty amount of patience and a whole 'lotta luck.
How to unlock the Huge Meebo in a Spaceship pet in Pet Simulator X
Before we begin, it's important to mention that the Huge Meebo in a Spaceship pet is unlocked completely by chance and cannot be purchased with Robux or hatched from an egg. Instead, this pet is a rare reward connected to the in-game Daycare Center. Each time you place pets in the Daycare, whether you use the one in the Trading Plaza or in the Shop biome of Spawn World, there's a very, very, very small chance you'll be awarded with the Huge Meebo in a Spaceship pet upon removing them.
If you've never used the Daycare before, that's ok, we'll go over it briefly below.
How to use the Daycare in Pet Simulator X
As mentioned above, a Daycare Center can be found in both Spawn World and the Trading Plaza.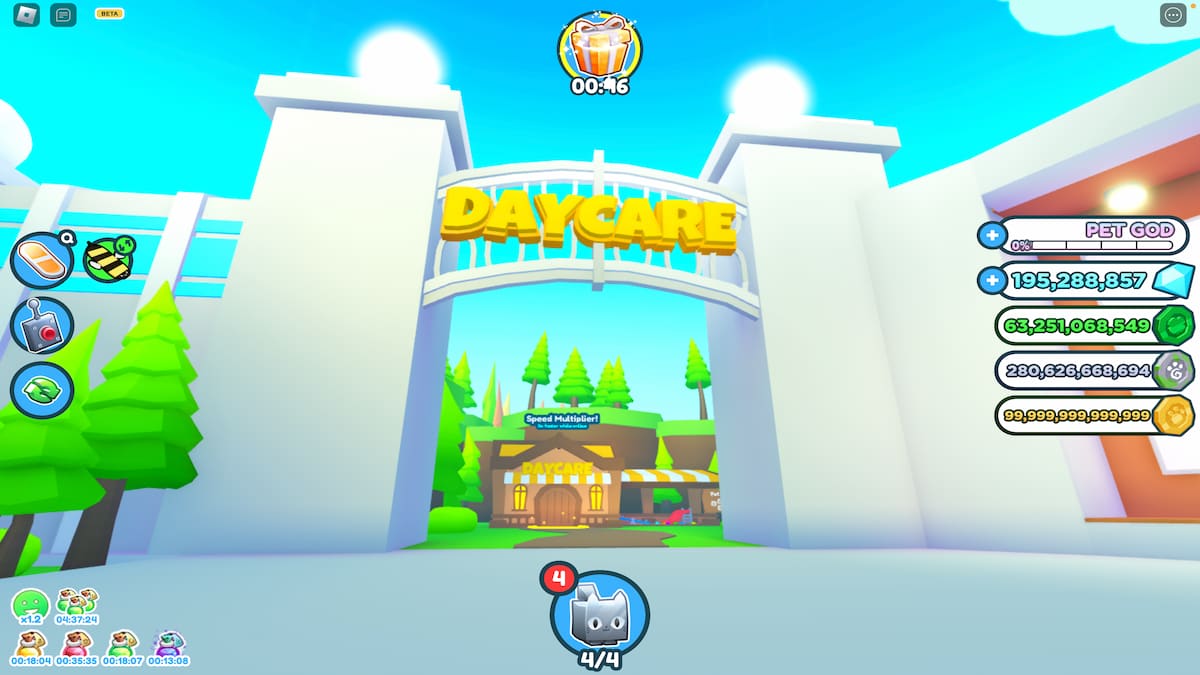 To use the Daycare center, walk into the circle in front of it to open its menu. Then, simply select up to 10 pets from your inventory (excluding Huge and/or Exclusive pets) that you want to leave at the Daycare. The more pets you choose, the better loot you'll receive upon picking your pets back up. Be sure you're ok with the pets you're leaving behind, however, as they cannot be removed until the Daycare has watched them for six hours.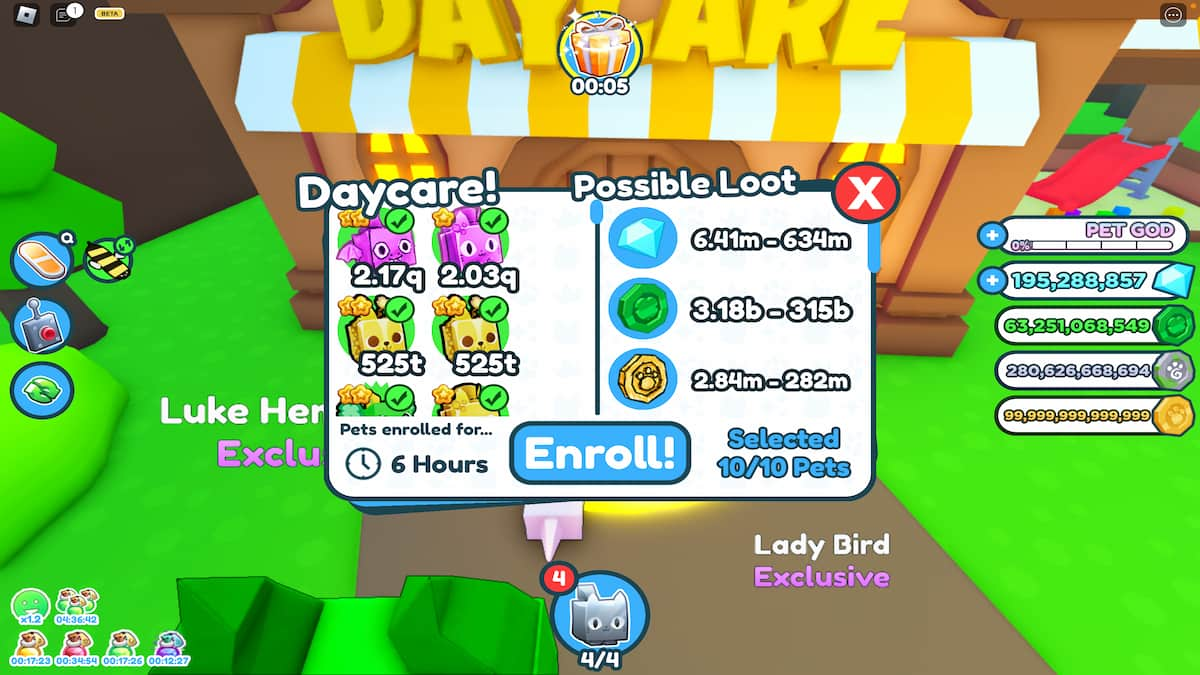 When the six hours are finished, return to the Daycare, pick up your pets, and collect all the loot they earned for you. If you're lucky, and we mean lucky, you'll earn the Huge Meebo in a Spaceship pet along with the normal loot.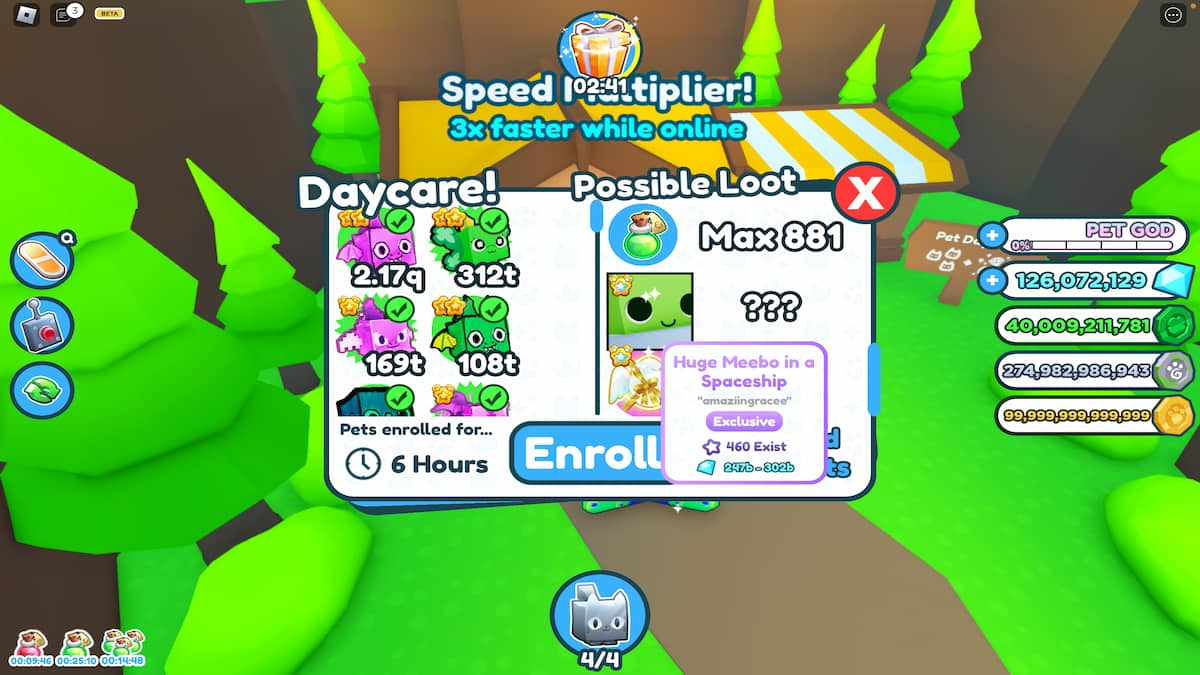 If, by some miracle, you manage to unlock this pet, guard it with everything you've got! At the time of this article's publication, only 460 players have one of these pets, which makes it one of the rarest in the entire history of Pet Simulator X!
Looking for more Pet Simulator X content? Check out our recent guides on How to get the Cat Royalty Achievement in Pet Simulator X – Roblox or How to get the Huge Inferno Dominus pet in Pet Simulator X – Roblox here on Pro Game Guides!