A One Piece Game, inspired by the anime series One Piece, deserves to be on the list of Roblox's best anime games, with its vast open world and many opportunities and abilities to discover. Become a powerful fighter as you collect unique fruits that give you skills or purchase weapons to fight enemies and bosses. As you level up, you will find more potential and increase your stats so you can sail further into the seas on your own boat. With the 100Mil event coming to the game, there are plenty of new things to explore––including a whole new event island. You can claim special gear, such as the Hundred Million Sword and 100Mil Dominus, but there is no guarantee they will be around forever, so here's how you can get them ASAP.
How to get the Hundred Million Sword in A One Piece Game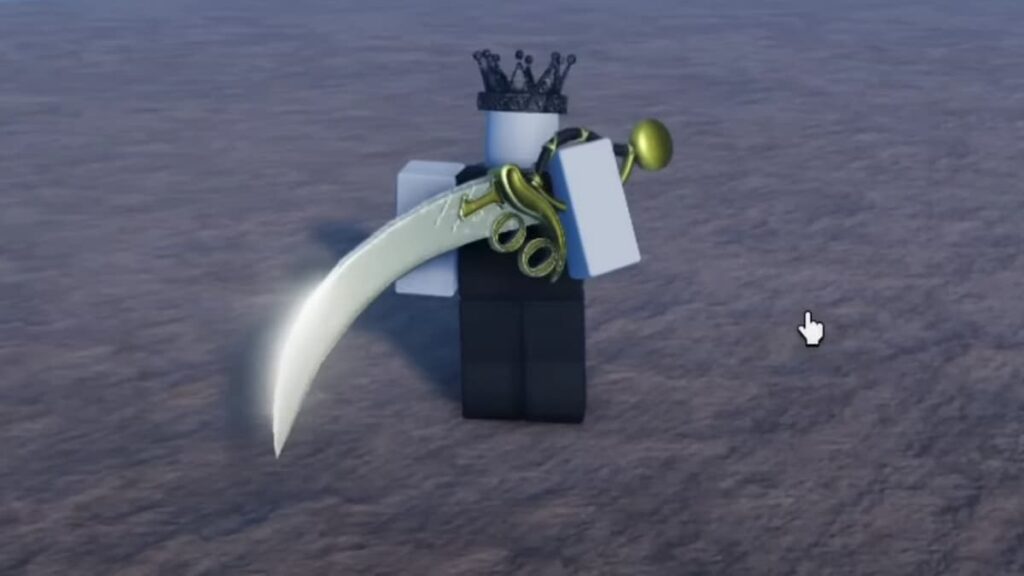 The Hundred Million Blade is a powerful weapon added in the game for the event, with a curved Schmitar look styled with a gold 100 handle. The sword is mighty but not entirely on the offensive side of things, as more defensively. It is equipped with abilities such as Boss Heal and Healing Flames, allowing players to heal fully or continuously during a fight. While it does primary 50k to 90k Cut attacks and up to 300k with Explosions, the defensive stats behind it make it so great. You can now grind big bosses and not worry about taking damage. This sword will make you a tank, but to get it, you must first sail over to Hundred Million Island and take on a boss.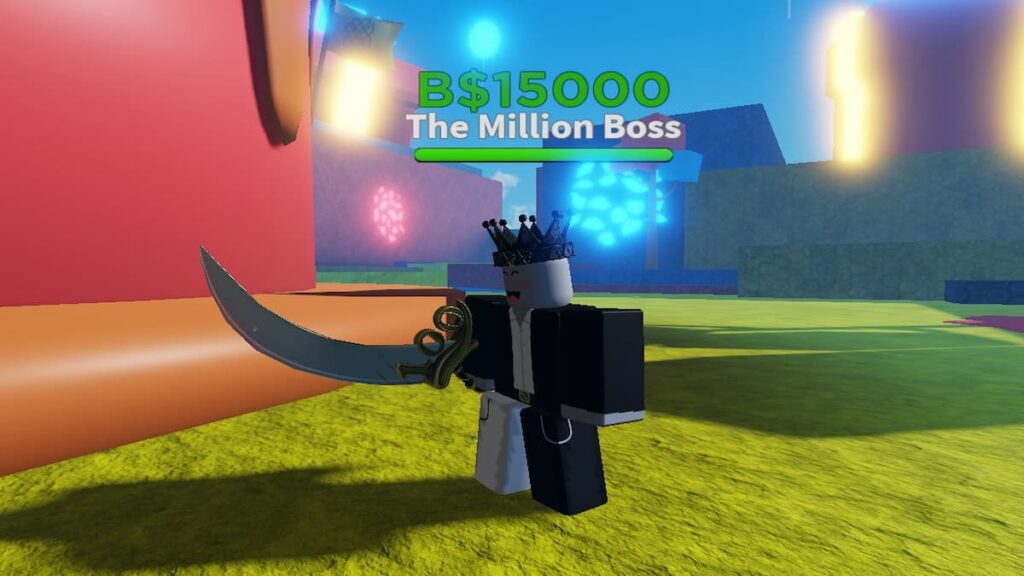 To get to Hundred Million Island, you may want to utilize an Island Tracker, but if not, you can find it by starting in the First Sea at Dawn Island and heading northwest from there or east from Starter Island. On the Hundred Million Island is The Million Boss, which is your key to obtaining the Hundred Million Blade. While the boss is not super difficult for high-level players, he does pack a punch, so be careful getting hit by him. There is only a 0.5% chance of drop from defeating him, which means you might have to fight him multiple times before that sword can be yours.
How to get the Island Tracker in A One Piece Game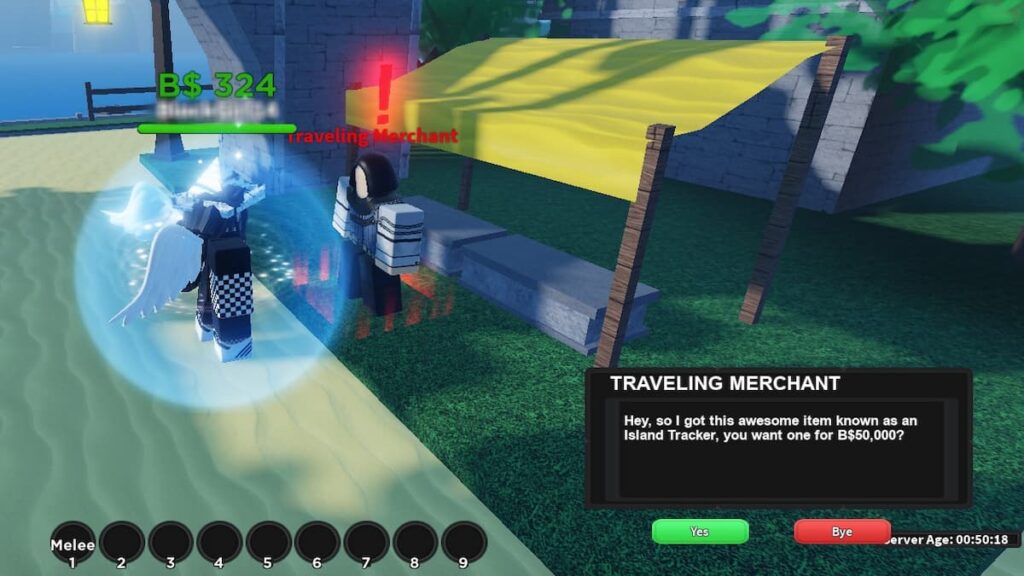 If you weren't successful with finding Hundred Million Island organically from Dawn Island, you might want to purchase an Island Tracker. This will lead you to any island through a red arrow compass, but you will need to buy it from a Traveling Merchant on various islands––such as Starter Island. It costs B$50,000, but well worth the price. The Tracker will lead you directly to the island effortlessly.
Related: A One Piece Game Codes – Beli and fruit resets! (July 2022)
How to get the 100Mil Dominus in A One Piece Game
The 100Mil Dominus is another of the event items in the game that dazzles with style. However, it doesn't do much for you stats-wise, as it's more of a cosmetic item than anything else. Still, your character will stand out from the crowd with this gear and match perfectly with the Hundred Million Blade. It's also a lot easier to claim.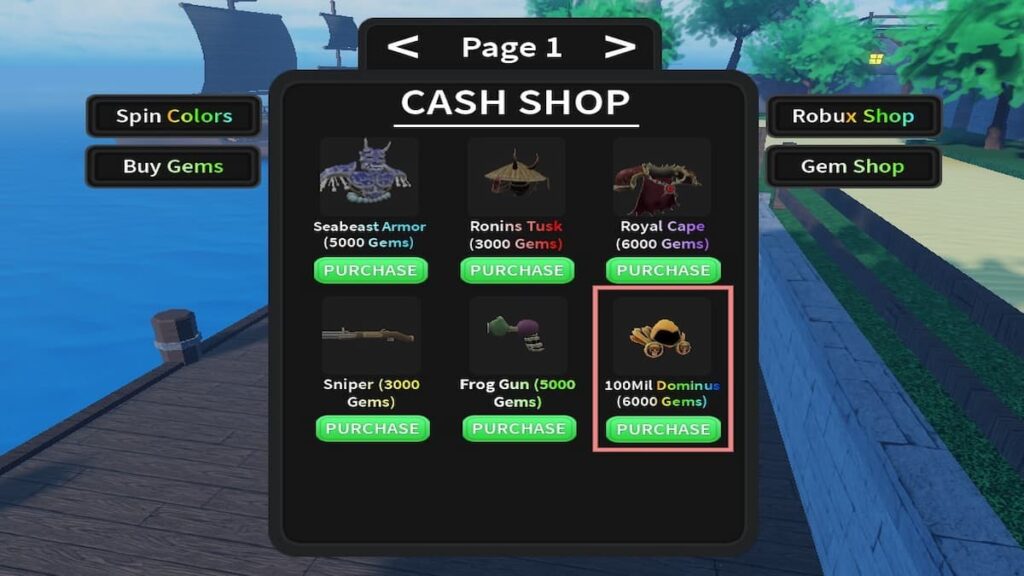 To get the 100Mil Dominus, you must open up the Shop menu. You can find this Cash Shop by pressing the Menu button on the left side of your screen, pressing the music note icon, and then selecting Gem Shop. Here you will find the option to purchase the 100Mil Dominus for 6,000 Gems. You will need to collect some Gems to purchase it, which you can quickly buy with Robux on the Buy Gems page on the left side of this menu.
This is how you can claim the special 100Mil event items in A One Piece Game. Let us know in the comments below if you collected them both and how much you like them!
Looking for more Pro Game Guides A One Piece Game content? Check out our guides on What is the A One Piece Game Trello Link? or Blox Fruits Codes – EXP boosts & money (July 2022)!