To boost up your slaps in Slap Battles, you're going to need to utilize the best gloves that you can. The best gloves can be difficult to get since it usually takes a while to grind slaps and reach the proper level to get them, or you'll need to earn a secret badge. The Quake Glove is one of those special top gloves in the game that, much like the Disarm Glove, you'll need to earn a badge to unlock it for use. The Quake Glove requires you to earn the "Blasting Off Again" badge, but you'll need some friends around to help out. Here's how!
How to earn the Blasting Off Again badge in Slap Battles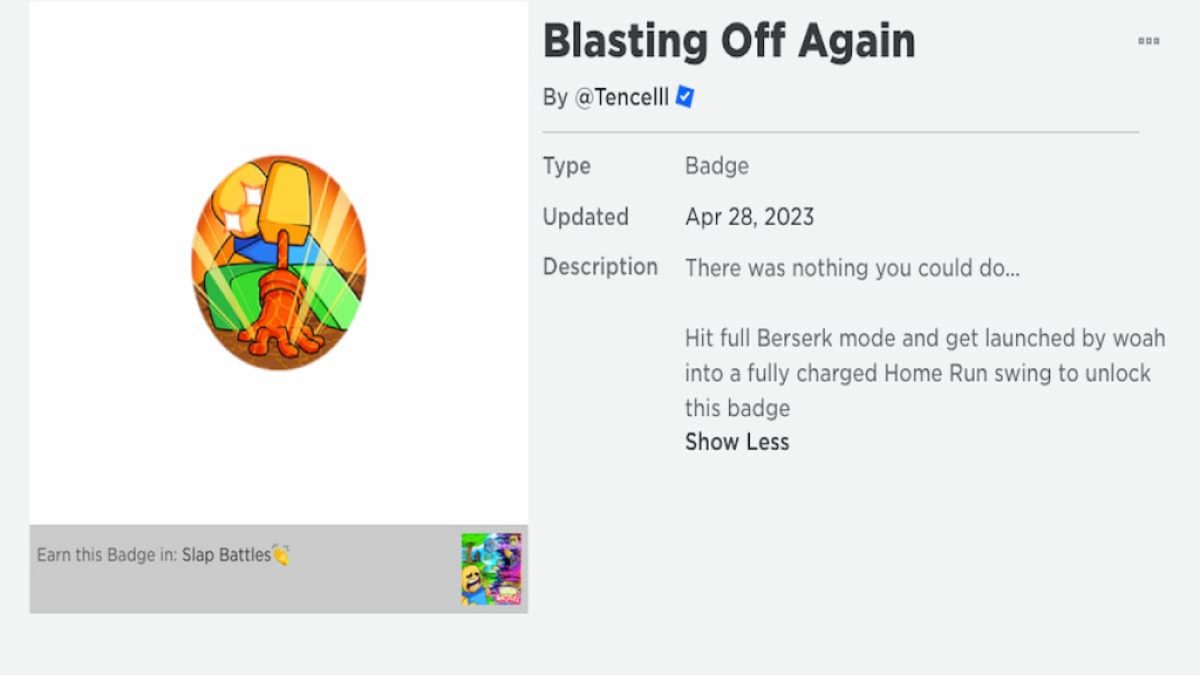 To unlock the special Quake Glove, you'll first need to successfully complete the requirement, which is to earn the Blasting Off Again badge. This is perhaps one of the trickiest badges to complete, especially if you usually play solo. You'll need two other friends with you to do it successfully, and you'll need to have the Berserk Glove unlocked.
Step one to earning the badge is to make sure you have the Berserk Glove equipped and ready to go in the arena. Then, have one of your friends equip the Woah Glove, and your other friend equip the Home Run Glove. Now all of you can head into the Normal Arena. The actions to earn this badge shouldn't be too complicated, but you'll need to make sure you complete them in the right order. First, ensure you are standing in the middle of the Woah Glove and the Home Run Glove. Then follow these step-by-step instructions to make sure you get it right:
Charge up your Berserk to Max
Active the Woah Glove to ragdoll you toward the Home Run Glove ( The Home Run Glove should be charging up their bat as much as possible during this)
Get hit by the Home Run bat and fly into the sky
If you've done those steps correctly, you should regen in the lobby and be notified that you have earned the "Blasting Off Again" badge. You should now be able to equip the Quake Glove.
The Quake Glove is a great slap to have, which charges up and stuns several enemies at a time by pounding them into the ground, literally. This leaves them open to several more slaps, allowing you to boost up your numbers without getting hit yourself. Depending on the player's health, it could also kill them instantly. So don't waste any time; get working toward that badge, and start using the Quake Glove today!
Looking for more Pro Game Guides Roblox Slap Battles content? Check out our guides on How to get the 🗿 badge in Slap Battles – Roblox or How to get the Error Glove in Slap Battles – Roblox!