The Bloxy Awards are back and appear to be bigger than ever, bringing with them a live lobby and musical guest Royal Blood. In the guide below, we've covered exactly what you need to do to watch the biggest Roblox live event of the year!
How to Watch the Bloxy Awards 2021
The Bloxy Awards are hosted once a year, and players interested in joining can do so on Saturday, March 27 at 2pm CST. Watching the live event is a fairly simple process and no doubt one you're used to as a Roblox player. To join in the fun, make sure you have Roblox installed on your device, and follow the game link on the official Bloxy Awards Game page. The lobby hub is currently open, so you can join in early!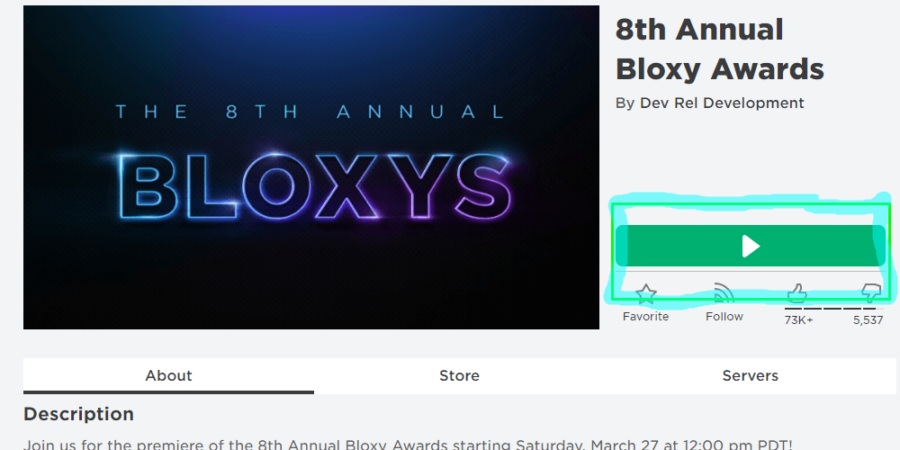 This year, they have the event set up like a normal Roblox game that you can join. When you select the Play button (shown in the image above), it will load Roblox and take you to the Bloxy Awards lobby. If you seem to be in a space-themed room with floating balls and blocks, you'll know you're in the right place. In the lobby, you can go on a treasure hunt to unlock secret skins, check out the additional features, or simply watch the clock count down to the event!
Related: Roblox All Star Tower Defense Codes (March 2021) - Pro Game Guides
For a sneak peek at whats in store, watch the video below!
The Nominees
For quick reference to the categories and nominees being presented during the Bloxys, check out the list below!
Best Game Trailer

Parenthood!
Tank Warfare
The Wild West
Tower Defense Simulator

Best Live Event

Adopt Me!
Arsenal
Jailbreak
RB Battles

Best Showcase

After Life
Graanhaven, Rotterdam
Lost Street
Totoro

Best Sleeper Hit

MegaMech
Outlaster
Super Doomspire
The Wild West

Best Use of Tech

Dragon Adventures
Mermaid Life
Super Golf!
Tank Warfare

Best New Game

Brookhaven
Islands
Outlaster
Piggy

Creator of the Year

BIG Games™
MiniToon
Nosniy Games™
Splitting Point Studios

Game of the Year

Adopt Me!
Piggy
Royale High
World // Zero

Best Video Content Creator

GamingWithKev
ItsFunneh
KreekCraft
Lyna

Mobile Game of the Year

Adopt Me!
BIG Paintball!
Piggy
Super Golf

Most Educational Game

Chess
Lua Learning
Space Sailors
Word Bomb

Most Immersive Experience

Bad Business
Dawn of Aurora
Dragon Adventures
World // Zero

Roblox Video of the Year

ElTrollino
FGTeeV
L0GinHDi
LankyBox

Xbox Game of the Year

Car Crushers 2
Driving Simulator
Phantom Forces
Piggy
Be sure to join the fun on Saturday, March 27 at 2pm CST! Use the following link to be taken to the Bloxy Award Game Page.
Did you know we've got the latest codes for Roblox Cosmetics? Check out our complete List of Roblox Codes for Free Clothes & Items!