Incremental games are all the rage lately, and if you're a fan of this game format and like Anime too, you're in for a treat because Idle Anime Simulator provides both. Enjoy beating simple opponents one by one as they spawn, going through levels, and earning money. You can also buy more powerful swords, boosts, and chests if you're feeling lucky!
The codes in Idle Anime Simulator provide the player with freebies, experience, and everything else needed to advance through this clicker game even faster. The game's developer will make them available promptly based on milestones and other time-specific events.
If you're into anime like us and are interested in more codes for Roblox games, be sure to check out our Anime Plush Simulator Codes, Anime Squad Simulator Codes, Anime World Tower Defense Codes, Anime Adventures Codes, and Anime Power Tycoon Codes.
All Idle Anime Simulator Codes list
Updated March 6, 2023

Updated our list of codes.
Idle Anime Simulator Codes (Working)
JOJO—Redeem this code for a free boost (Newest)
UPDATE3—Redeem this code for a free boost
ONEPUNCH—Redeem this code for a free boost
HUNTER—Redeem this code for a 10-Minute Damage Boost
NODELAY—Redeem this code for 300 Shards
VOLTRA—Redeem this code for 250 Gems (You must join the Voltra Simulator Roblox group)
S3CR3T—Redeem this code for 50 Gems
RELEASE—Redeem this code for Gold
Idle Anime Simulator Codes (Expired)
There are currently no expired Idle Anime Simulator codes.
How to redeem Idle Anime Simulator Codes?
Reclaiming codes for the Idle Anime Simulator is easy. If you are unsure how to do it, see the guide below.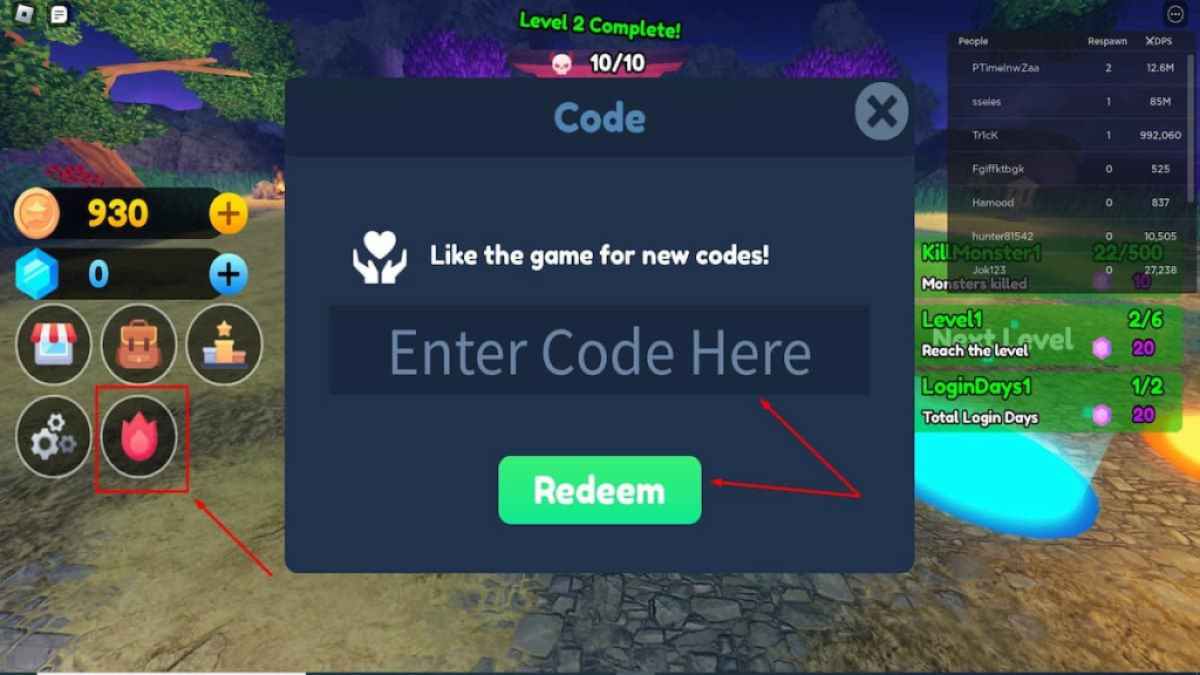 Launch the Idle Anime Simulator on Roblox.
Once you spawn in the game, press the button with a Fire symbol marked on the screenshot above.
Enter the code in the marked field and hit Redeem button.
How can you get more Idle Anime Simulator Codes?
You can stay up to date with the latest Idle Anime Simulator codes if you follow the game's creator, White Dragon Horse, on their YouTube Channel @whitedragonhorse2668. It's also a good idea to bookmark this page by hitting Ctrl+d, as we update all our code pages on regular bases.
Why aren't my Idle Anime Simulator Codes working?
There could be a few reasons your Idle Anime Simulator codes aren't working. First, make sure the spelling is correct and enter the code manually. Sometimes an odd character or extra space can get through when copy-pasting from a website. Also, remember that codes are usually time sensitive and sometimes don't last forever so claim the codes from our working list before you miss out on free rewards.
How to get Auto Click in Idle Anime Simulator?
Auto Click is a practical function in incremental games, and here is how to get one in the Idle Anime Simulator.
Once you spawn, press the Shop button on the left side of the screen.
Select the Passes sub-menu.
Click on the AutoClick upgrade to obtain it.
What is an Idle Anime Simulator?
Idle Anime Simulator is a simple anime-styled incremental game in Roblox. A player is presented with a single opponent that doesn't move or attack. The goal is to kill several opponents to progress through levels. A player can get upgrades such as better weapons and pets from the money he collects from fallen opponents.
If you enjoy Roblox and anime-styled games, take a look at our Roblox Game Codes section! Also, be sure to check out our Anime Dimensions Codes here on Pro Game Gu8ides.