Become the juiciest pirate of your dreams in Juice Pirates. This One Piece Roblox title takes after the popular anime and allows you to explore a delightful world. Defeat enemies and become stronger as you find and consume Devil Fruits for awesome powers.
Codes in Juice Pirates will give you various rewards like money, gems, and resets. Unfortunately, these codes have expiration dates, so you need to use them before they expired. We have compiled a list of active and expired codes for Juice Pirates below. Enter these for all sorts of cool stuff and become a pirate legend.
If you're looking for other Roblox content, check out Club Roblox Codes, Roblox Custom Minigames Codes, and Roblox Hunter x Athena Codes on Pro Game Guides. Browse and check out some of our other Roblox code guides to enjoy different Roblox titles.
All Juice Pirates Codes List
Updated June 7, 2023

No new codes today!
All Juice Pirates Codes List (Working)
Here are all active codes in Juice Pirates.
CHAINSAW MAN—Redeem for 15 Gems (New)
UTA UTA—Redeem for 15 Gems
FREE SPIN—Redeem for 3 Spins
Awake—Redeem for 1 Gem
NoFruit—Redeem for 5 Gems
ReSet—Redeem for a Stat Reset
Fruity—Redeem for 5 Gems
2KLikes—Redeem for 5 Gems
x2 epx—Redeem for 5 minutes of 2x XP
1KLikes—Redeem for 15 Gems
Shutdown—Redeem for 5 Gems
All Juice Pirates Codes List (Expired)
Here are all expired codes in Juice Pirates.
EZCRY—2,500 Currency
SBGamer—2,500 Currency
SEA FOUR—2,500 Currency
TANNY GOOD DEV—5 Gems
Ong—Stat Reset
10KVisits—Stat Reset
SirawitNoobDe—(We are unsure if this code is expired or simply didn't work for us)
Dinoz Cz—(We are unsure if this code is expired or simply didn't work for us)
Roblox Juice Pirates Codes FAQ
Here's everything you need to know about Roblox Juice Pirates codes.
How to redeem codes in Juice Pirates
Redeeming codes in Juice Pirates is incredibly easy and a fast way to earn money, gems, and reset your stats. Using these codes can fast-track you to becoming the King of the Pirates. Here is how to enter codes in Juice Pirates and get free stuff.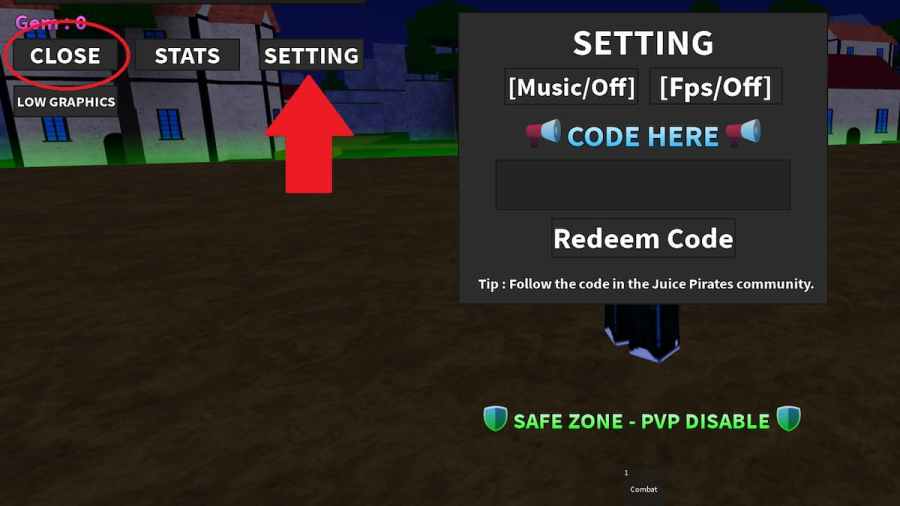 Click the Menu button (it is located where the Close button is after pressing it)
Select Settings
Input your code and hit Redeem
How to get more Juice Pirates Codes
Follow and join the official Juice Pirates Discord for codes and to interact with other players and the developer. As new codes are added, we will add them to this list and ensure the codes are up to date. Bookmark this page to stay updated and get free stuff from codes once they are released.
Why aren't my Juice Pirates Codes working?
Juice Pirates' codes are created by the developer, who also determines how long the codes are active. Because codes have an expiration date, you want to use them fast before they expire. If you find a code that no longer works, check its expiration date, spelling, and whether it is active yet. Come back to this page to see if any new codes have been added or have expired. If you notice that a code no longer works, please let us know so we can verify and update this list accordingly.
What is Juice Pirates?
This One Piece inspired Roblox title allows you to become a powerful pirate and climb the leaderboards. Explore the world of Juice Pirates, collect Devil Fruits, and earn awesome abilities to defeat various foes. Do you have what it takes to become King of the Pirates, or will you settle for being a simple sailor?
For more information on Roblox, check out Escape the Darkness Codes – Roblox and Roblox Super Golf! Codes on Pro Game Guides.