Run as fast as you can; there is a darkness at your heels in Escape the Darkness. In this classic version of a Roblox survival horror game, you and the rest of the players will have to outrun and outsmart the player designated to be the killer. As you level up, you will unlock powers to start fighting back against the killer. How long can you survive before the Darkness devours you whole?
You will need to get shards to get your character stronger and full of upgrades that include traps and powers to keep the killer at bay. The collected codes will give you shards to help you stay alive longer!
Do you enjoy the thrill of being hunted down, or do you like to do the hunting? These codes will help you survive longer in these Roblox games. Roblox Flood Escape 2 Codes, Roblox The Escape Story Codes, Roblox Guesty Codes, Roblox Banana Eats Codes, and Roblox Murder Party Codes.
All Escape the Darkness Codes List
Updated July 8, 2022

Added new info
Escape the Darkness Codes (Working)
Deeter—Redeem for 250 Shards
TeraBrite—Redeem for 250 Shards
Russo—Redeem for 250 Shards
Escape the Darkness Codes (Expired)
WELCOME-BACK—Redeem for 300 Shards
5000-LIKES—Redeem for 150 Shards
10000LIKES—Redeem for 150 Shards
Escape the Darkness FAQ, Answered
Follow our guides for all your questions on Escape the Darkness.
How to Redeem Escape the Darkness Codes
It's easy to redeem codes for free rewards in Escape the Darkness.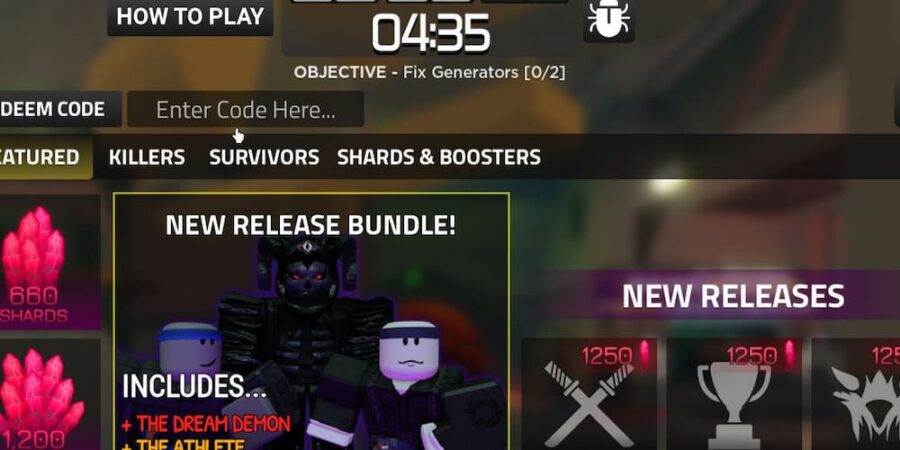 Just launch the game.
Press the Store button on the main menu.
Find the Code textbox at the top of the screen.
Enter the code. Hit Enter to redeem.
How can you get more Escape the Darkness Codes?
To get the latest for all your Escape the Darkness codes, follow the developer Bitware Games on their social media pages like Twitter @BitwareRBLX and the Bitware Games Discord Server. If you save this page, you will never miss another code release!
Why is my Escape the Darkness codes not working?
Escape the Darkness codes can expire in hours, so they need to be redeemed as soon as they are released. You could be misspelling the code into the text box. Instead, copy and paste the code from our list to make sure that your code is always correct.
What is an Escape the Darkness game?
In Escape the Darkness, you can choose one of two paths—the path of the survivor or the path of darkness. Team up with players to take down the killer or be the killer and take down all the players in the game. You can level up all characters and become more powerful as a survivor and the killer. Who will make it out of the darkness alive?
For the most up-to-date free codes to help you in all your Roblox adventures by going to the Roblox Promo Codes page. We have you covered when it comes to all things Roblox!