In KeLe Fruits, you can explore the world, fighting in different boss raids and collecting different types of Devil Fruits. Devil Fruits can grant you unique abilities that can be used on the field to fight enemies. Pirate enemies patrol different areas around the world, and you can defeat them easily to complete quests. Likewise, you can test out different abilities by fighting against the Kuma bosses located around the map.
If you are a Blox Fruits fan, then KeLe Fruits will be an exciting new experience. However, the grind to level up in this game can take a long time, and this is where you can use codes to get a good head start in the game. KeLe Fruits codes can be used to redeem essential resources like Gems, Beli, XP, and more. You can also spend Gems at the KeLe Bar to get a randomized Devil Fruit. If you love similar Roblox experiences, then check out Anime Fruit Simulator, Fruit Piece, Fruit Battlegrounds, and more on Pro Game Guides.
All KeLe Fruits Codes List
Updated April 3, 2023

No new codes today.
KeLe Fruits Codes (Working)
These are all the working KeLe Fruits codes.
200like—Redeem for 50 Gems
500like—Redeem for 50 Gems
ReStats—Redeem for reset stats
Loggia—Redeem for reset stats
ReSetBoat—Redeem for 50k Beli
SorryForShutDown—Redeem for 150 Gems, 50k Beli, 150 XP
KeLe Fruits Codes (Expired)
These are expired codes for KeLe Fruits.
100like—Redeem for 50 Gems
nonlnwza007—Redeem for 20 Gems
BewPakron—Redeem for reset stats
Related: Fruit Warriors Codes
How to redeem Codes in KeLe Fruits
Redeeming codes in KeLe Fruits is simple. Just follow the steps below.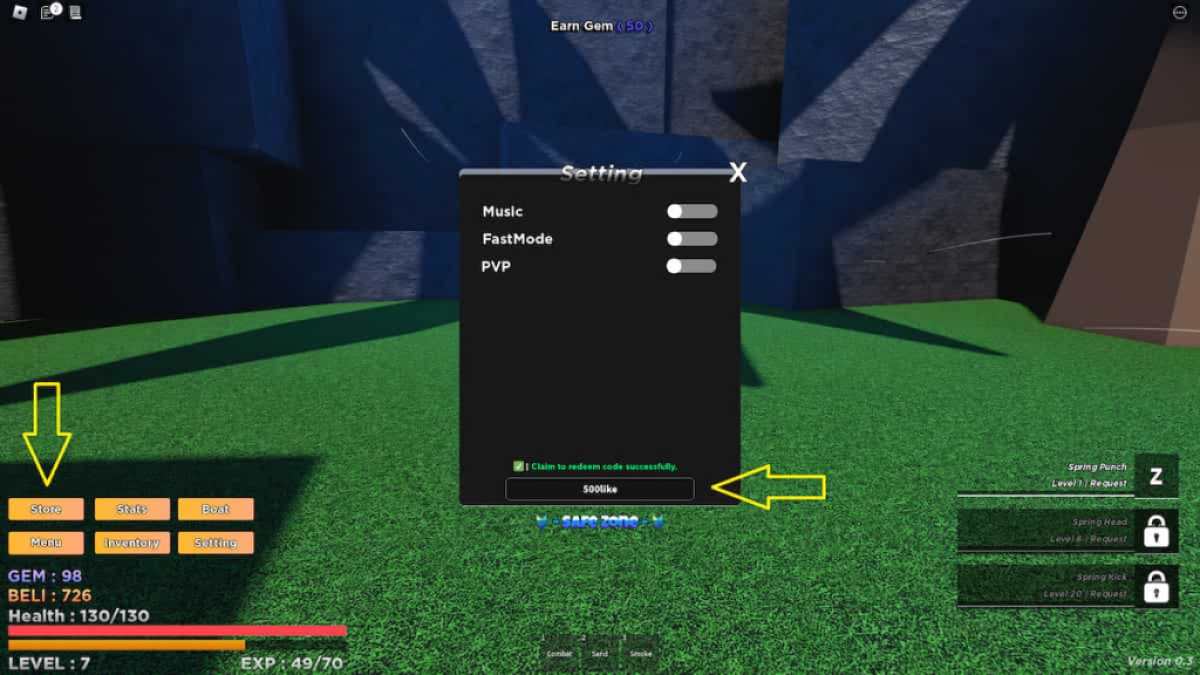 Launch KeLe Fruits on Roblox.
After spawning in-game, click the yellow Menu icon on the left side of the screen.
Enter the Working codes into the marked text field on the settings popup tab.
Press Enter to redeem the code and claim your free reward.
How can you get more KeLe Fruits Codes?
The most assured method to get new KeLe Fruits codes as they come out is to join the developer's KeLe Studios Roblox Group, subscribe to their YouTube channel @bewpakorn, and join the KeLe Fruits Community Discord Server. We make sure to keep our code articles up to date, and you can expect this page to be updated when the developers add any new codes! Press Ctrl+D to bookmark this page, and check back to see the working and expired codes list for KeLe Fruits!
Why are my KeLe Fruits Codes not working?
While KeLe Fruits codes can give you a lot of items in-game, sometimes they fail to work for various reasons. For instance, the codes you entered could be misspelled, typed incorrectly, or have missing characters. To help with this, you can directly copy codes from the website's list and paste them into the game. Similarly, some of these codes are available for a limited time and might expire later on. Codes released for holidays or other in-game events can expire quickly, so it's best to redeem your codes as soon as possible.
How to get extra rewards in KeLe Fruits
There are other methods to get some of these resources that you will need in KeLe Fruits. For instance, there are several chests scattered around the map that you can unlock to get Beli. Likewise, completing quests to eliminate pirates also rewards players with 100 XP and 200 Beli. There is also a method to earn Gems while remaining AFK in the game. After spawning on the map, visit the red platform in front of the house on the right side of the Kelebar. This is where you can stand to activate the AFK bonus, and you'll be rewarded with one Gem every 300 seconds.
What is KeLe Fruits?
KeLe Fruits is an Experience released by KeLe Studios for the Roblox platform. You can explore the map with your character and level up by gaining XP. Gems and Beli are two of the essential resources in the game. You can use Gems to purchase different types of Devil Fruits from the Kele Bar. The objective is to level up by fighting through various types of enemies, including Pirates, Kuma, Sea King, and others. Use the Devil Fruits to get amazing abilities that can turn the tide in any fight.
If you're looking for codes for other games, we have a ton of them in our Roblox Game Codes post! You can also get a bunch of free stuff via our Roblox Promo Codes page.