Update 1/13/2021 9am CT: 200/400 Robux options have been removed from the Redeem option.
---
Update 1/13/2021 8:55am CT:
This new promotion will only last until Friday, Jan. 15 2pm CT, as reported by Bloxy News. After the promotion ends, it is expected to return at a later date.
---
Microsoft has reinstated the free Robux promotion through Microsoft Rewards, this time through a new redemption system. The one-time 100 Robux promotion is no longer available. Instead, Roblox players with a Microsoft account may redeem Roblox Digital Codes by spending Microsoft Rewards points. This is a U.S.-exclusive promotion.
To redeem free Robux, all users must create a Microsoft account to access Microsoft Rewards. Users may earn points through various Microsoft Rewards activities, or by using the Bing search engine. Then, users may spend these hard-earned Microsoft Rewards points on Robux digital codes. Check out our guide for more detail.
The cost-per-points for Robux digital codes are as follows:
1,500 points = 100 Robux
3,000 points = 200 Robux
6,000 points = 400 Robux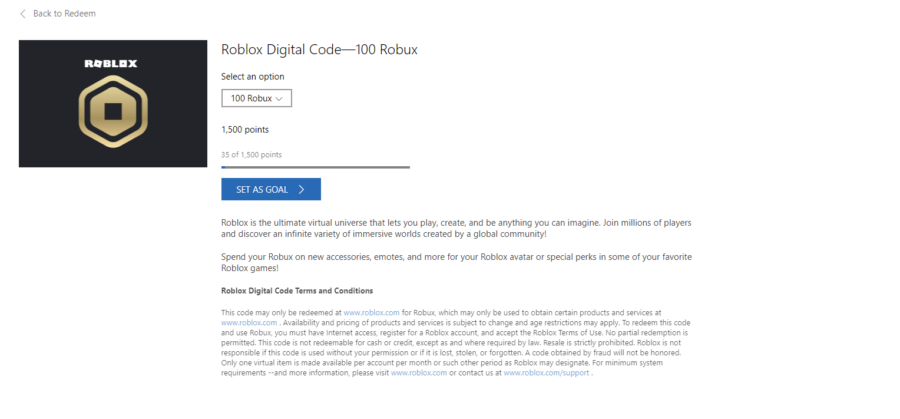 Of course, obtaining the free Robux will not happen as fast as the first Microsoft Rewards promotion, where users claimed 100 Robux with the instant click of a button. Going forward, users must earn their free Robux by participating in Microsoft Rewards activities and by using the Bing search engine. These options are an expensive amount of points, but the reward looks well worth it.
Many Roblox players were left disappointed, wondering why they couldn't get 100 free Robux when the original Microsoft Rewards promotion was discontinued a mere day after the Microsoft Rewards Robux promotion launched. Rumors swirled that certain players had abused the promotion by making multiple Microsoft accounts, thus claiming an unlimited supply of 100 Robux per account.
However, there was never any confirmation from Microsoft to substantiate those claims. Microsoft stated that they simply had simply ran out of codes. Either way, this new redemption program seems to prevent users from benefitting from multiple accounts.
---
Looking for more free Roblox goodies? We have a ton of them in our Roblox Game Codes post! You can also get a bunch of free stuff via our Roblox Promo Codes page.