Microsoft has re-instated the free Robux promotion through a new Microsoft Rewards system. Going forward, players may redeem 100, 200, 400, 800, or 1,000 Robux Digital Codes by saving enough points earned through Microsoft Rewards.
Update Feb. 18

More redemption points added
Promotion still going
This promotion is available only to U.S. players, it returned on Tuesday, Feb. 9 and there is no end date announced at this point. We suggest taking advantage of this promotion as soon as possible, as the Microsoft Rewards Robux promotion typically last for a few days!
What is Microsoft Rewards?
To get Robux for free in Roblox, you must sign up for Microsoft Rewards, a free program from Microsoft. You'll earn five points for every search on Bing.com, among many other activities detailed below. As you save up points, you'll spend them toward special offers within the Microsoft Store online and in Windows 10. Some of these rewards go toward:
Roblox Digital Codes.
Sweepstakes (toward a chance at winning an Xbox Series console, a Surface Pro X bundle, and more).
Xbox Cards: Xbox Live, Game Pass.
Several gift cards towards your favorite stores (Hulu, Dunkin' Donuts, Taco Bell, Starbucks, etc.).
Related: Roblox: How to get free Robux
Microsoft Rewards: How to get Robux for Free in Roblox (U.S. Only)
Disclaimers:
Microsoft only offers this Roblox promotion to U.S. players.
You no longer need to be a first time Microsoft member. Users with existing Microsoft accounts will still be able to redeem Roblox Digital Codes.
Here's a look at how to get Robux for free in Roblox through Microsoft Rewards:
Sign up for Microsoft Rewards.
Complete Microsoft Rewards activities to earn points. See the various ways to earn points below.
Got to the Redeem page when you've earned enough Microsoft Rewards points.

You must have earned 1,500, 3000, or 6,000, 12,000, or 15,000 Microsoft Rewards points.

Click the Roblox Digital Code option.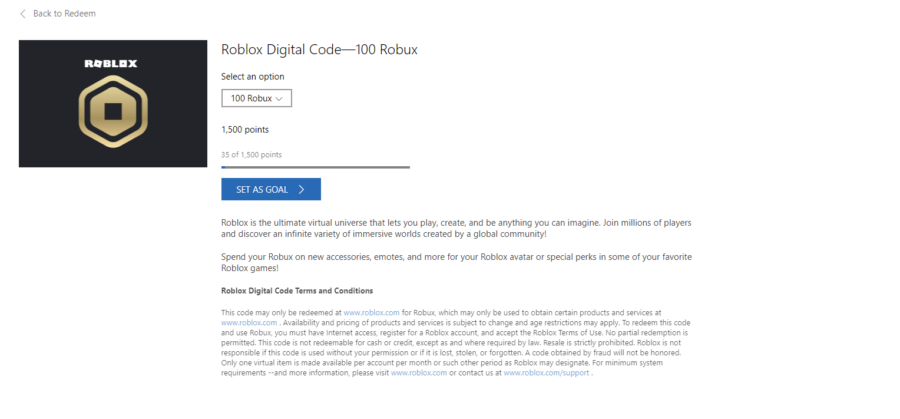 Choose the amount of Robux you wish to redeem. Confirm order when ready.

Your Robux eGift Card will be sent as an email.

Go to Redeem Roblox cards.
Enter the PIN that was provided in your email and complete the Verification.
Your free Robux will show up in the top-right corner of the Roblox client.
Related: How to redeem Roblox Gift Cards
Roblox Digital Codes Price List
Here's a look at the Price List for the Roblox Digital Codes. You can choose between three tiers of Robux, depending on how many Microsoft Rewards points you have saved.
The cost-per-points for Robux digital codes are as follows:
1,500 points = 100 Robux
3,000 points = 200 Robux
6,000 points = 400 Robux
12,000 points = 800 Robux
16,000 points = 1,000 Robux
These options are an expensive amount of points, but the reward looks well worth it.
How to Earn Microsoft Rewards for free Robux
Here's a look at all the ways you can earn points in Microsoft Rewards:
Complete the Daily set activities.
Complete all the activities in the "More activities" section.
Complete quests and punch cards.
Earn five points for every search you make on Bing.com.

Make sure you are logged in to the correct Microsoft account!
If you work to complete these activities every day, it shouldn't take too long to redeem your free Robux.
---
If you're looking free rewards in your favorite Roblox games, we have a ton of free codes in our Roblox Game Codes post! You can also get a bunch of free stuff via our Roblox Promo Codes page. Looking for deals on gaming products? Visit our Best Gaming Deals page for the latest deals!