Roblox has been stepping up the freebies that have been available in the game. We recently got a chance to grab multiple items in the Island of Move, and some headphones just became available via a code. There was also the leak of the White Cat Wizard hat that will be available at some point, and now there's a new item that has been revealed that should be coming soon!
The code has released, just head to this link and enter the following code:
The new Dapper Narwhal Shoulder Pal has been leaked, and includes the description: "This item can only be obtained by entering a limited-time promo code on roblox.com/promocodes." That means at some point, a code will be released that you can redeem to receive this cute little pet that you can attach to your shoulder. You may not have ever heard of a narwhal before, but it is a real animal that has a huge horn on its head! It is sometimes described as the Unicorn of the sea, which when you see one you can understand.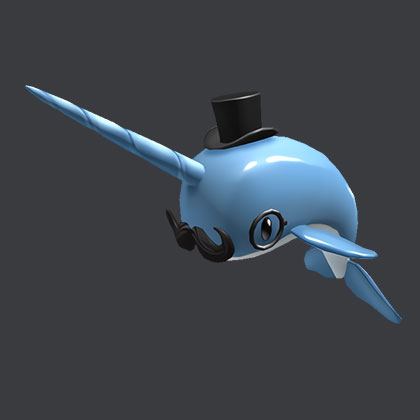 This particular narwhal is dressed for success and is ready to go to a fancy party. So, make sure you've got some stylish attire on if you are planning on putting it on your shoulder. We unfortunately do not know when the code for this cosmetic will be available, and it's possible we will need to wait a while because the White Cat Wizard leaked quite a while ago and we still haven't gotten a code for it. Hopefully, these items will be part of some kind of Halloween event, and we will get them released in October. There has been nothing official released from Roblox about either cosmetic yet, so anything you hear from YouTube is likely just made up.
If you are curious what you can currently get for free in Roblox, be sure to check out our Roblox Promo Codes post that is updated whenever there is something new available that you can get for your avatar!