There are so many places to explore in Project Slayers, but it can be pretty hard to find them without your handy dandy map and maybe a quick glance at the Project Slayers Trello. Sometimes it's fun to go out and explore blind, but for me, I like to get to where I need to go as quickly and easily as possible. Here's how to use your map to find all the locations you need to go to and get around without the extra hassle.
How to use your map in Project Slayers
To open your map, select the icon from your toolbar by clicking with your mouse or pressing the hotkey number above, which for me is 2. This map won't look like other maps you're used to. It will open a menu with all the possible locations in the game and have a compass used to guide you toward them.
How to unlock your compass for locations in Project Slayers
You need Map points to unlock compass directions for locations in Project Slayer. You will start the game with two free points, but after those are used up, you will need to purchase more. You can buy points either by spending R$ 75 or using 1,200 Wen. To unlock a new location, press on the one you want and click the Unlock button. You will then be able to equip it, and the arrow will show the way. Trust me; it's well worth investing in map points and unlocking all the crucial locations you want to go to. Otherwise, you'll practically be alone, wondering and getting lost as I did.
How to use your compass in Project Slayers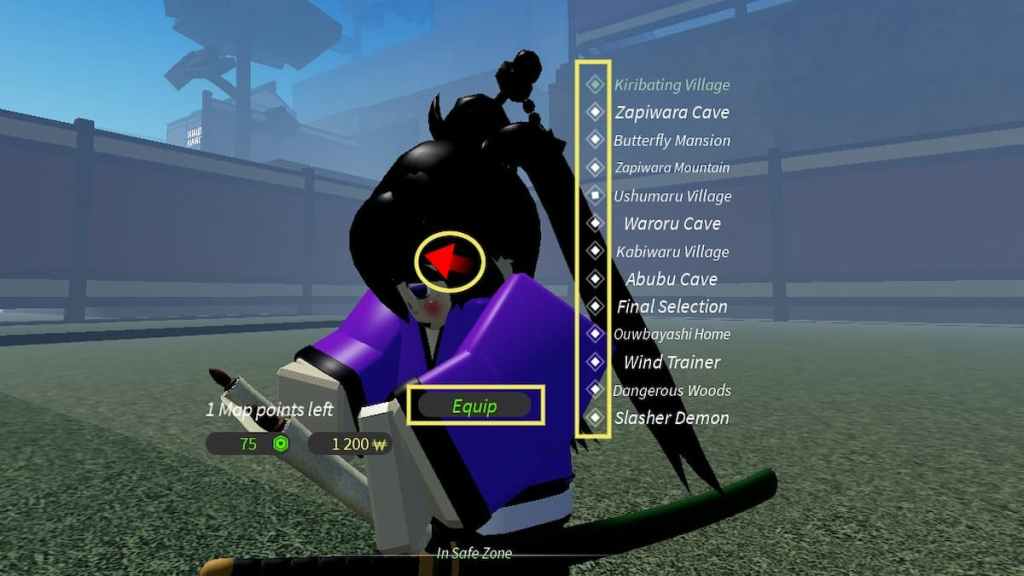 To use your compass to find a location, select one location and press Equip. The red arrow on your screen will guide you directly to that location. However, to use your compass to find an area, you must have it unlocked. Otherwise, you will be on your own in locating it.
How to fast travel in Project Slayers
My favorite way to get around is by fast traveling since it will require the least amount of time while avoiding any enemies that may try to stop you on the way there. You can fast-travel to any location after you unlock it with a map point. All you must do is head to the local Horse Guy, usually just outside the town. Interact with him and select the location you want to travel to, and you'll be there in a flash.
All locations and POIs in Project Slayers
First Map - Levels 0+
These are all the crucial locations and points of interest in the game for the first map for beginner players and up, you can find that using your map:
Kiribating Village
Zapiwara Cave
Zapiwara Mountain
Ushumaru Village
Kabiwaru Village
Butterfly Mansion
Waroru Cave
Abubu Cave
Wind Trainer
Slasher Demon
Final Selection
Dangerous Woods

Ouwbayashi House
Related: Project Slayers Codes – Free spins!
Ouwohana Map - Levels 50+
Here are all the POIs and crucial locations, available only to players level 50+, in Ouwohana that you can find using your map:
Mugen Train Station
Wop City
Nomay Village
Rengoku Boss
BDA Spin
Mist Trainer/Mist Boss

Akeza Cave
Beast Cave
Swamp Boss
Tsune Village
Frozen Lake
Wop Training Grounds
Cave 1
Cave 2
Village 2
Sound Cave
Snowy Place
Devourer's Jaw
This is how you can efficiently utilize your map in Project Slayers to find locations. Perhaps you like to explore freely and see the sites this way. Let us know your preferred travel methods in the comments below!
Looking for more Pro Game Guides Project Slayers content? Check out our guides on Project Slayers – How to become a Demon or Can I become hybrid in Roblox Project Slayers?