Updated September 1, 2023

Checked for new codes!
Retro TDS utilizes coins for players to purchase more troops which they can place during matches to protect their towers from impending mobs. They can earn more coins by successfully completing matches and preventing their towers from getting damaged, or they can use some codes to gain some instantly.
Codes are given by developers for players to enter in-game and recieve special rewards instanteously, without any extra hassle. They are super easy and quick to enter and well worth it so you can be better prepared to defend your tower.
You can earn more exciting free rewards with codes right here on Pro Game Guides for great games just like this one, such as Roblox Retro TDS Codes – Aetdev, Roblox SCP Tower Defense Codes, Roblox Demon Tower Defense Codes.
All Retro TDS Codes List
Retro TDS Codes (Working)
0UTLAW—Redeem for 400 Cash
C0WB0Y—Redeem for 250 Cash
SF0TH—Redeem for 350 Cash
FR33Z3R—Redeem for 200 Cash and XP
J0HNRBX—Redeem for the John troop
Retro TDS Codes (Expired)
burrito—Redeem for a reward
100k—Redeem for 1,500 coins
SKILLISSUE—Redeem for a reward
BACKONLINE—Redeem for a reward
FIREDUP—Redeem for a reward
2021—Redeem for a reward

DAY3HYPE—Redeem for a reward
HAPPYBDAYBelow—Redeem for 250 coins
30k—Redeem for 150 coins
Valentines—Redeem for a reward
verycoolcode—Redeem for a reward
whenpart2—Redeem for a reward
whenpart3—Redeem for a reward
part4—Redeem for a reward
Distances—Redeem for a reward
BOOM!—Redeem for a reward
Boost!!!—850 coins and 5 wins
DOUBLETROUBLE—Redeem for a reward

GOLDEN—Redeem for a reward
Bugged—Redeem for 500 coins
RELEASE—Redeem for 3,500 coins
GORILLAPRO—Redeem for a reward
REL—Redeem for a reward
R—Redeem for 3,500 coins
Retro TDS FAQ
Here is everything you need to know regarding Retro TDS - Retro TDS Community codes.
How to redeem Retro TDS codes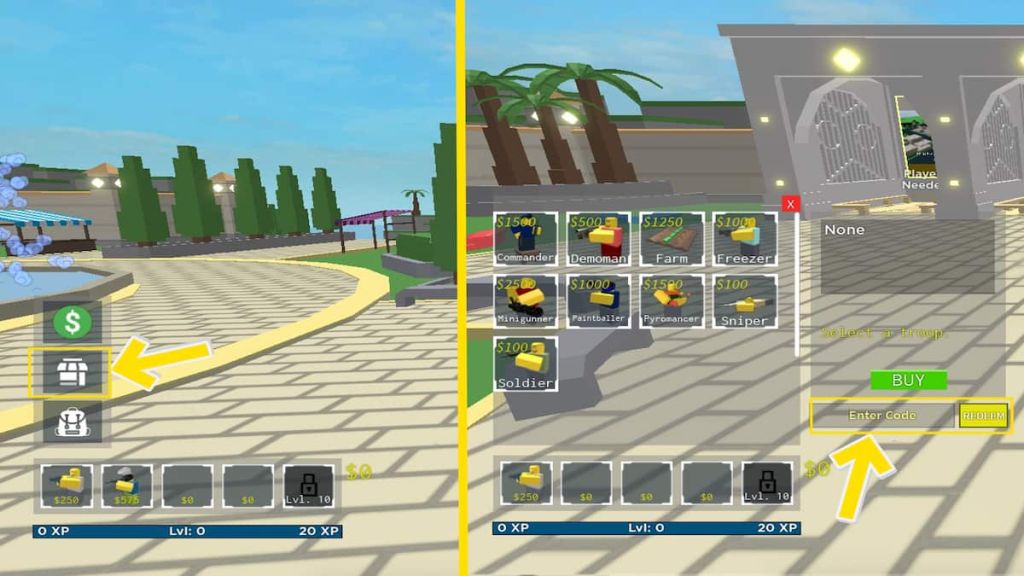 In the game, press the Shop button on the left side of the screen
In the text box titled, "Enter Code," type your code exactly as listed above.
Press Redeem to enjoy your rewards!
How can you get more Retro TDS codes?
Codes are usually reguarly added into the games by developers as updates, events, and goals are met, such as reaching a specific number of likes. Some developers will list these codes directly in the game description to notify players when they have been added. However, some require you to follow their social media accounts to stayed updated, such as their Discord accounts. For your convience, you can bookmark this page and check back whenever to see when new codes have been added.
Why are my Retro TDS codes not working?
There are various reasons why your Retro TDS codes may not be working correctly. The most common reason is that the codes have already expired or have been redeemed already. Since codes are reguarly cycled in and out of the game, they can expire with little to not notice whatsoever. We try to keep our code lists as updated as possible, but if you notice a change before us, feel free to comment below and we will fix the problem asap.
You will also want to double-check your spelling when entering codes. Codes are almost always case-sensitve, meaning the slightest typo could cause your code to appear invalid. Ensure you are typng it exactly as shown in the list above, or if the game allows, copy and past to avoid any issues.
What is Retro TDS?
Retro TDS is a zombie tower defense experience where you must survive and protect your tower against waves of zombie mobs. Utilize various troops to set up around the path and keep the zombies from reaching your tower. The zombies increase power the more waves you manage to survive, and eventually will send out a boss. If you can keep your tower standing by the end of the match, you can win some big cash to use to buy more troops and continue expanding your army. You can earn XP with each match you play and challenge yourself by joining harder difficulty levels. Jump in with friends or attempt to take on the waves sololy.
What are troops in Retro TDS?
Troops are various soldiers that players use to protect their tower. They can unlock them by purchasing them from the Shop menu or using a special code to unlock them. Once they are unlocked they can be found and equipped through the player's inventory and then placed around pathways in the matches. They will use their unique weapons and abilities to kill the zombies and keep them from arriving at your tower. The more troops you have the better chance you have for survival.
If you're looking for codes for other games, we have a ton of them in our Roblox Game Codes post! You can also get a bunch of free stuff via our Roblox Promo Codes page.