If you've been saving up for some new pets or toys in Adopt Me, then we have good news for you! The game is hosting a summer sale. Read below for more details!
Adopt Me Summer Sale
On August 26, 2021, Adopt Me will be starting a summer sale that will last for two weeks. Until September 9, 2021, there will be many great deals to shop in the game. Some things will be as much as 80% off! Below we've compiled all the prices we can find for the summer sale. We have all of the deals we've been able to find. Comment below if we missed something!
Pets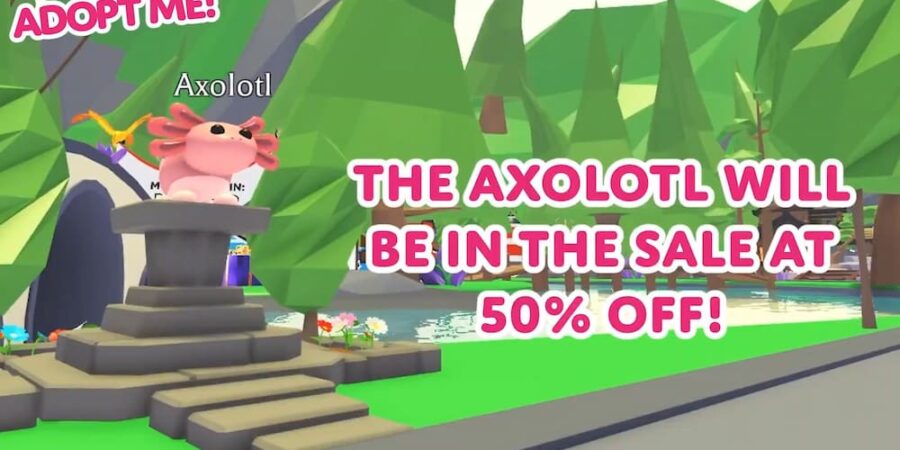 Many of the pets are 30% discounted for this sale! The real doorbuster is the new Axolotl pet, which is 50% off!
Axolotl - R$600 R$300
Red Squirrel - R$200 R$140
Peacock - R$550 R$385
Guardian Lion - R$500 R$350
Robo Dog - R$600 R$420
Cerberus - R$500 R$350
Panda - R$249 R$174
Kitsune - R$600 R$420
Sloth - R$199 R$139
Griffin - R$600 R$420
Horse - R$300 R$210
Toys
BBQ Stand - R$95 R$50
Lemonade Stand - R$50 R$30
Homes
Ice Cream Truck - R$350 R$190
Modern Mansion - R$350 R$210
Mermaid Mansion - R$400 R$240
Celebrity Mansion + SUV - R$800 R$480
Millionaire Mansion + Luxury Car - R$1250 R$750
Family Home + 200 Bucks + Multi-Bike - R$99 R$75
Vehicles
Royal Carriages - R$1499 R$525
Heart Hoverboard - R$35 R$15
Glider - R$399 R$160
Supercars - R$1000 R$350
Miscellaneous
These items range from potions, treats, perks, and more. This wide array of deals makes it so even someone who owns most things in Adopt Me can still find a deal!
Home Radio - R$350 R$70
Premium Faces - R$199 R$40
Premium Plots - R$449 R$350
Diamond Lavender Treat - R$199 R$135
Honey Treat - R$199 R$135
Golden Goldfish - R$225 R$150
Permanent Flyable Pet Magic Potion - R$295 R$230
Permanent Rideable Pet Potion - R$150 R$130
Dance Party Wherever You Go - R$85 R$36
Instantly Teleport to Your House - R$150 R$75
Want to read more about Roblox Adopt Me? Check out All Roblox Adopt Me Updates | Axolotl Pet + Summer Sale & 2x Weekend on Pro Game Guides.