Anime Wrecking Simulator is all about destroying random objects with the help of familiar faces from all sorts of animes like Toad Sage, Naruto, Sasuke from Naruto, Adult Gon, and Hisoka from Hunter X Hunter. Plus many more, such as One Piece and Dragon Ball Z! As you destroy objects, you'll end Coins and Gems. These two types of currencies are used to upgrade your crossbow and buy anime pets, which will increase your damage!
Our Roblox Anime Wrecking Simulator codes will give you a helping hand to reach the following areas and find more anime pets to unlock! You can get such free words as Gem and Coin boosts, which increase how many coins/gems from the items you obliterate. You can even sometimes get Coins, instantly getting new anime friends.
If you love simulator Roblox games, give the following titles a go, and use the codes to give yourself a boost, Roblox Anime Destruction Simulator, Roblox Anime Impact Simulator, Roblox Destruction Simulator, Roblox Destroyer Simulator, and Weapon Fighting Simulator.
All Anime Wrecking Simulator Codes List
Updated August 18, 2022

Added a new code.
Anime Wrecking Simulator Codes (Working)
Here's a look at all the working Anime Wrecking Simulator codes.
QUESTS—Redeem for a Double Coins Boost (New)
AUGUST—Redeem for a Double Gems Boost
HYPE—Redeem for a Pet
45KLIKES—Redeem for a Boost
40KLIKES—Redeem for a Double Gems Boost
space—Redeem for a Damage Boost
30KLIKES—Redeem for free rewards
ANIME—Redeem for a Gem Boost
DAY2—Redeem for a Coin Boost
Anime Wrecking Simulator Codes (Expired)
These Anime Wrecking Simulator codes are no longer valid.
20KLIKES—Redeem for a Gem Boost
ShoutoutJad—Redeem for a Gem Boost
10KLIKES—Redeem for a Damage Boost
1KLIKES!—Redeem for 10k Coins
Anime Wrecking Simulator Frequently Asked Questions
How to redeem Anime Wrecking Simulator codes
It's easy to redeem codes for free rewards in Anime Wrecking Simulator. To do so, follow the instructions below.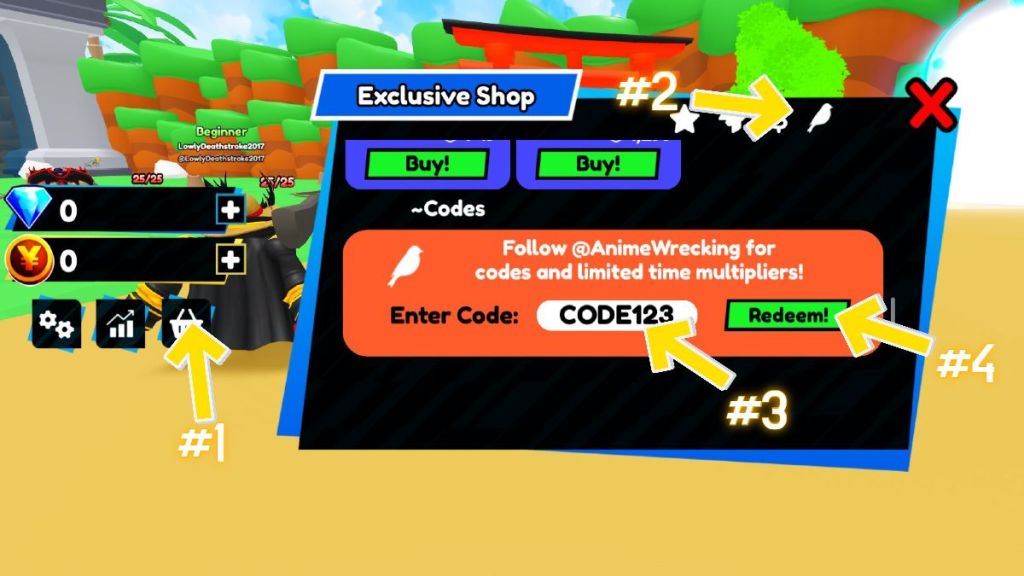 In the game, press the Shop/Basket icon on the left side of the screen.
Press the Bird icon to scroll to the codes section of the Shop window.
Enter the code exactly as it appears in the list above in the textbox.
Press Redeem to claim your reward!
How to get more Anime Wrecking Simulator codes
Bookmark this page and stay updated with all the newest Anime Wrecking Simulator codes. Or follow AnimeWrecking on Twitter, and join the official Anime Wrecking Simulator Discord.
What do Anime Wrecking Simulator codes do?
Anime Wrecking Simulator codes can give you specific boosts to increase how much of that type of currency you get. So if you use a code for Coin Boost, it will increase the number of coins you get for destroying stuff!
On the odd occasion, you can use a code for instant coins to go and upgrade your weapons and pets straight away.
Why don't my Anime Wrecking Simulator codes work?
If your Anime Wrecking Simulator codes don't work. There may be many reasons why. The most common is that the code has been typed/copied, and pasted incorrectly. Always make sure when copying the code to copy it precisely as it is in the working section above; this includes punctuations and capitalization.
Another reason why a code may not work is that the code has expired. Codes can stop working within a matter of hours, days, or weeks. We have no control over when this happens. If you happen to use a code that's expired in our working list, please let us know so we can move it to the correct section.
What is Anime Wrecking Simulator?
Anime Wrecking Simulator is all about automatically destroying objects in different anime-themed areas while collecting Coins and Gems which drop from them. Use these currencies to upgrade your weapon, purchase new anime pets that will increase your total damage, allowing you to eradicate objects faster, or take on things with a higher HP to increase the rewards that drop.
Do this repeatedly, unlock new anime pets, upgrade your weapon to become more damaging and modern, and become the best you can be!
We have many of them in our Roblox Game Codes post if you're looking for codes for other games! You can also get a bunch of free stuff via our Roblox Promo Codes page.