Our Roblox Arsenal Codes List has the most up-to-date list of codes that you can redeem for skins and voices. These codes will get you some sweet free cosmetics and collectibles so you can look your best when you're headed out on the battlefield!
NEW FREE SKINS
While these aren't codes, you can get free skins in the game by completing small little objectives and earning badges. I'm creating guides for all of these which you can check out via this list:
How-to Redeem Codes in Arsenal
It's a very simple process to redeem your codes in Arsenal. Look for the Twitter icon once you open up the game. Hit that button and you will get the following pop-up: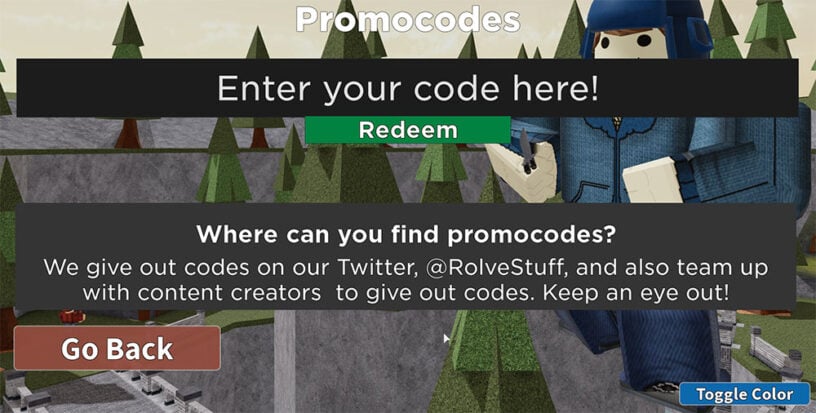 Click on the area that says "Enter your code here!" and enter one of the codes from below. Once you've got it entered in correctly, you'll just need to hit the Redeem button and you will be given the reward!
If you're looking for codes for other games, we have a ton of them in our Roblox Game Codes post! You can also get a bunch of free stuff via our Roblox Promo Codes page.
Arsenal Codes List
Here's a look at all of the currently available codes in Arsenal, as well as some you might have missed out on. Make sure to check back often because we'll be updating this post whenever there's more codes!
Free Money: BLOXY
Bandites Announcer Voice: Bandites
Eprika Announcer Voice: EPRIKA
Flamingo Announcer Voice: FLAMINGO
John Announcer Voice: JOHN
Koneko Announcer Voice: KITTEN
PetrifyTV Announcer Voice: PET
Skin Codes
These seem to be hit and miss for people, so give them a try. If they don't work, try to close out of your game and open it up again.
Anna Skin: ANNA
Jackeryz Skin: F00LISH
Phoenix Skin: CBROX
Poke Skin: POKE
Expired Codes
Bloxy Delinquent Skin, Bloxy Award Melee, & Bloxy Kill Effect: TheBloxies
Fanboy Skin: ROLVE
Be sure to also check out our how to get the Karambit, how to double jump, and how to get the megaphone guides! We've also got a detailed post on Arsenal Tips & Tricks that will help you get better at the game.