Are you prepared for the Balanced Craftwars? Grab your gun, sword, and pickaxe as you leave your hut and head out into the wilderness! Battle creatures and fearsome bosses in the hunt for valuable ores you can mine to craft ever more powerful items. Then explore new biomes with your new equipment, on the hunt for even rarer ores and tougher challenges.
Using codes in Balanced Craftwars can bag you a large variety of unique individual items. The currency of the game is the ores you mine, so you'll get items such as upgraded pickaxes. But it is also about surviving while you find these ores, so you'll also find codes for items that will help you last longer and fight faster in combat. If you love Roblox battling and crafting games, why not also check out Anime Craft Simulator.
All Balanced Craftwars Codes List
Balanced Craftwars Codes (Working)
These are all the working Balanced Craftwars codes.
HAPPYHALLOWEEN—Redeem for Unlucky Yarnball (New)
Fumo—Redeem for Fumo (New)
GIVEMORELIKE—Redeem for Hero's Gloves (New)
R1NG —Redeem for Broken Ring of Light (New)
SL1M3—Redeem for Slime Staff (New)
WinterGift—Redeem for Pakkanen (New)
M1N1NG—Redeem for Darksteel Pickaxe (New)
Balanced Craftwars Codes (Expired)
These are expired codes for Balanced Craftwars.
Maid—Redeem for Maid Outfit
3KLIKES—Redeem for Death Potion
Atlas—Redeem for Made in China Core
5MVISITS—Redeem for Winter Fairy Staff
1KLIKES—Redeem for dodging for Newbies
1MVISITS—Redeem for Spectral Wings
EASTER—Redeem for Soldier Egg
2KLIKES—Redeem for Darksteel Chakram
[email protected]—Redeem for Darksteel Katana
APOLOGY—Redeem for Nightseer Staff
Related: Demon Slayer Legacy Codes
How to redeem codes in Balanced Craftwars
Follow the instructions below to redeem codes in Balanced Craftwars.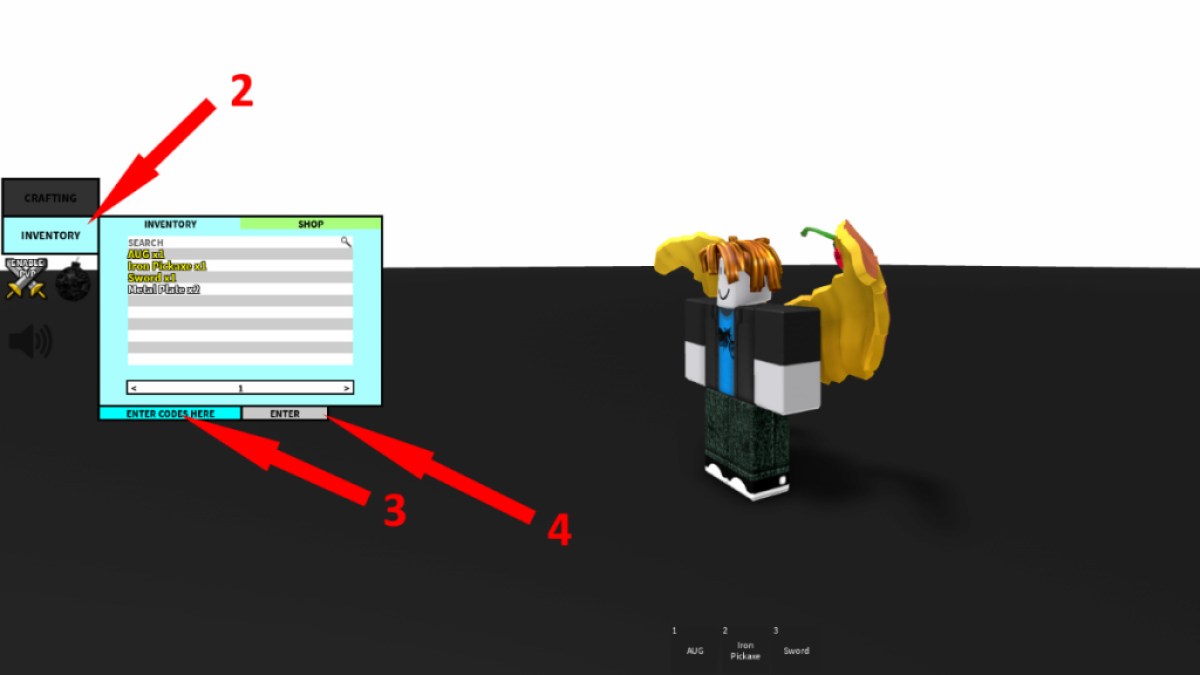 Launch Balanced Craftwars on Roblox.
Press the blue INVENTORY button on the left of the screen.
At the bottom of the box that opens, enter the code exactly as it appears in the list above where it says ENTER CODE HERE.
Press the grey ENTER button next to the text box to claim your reward!
How can you get more Balanced Craftwars codes?
For more Balanced Craftwars codes, the best place to start is the Official Balanced Craftwars Trello. There is also the Balanced Craftwars Roblox Group, and the Balanced Craftwars Discord Server to check out. Plus, you might also want to check out the Balanced Craftwars Wiki.
Why are my Balanced Craftwars codes not working?
If you've tried to input a Balanced Craftwars code you've found at Pro Game Guides and it hasn't worked, first check it for typos you may have made. Every character needs to be exactly correct, so make sure you have any capitalization correct and that you haven't mistaken any numbers for letters. The best way to do this is to cut and paste the code directly from here. Then, if it still won't work, the code has probably expired. Most codes do this in the end but don't worry. There are bound to be replacement codes soon, and you know you'll find them here when they're announced.
How to get the best beginner items in Balanced Craftwars
If you've been playing Balanced Craftwars on public servers, you may be struggling to get ahead due to the likelihood of more powerful players kill-stealing and hampering your progress. When you log in, instead, go to your choice of a private server. In Balanced Craftwars, private servers are free. This means you can create your own server and be left alone while you get what you need. To do so, simply scroll down the main Balanced Craftwars page to where it says Private Servers, then click Create Private Server. Once in, head into the Mines and craft a Lantern and Helmet. You can then see in the dark, so head to The Beneath and mine adamantine until you have a full set of adamantine gear. Then, you'll be in much better shape to compete.
What is Balanced Craftwars?
Balanced Craftwars is a Roblox fighting game with a twist. Rather than NPCs and quests, players use their pickaxe to mine the resources they need to craft useful combat and mining items. PvP is optional, but you're going to have to fight monsters and bosses of ever-increasing difficulty if you want to find and craft the best items that Balanced Craftwars has to offer.
If you're looking for codes for other games, we have a ton of them in our Roblox Game Codes post! You can also get a bunch of free stuff via our Roblox Promo Codes page. And in the meantime, take a look at the latest news to stay up-to-date on all things entertainment.