Update: October 2, 2023

We looked for new codes today!
Boxing Simulator is a Roblox experience developed by Tetra Games. In Boxing Simulator, you level up your gloves enough to become the strongest player. Punching gets you experience, and selling experience gets you money so you can buy better gloves and DNA. Additionally, you can earn coins to get eggs and pets, which will make you stronger. There is also a safe zone in the game for players who are not interested in PvP.
You can get a lot of Gems, Coins, and Strength using the codes below. Everyone has the same chance of gaining these benefits, and training can be challenging. The sooner you gain this boost, the better. Whether you do it the easy way or the hard way, you'll spend a lot of time grinding. Codes are incredibly easy to use and were purposefully programmed into the game. Check out our codes list below to improve your experience with Boxing Simulator.
For more articles on Roblox games like Boxing Simulator, check out Roblox Friday Night Bloxxin Codes, Roblox Champion Simulator Codes, and Roblox Anime Mania Codes. You're sure to find something here or elsewhere on the site that's just up your alley!
All Boxing Simulator Codes List
Working Boxing Simulator Codes (Active)
275klikes–Redeem code for Gems and Coins
Infinity–Redeem code for Gems and Coins
85klikes–Redeem code for Gems
75klikes–Redeem code for Gems
10klikes–Redeem code for Gems, Strength, and Coins
gwkfamily–Redeem code for Gems, Strength, and Coins
50klikes–Redeem code for Gems and Coins
RazorFishGaming–Redeem code for Gems and Coins
sub2cookie–Redeem code for Gems and Coins
sub2gamingdan–Redeem code for Gems and Coins
1m–Redeem code for Coins
gravy–Redeem code for Coins

sub2planetmilo–Redeem code for Coins
ReleaseHype–Redeem code for Gems
Trading–Redeem code for Gems
20klikes–Redeem code for Gems
30klikes–Redeem code for Gems
power–Redeem code for Strength
ksiwon–Redeem code for Strength
Expired Boxing Simulator Codes
sub2planetmilo–Redeem code for Gems and Coins
sub2telanthric–Redeem code for Gems and Coins
release–Redeem code for Gems and Coins
new–Redeem code for Gems and Coins
Roblox Boxing Simulator FAQ
Here's everything you need to know regarding Roblox Boxing Simulator codes.
How to Redeem Codes in Boxing Simulator
Redeeming codes for free rewards in Boxing Simulator is easy.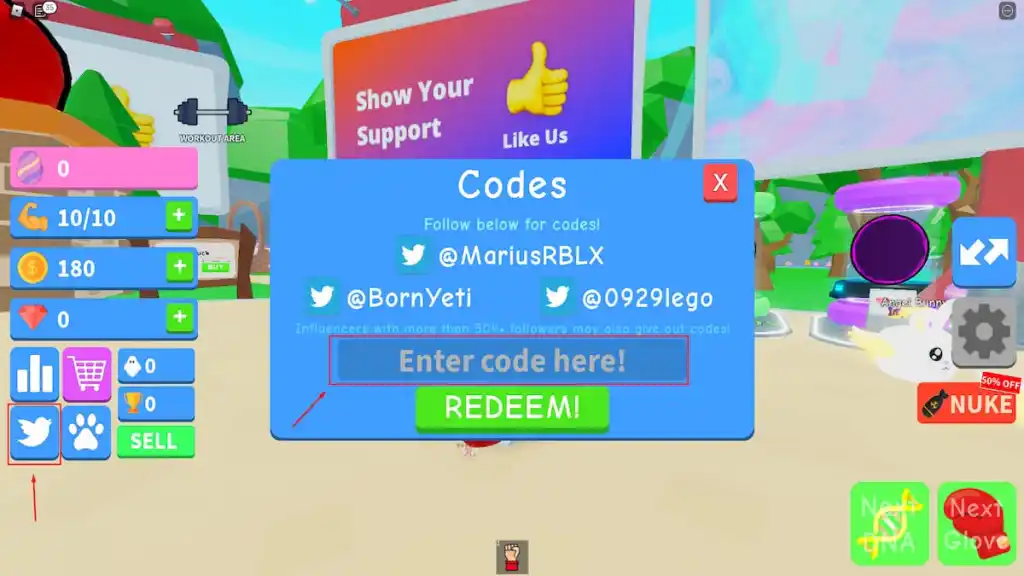 Launch Boxing Simulator
Press the Twitter button on the left
In the text box, enter the code exactly as it appears in the list above
Press REDEEM! to claim your reward
How can you get more Roblox Boxing Simulator codes?
There are several ways to stay up to date with new codes when they are released, but some are better than others. Without a doubt, the most effective way to keep updated on Roblox Boxing Simulator codes is to return to this page regularly. To make sure that the codes work correctly, we will continue adding and checking codes. If you know of any new codes we don't have, please leave a comment. Whenever a reader sends us a working code, we are grateful and add it to the working section.
Your next step should be to join the Boxing Simulator Discord. This community exists so players who love the game can hang out and talk to others who share the same passion. New codes are usually posted by developers, or they will mention that a new one has been posted to Twitter. Due to the lack of other games from the developers.
Last but not least, players can stay informed by following the game developers, MariusRBLX, DevCelest, and 0929lego on Twitter. New codes are usually announced on Twitter first. Since they want to keep you updated, developers often use their Twitter accounts exclusively for announcing new codes. You can be notified whenever a new one becomes available by pressing the bell icon once you've followed.
Why can't I redeem any codes for Roblox Boxing Simulator?
If you ever encounter problems redeeming codes in Roblox Boxing Simulator, here are some possible reasons and solutions:
The codes must be entered exactly as they appear above. You cannot alter the codes in any way.
Copy the code from the list above and paste it into the game to reduce the risk of entering the code incorrectly. The code box is thus guaranteed to be free of accidental letters or numbers.
Sometimes, a blank space remains after the copying process. Make sure the code's ending doesn't have an extra space after pasting it in.
That code is no longer valid. Let us know in a comment if this occurs. All expired codes will be tested before they are updated. The code will be moved to Expired if it does not work after testing.
You've already redeemed the code. Codes can only be redeemed once. Since they will affect all users, these rules do not apply to codes that expire and then work again.
What is Boxing Simulator?
Punching gives players strength, and selling strength gives them cash. With more cash, players can upgrade their characters. Better boxing gloves and DNA give you more power per punch, while upgrading your rank gives you more power overall. To obtain coins for eggs, players will use their higher levels to fight other players or NPCs. Eggs are used to get pets, which increases your attributes.
If you're looking for codes for other games, we have a ton of them in our Roblox Game Codes post! You can also get a bunch of free stuff via our Roblox Promo Codes page.