Roblox Cursed Islands will take you to exotic islands that tend to be destroyed. You aim to overcome every obstacle and leave the island before everything collapses. It looks like a Ninja Warrior TV show with more lava and death traps. To improve your chances, or at least look great while you fight for your life, you'll need Cursed Islands codes.
Use these codes for skins, voices, Coins (regular money), Rubies (premium currency), valuable equipment, and much more. These freebies will help you in your quest to defeat opponents and survive island curses.
If you're searching for the best Roblox games, look no further! Check out some great titles like Island Royale, Vacation Island Tycoon, and Roblox Islands. Also, if you need some help, we have excellent guides like How to make money quickly in Roblox Islands on Pro Game Guides.
All Cursed Islands Codes List
Update June 16, 2022

Added new Cursed Islands codes
Cursed Islands Codes (Working)
Here's a look at all the currently available Cursed Islands codes.
200KLIKES—Redeem for 300 Coins
krakenisland—Redeem for 300 Coins
happyholidays—Redeem for 30 Rubies
CHEST—Redeem for 80 Rubies
SampleCode—Redeem for 200 Coins, 10 Rubies, and Gear
Cursed Islands Codes (Expired)
These codes for Cursed Islands no longer work.
Secret
CursedCandy
UFO
sp00ky
7LEVELSGANG
DISCORDBOIS
FOLLOWER
Roblox Cursed Islands FAQ, Answered
Here's everything you need to know regarding Cursed Islands codes.
How to enter Cursed Islands promo codes
It's a very straightforward process to redeem your codes in Cursed Islands.
In the game, press the Rewards button on the right side of the screen.
In the text box on the top, enter the code exactly as it appears in the list above.
Press Submit button to claim your rewards.
How to get more Cursed Islands Codes?
To be informed about new Cursed Islands codes, bookmark this page and check it often for updates. You can also claim even more freebies by joining the Cursed Islands Discord channel, community group, following the game's official Twitter account, and liking the game. After doing all this, enter your usernames in other text boxes in the Rewards section and click the Submit button.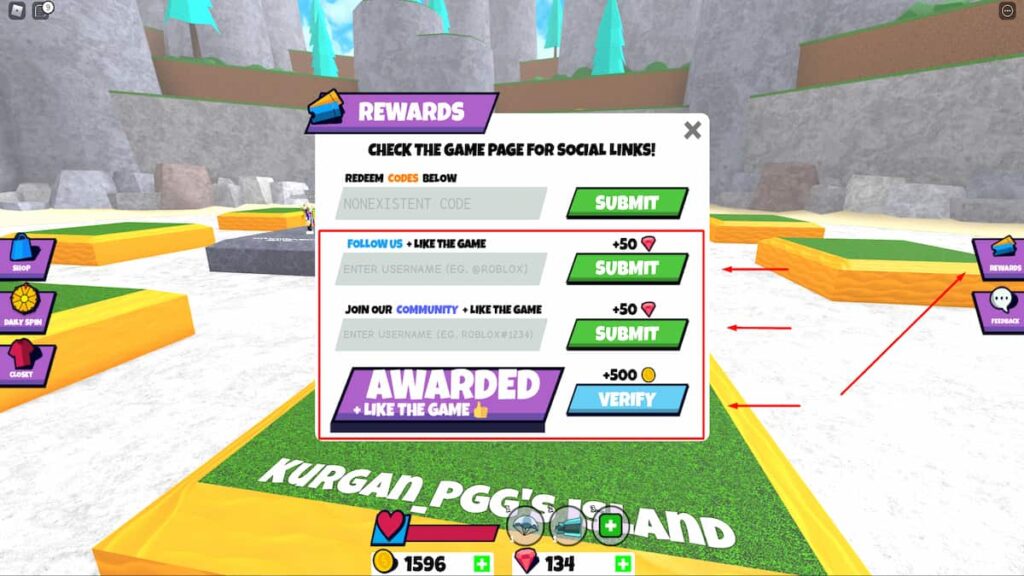 Why aren't my Cursed Islands Codes working?
Cursed Islands codes don't last forever, so redeem them as quickly as possible. If you find the expired code, please let us know in the comments below so we can remove it. Another reason why some codes aren't working can be a spelling error. To avoid typos, copy and paste codes from the working list above into the redeem text box.
What is Roblox Cursed Islands?
In Roblox Cursed Islands, you won't have time to enjoy beautiful island scenery. In this game, time is of the essence, as you never know which disaster can befall you. So be prepared for everything and look to escape those cursed islands!
If you're looking for codes for other games, we have many of them in our Roblox Game Codes post! You can also get a bunch of free stuff via our Roblox Promo Codes page.