Get ready to keep your angular world safe in Roblox Geometry Defense! First, choose whether to play alone or with friends, then choose your map. Now strategically place our troops in this epic tower defense game. Can you take all the geometric shapes down before they bounce their way past them and defeat you? Beat hundreds of levels to rise up the leaderboards!
Geometry Defense codes will usually reward you with a number of free G-Coins, which is the game's main currency. You can spend G-Coins in the main lobby to purchase Skins (either in Bundles or individually), or Towers. Skins are cosmetic, while Towers open up new troop types for you to deploy in battle. Once you hit level 25, you can also purchase a fifth Tower slot. If you love Roblox tower defense games, check out Action Tower Defense.
All Geometry Defense Codes List
Updated March 20, 2023

Updated list.
Geometry Defense Codes (Working)
These are all the working Geometry Defense codes.
10klikesssss—Redeem for 110 G-Coins (New)
thanksfor10kfavs—Redeem for 100 G-Coins (New)
3mvisits—Redeem for 103 G-Coins
gdf—Redeem for 75 G-Coins
ggs1klikes—Redeem for 100 G-Coins
2500likes—Redeem for 100 G-Coins
hyperdu—Redeem for 50 G-Coins
cube—Redeem for 100 G-Coins
undead_yt—Redeem for 50 G-Coins
solo_hans—Redeem for 25 G-Coins
epic1mvisits—Redeem for 100 G-Coins
Geometry Defense Codes (Expired)
These are expired codes for Geometry Defense.
Charm—This code has expired
hundred—Redeem for 100 G-Coins
wow500wow—Redeem for 100 G-Coins
gtd—Redeem for 275 G-Coins
Related: NPC Tower Defense
How to redeem codes in Geometry Defense
Follow the instructions below to redeem codes in Geometry Defense.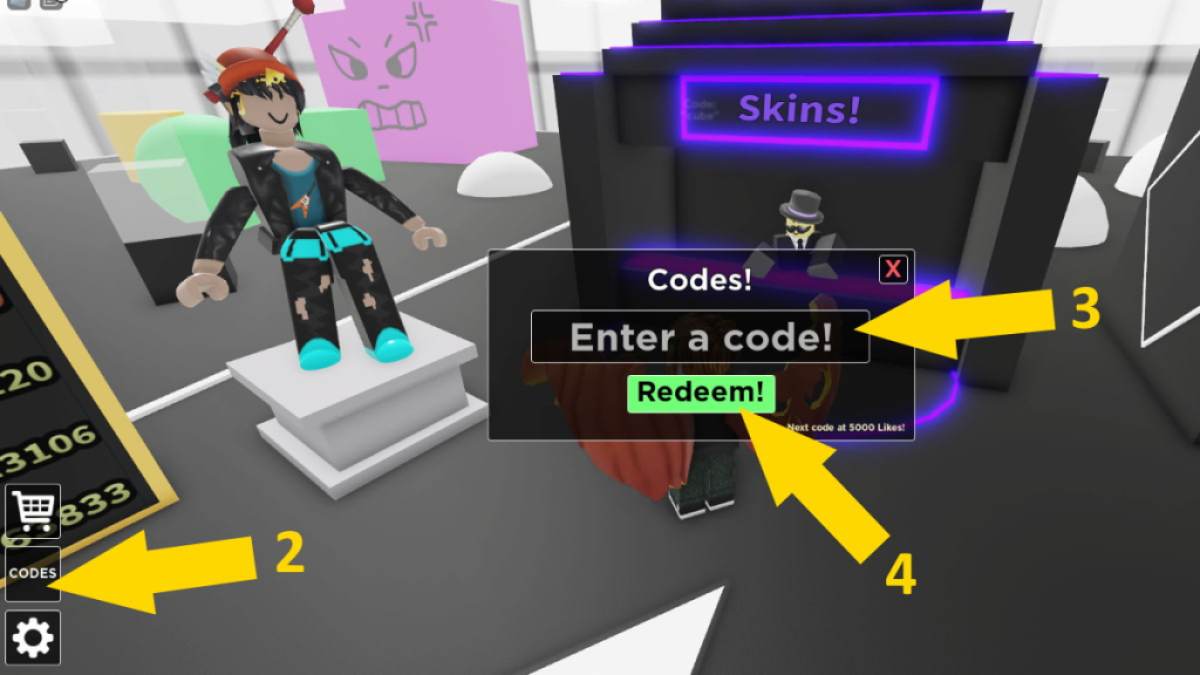 Launch Geometry Defense on Roblox.
Press the CODES button on the left of the screen.
In the text box that says Enter a Code! do so exactly as it appears in the list above.
Press the green Redeem! button to claim your reward!
How can you get more Geometry Defense codes?
If you want to hunt down the latest Geometry Defense codes yourself, you should start by joining the developers' Duo Games! Roblox Group. Then, head over to the Duo Games Discord Server and become a part of the community. Once you are verified there, you'll have access to a host of informative channels, including Game News and Patch notes, as well as a dedicated Geometry Defense codes channel.
Why are my Geometry Defense codes not working?
If you try one of the Geometry Defense Roblox codes above and it doesn't work, first check for typos. We suggest you cut and paste codes directly from here to avoid missing a capital letter or mistaking a number for a letter. If you've tried that, sadly, the code may have expired. If this happens, let us know in the comments o we can update the guide. And check back with us soon for more Roblox codes, as we're out there looking for new ones every day!
Other ways to get free rewards in Geometry Defense
When you buy certain items or play certain modes in Geometry Defense, you can receive bonus free rewards. For example, if you play in the RNG Insane Mode, you can receive a special lucky mortar skin. And if you buy a Skins Bundle, you get several skins for a discounted price. Finally, you'll find you get to face special boss waves every five or 10 levels. Each boss has a 10 percent chance to drop a free Charm Piece, so make sure you take them down!
What is Geometry Defense?
Geometry Defense is a standard tower defense-style Roblox game in which you try to defeat increasingly tough geometric shapes as they march past your towers (troops). You can buy and utilize a number of troops, including both melee and ranged, as you complete waves to gain cash and level up. Leveling opens up new options and challenges as you face bigger and stronger bosses and troops.
If you're looking for codes for other games, we have a ton of them in our Roblox Game Codes post! You can also get a bunch of free stuff via our Roblox Promo Codes page. And in the meantime, take a look at the latest news to stay up-to-date on all things entertainment.