Updated October 10, 2023

Checked for codes.
Going to school has never been this much fun! In Roblox High School 2, you can become the most popular kid in class by making friends with all the other players. You can choose what you want to wear and create your dream life! If you work hard enough, you can buy a vehicle and drive all over town to impress the other players.
Codes for Roblox High School 2 will give you credits and other cosmetic items for your avatar. Use credits to purchase items in the store for your house and vehicle. These codes are ideal for first-time players as they will give you a boost in resources.
Your dream life awaits you in Roblox. We have the codes to help you get wealthier to focus on looking your best. Grab these codes for extra cash in Robloxian High School Codes, Roblox School Tycoon Codes, Roblox High School Life Codes, Club Roblox Codes, and Fame City! Codes.
All Roblox High School 2 Codes List
Roblox High School 2 Codes (Working)
FANART2023—Redeem for 500 Coins (New)
HOLIDAY22—Redeem for 500 Coins
FISHINGTIME—Redeem for 500 Coins
RHS2DISCORD—Redeem this code for Blurple Vehicle Skin
Roblox High School 2 Codes (Expired)
RHS2TWITTER—Redeem for rewards
RHS2ad—Redeem for rewards
Roblox High School 2, FAQ
Here's everything you need to know regarding Roblox High School 2 codes.
How to redeem codes in Roblox High School 2
Redeeming codes in Roblox High School 2 is very simple! Follow our guide below.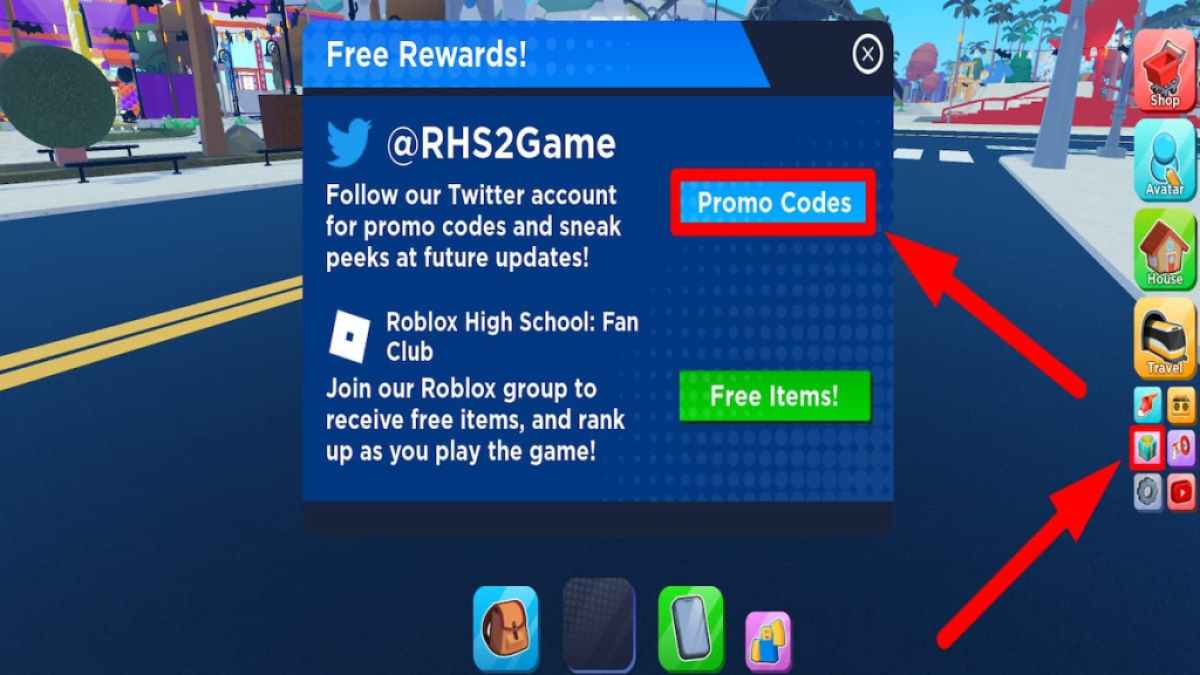 Launch Roblox High School 2 on Roblox.
Click on the Gift icon on the right-hand side of the screen.
On the Promo Codes page, click on the blue Promo Codes button.
Enter working codes in the Enter Text Here box.
Click on Submit to claim your free reward.
How can you get more Roblox High School 2 codes?
To get the latest Roblox High School 2 codes from the developer, Cindering, follow them on Twitter @RHS2Game or join their Roblox High School 2 Discord Server. We have you covered here at Pro Game Guides for all the developer's latest code drops, so be sure to bookmark this page!
Why aren't my Roblox High School 2 codes working?
There may be several reasons why your Roblox High School 2 codes aren't working. These codes may be mistyped or missing punctuation. Copy and paste the codes from our working list to avoid making any mistakes before clicking on the Submit button. The codes may be expired, and you can no longer claim the rewards. Codes are time-sensitive, and you will need to redeem them as soon as possible to avoid any of the free rewards attached.
How to get more credits in Roblox High School 2?
It's straightforward to get more credits in Roblox High School 2. There are jobs and quests to complete around the town of Starcadia Bay. Complete jobs and earn credits, or if you want, you can participate in skateboarding competitions or trick-or-treat events to help you collect more credits. Credits are used in the store to buy more cosmetic items for your avatar.
What is a Roblox High School 2 game?
Roblox High School 2 is a role-playing game. Live out your dream as a high school student in Starcadia Bay. Go to classes and make friends with other Roblox players. You can get a job after class to help you build your house and buy vehicles to help you get around. Make your Avatar stylish by buying new clothes and dressing up. There are mini-games to play, like skateboarding and fishing competitions. Can you become the richest in the game to climb to the top of the leaderboard?
If you're looking for codes for other games, we have a ton of them in our Roblox Game Codes post! You can also get a bunch of free stuff via our Roblox Promo Codes page.