Want to become part of an expanding city and create the fanciest house on the block? Then, House Builder Tycoon is the Roblox game for you! First, build your house, then pay for your parking space, so you can buckle into the car of your dreams and explore the neighborhood! Pick up gifts for even more cash, then head into the city to spend it in stores, living the dream.
House Builder Tycoon codes will either give you immediate Cash (in-game dollars) or Credits. These can be spent either on getting a better car or upgrading to a new and improved house, as well as in town at the various stores to pick up extra items. If you love Roblox builder games, you should also check out Apartment Tycoon.
All House Builder Tycoon Codes List
Updated January 18, 2023

Added a new code.
House Builder Tycoon Codes (Working)
These are all the working House Builder Tycoon codes.
540kvisits—Redeem for 75 Credits (New)
Release—Redeem for $5,000
Penthouse—Redeem for $5,000
Update—Redeem for $5,000
house—Redeem for $2,500
House Builder Tycoon Codes (Expired)
These are expired codes for House Builder Tycoon.
25kvisits—This code has expired.
160kvisits—This code has expired.
440kvisits—This code has expired.
XMAS—This code has expired.
Related: Bank Tycoon 2 Codes
How to redeem codes in House Builder Tycoon
Follow the instructions below to redeem codes in House Builder Tycoon.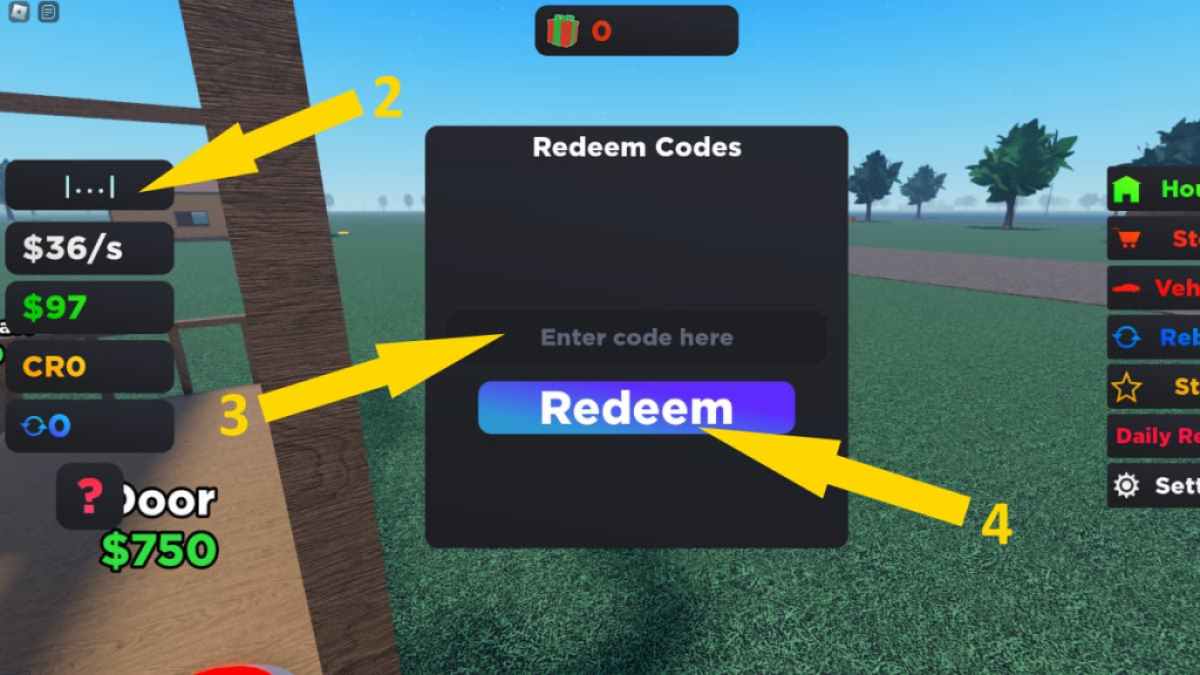 Launch House Builder Tycoon on Roblox.
Press the […] button on the left of the screen.
In the pop-up box, enter the code where it says Enter code here exactly as it appears in the list above.
Press the blue Redeem button underneath to claim your reward!
How can you get more House Builder Tycoon codes?
If you want to try and find more House Builder Tycoon codes, you should begin by joining the Expanse Games Roblox Group and following @tmprarycurrent on Twitter. You can also subscribe to the temporarycurrent YouTube Channel.
Why are my House Builder Tycoon codes not working?
The most likely reason a House Builder Tycoon code doesn't work is a typo, such as missing a capital letter or mistaking a letter for a number. Try cutting and pasting the codes directly from Pro Game Guides to avoid this. If a code still doesn't work, it may have expired. Unfortunately, that happens to most Roblox codes in the end, but we'll be out there looking for new ones, so check back with us soon.
Other ways to get free rewards in House Builder Tycoon
Each time you log in to House Builder Tycoon, look to the right of the screen where it says Daily Reward in red and click the button. These free rewards vary, but you can claim one every 24 hours from when you last clicked the Daily Reward button (after clicking, a 24-hour countdown will begin). If you leave your house and explore, you can also find free presents boxes. This will give you an immediate reward, which can be either in-game dollars or credits.
What is House Builder Tycoon?
House Builder Tycoon is a house-building game with an expansive map to explore. Build up your house to earn more money, then buy cars to help you explore the map and collect gift boxes for extra income. You can then explore the city, where you can find various stores to spend your money on other cosmetic items, plus food and drinks.
If you're looking for codes for other games, we have a ton of them in our Roblox Game Codes post! You can also get a bunch of free stuff via our Roblox Promo Codes page. And in the meantime, take a look at the latest news to stay up-to-date on all things entertainment.