Lift weights to get buff and beat other players up in Roblox Lifting Champions. The more time you spend training, the bigger and stronger you will get to take on other players in the game and easily throw them aside as if they are old kettlebells. Put chalk on your hands because holding the title of lifting champion is not an easy feat.
These codes will give you access to the in-game currency of Coins. Coins will let you purchase Weights, DNA, and Ranks. Weights will allow you to get buffer, and DNA and Ranks will allow you to level up your character to get stronger.
All your favorite Roblox weight lifting games where you test your might against other players are here. We have the codes for you to get swol faster and make the other players look like they skipped leg day all year. Try the codes for Roblox Weight Lifting Simulator Codes, Roblox Emoji Lifting Simulator Codes, Roblox Euro Simulators Weight Lifting Simulator Codes, Roblox Lifting Titans Codes, and Roblox Ultimate Lifting Legends Codes.
All Roblox Lifting Champions Codes List
Updated July 21, 2022

Added a new code and info.
Roblox Lifting Champions Codes (Working)
1KLIKES—Redeem for 1k Coins (New)
RELEASE—Redeem for 1k Coins (New)
Roblox Lifting Champions Codes (Expired)
No current expired codes.
Roblox Lifting Champions FAQ, Answered
Follow our guides for all your questions on Roblox Lifting Champions.
How to Redeem Roblox Lifting Champions Codes
It's easy to redeem codes for free rewards in Roblox Lifting Champions. To do so, follow the instructions below.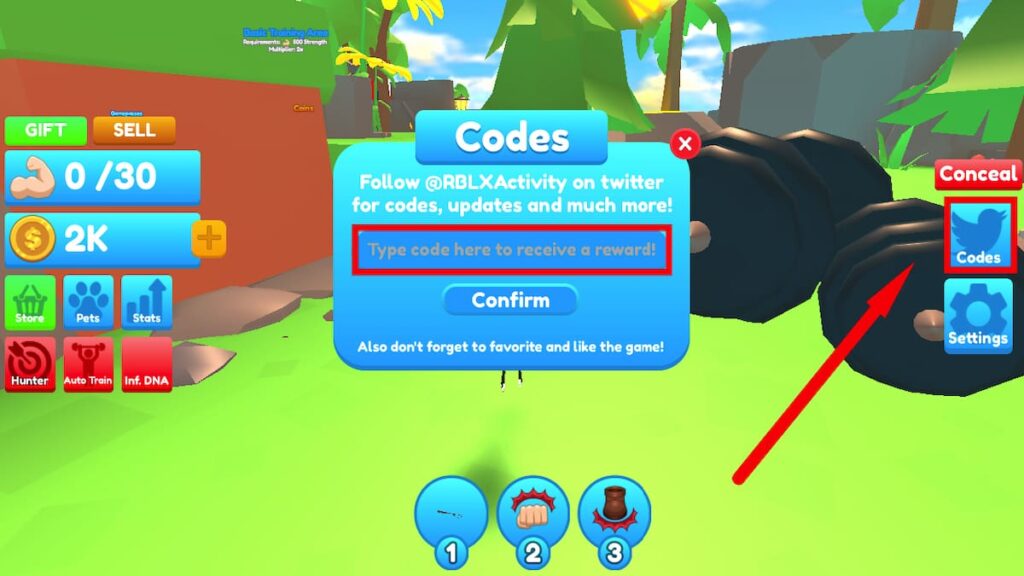 In the game, press the Codes button on the right side of the screen.
In the 'Type Code Here' box, enter the code exactly as it appears in the list above.
Press the Enter button to claim your reward!
How to get more Roblox Lifting Champions codes?
Stay up-to-date with all the latest codes for Roblox Lifting Champions by following the developer Activity Games on Twitter @RBLXActivity and their Activity Games Discord Server. We here at Pro Game Guides have all the latest codes, so save this page and return never to miss another new code!
Why aren't my Roblox Lifting Champions codes working?
There could be several reasons your Roblox Lifting Champions codes aren't working. These codes that you are trying to redeem are already expired. Codes can expire when the developer wants them to be sure to redeem the new codes as soon as you see them on our list. You could be misspelling the codes. To avoid spelling or punctuation mistakes, copy and paste the codes from our list.
What are Boosts in Roblox Lifting Champions?
There are four different types of boosts in Roblox Lifting Champions. Strength, Coin, Luck, and Speed boosts. Each of these boosts will help you progress in the game faster, and they cost Robux. Activate these boosts in an area where you know you can get the maximum yield out of each boost.
What is a Roblox Lifting Champions game?
Roblox Lifting Champions is where you start as a skinny character, and you will have to train until you are so big that you can beat any opponent or enemy up. The more you train, the bigger you will get. Sell items that you collect along the way to becoming the richest in the game. Rise to the top of the leaderboards!
If you're looking for codes for other games, we have a ton of them in our Roblox Game Codes post! You can also get a bunch of free stuff via our Roblox Promo Codes page.