You will have to dodge, jump, and run to the end of the course as fast as you can in Roblox Mega Fun Obby. Unlock your inner Ninja Warrior by taking on each course. These courses vary in difficulty and will get tougher the more you make progress. Try not to fall off the edge because you will either start from the beginning or fail a stage!
Our Mega Fun Obby Codes codes list has a bunch of working codes you can redeem for level Skips. These Skips will help you get through some of the more challenging levels in the game if you ever get stuck on something you don't think you'll be able to complete.
If you like obstacle courses and enjoy trying to beat your previous run times, why not try these Roblox titles and their codes to make you get to the end of the course faster and leave your opponents slipping and sliding behind you. Roblox Speed Runner Codes, Roblox Lava Run Codes, Roblox Anime Run Codes, Roblox Deathrun Codes, and Roblox Speed Run 4 Codes.
All Roblox Mega Fun Obby Codes
Updated January 19, 2023

Added a new code.
Roblox Mega Fun Obby Codes (Working)
newchapter—Redeem for 20x Skips (New)
happy2023—Redeem for 4x Skips (New)
bigreward—Redeem for 4x Skips
Roblox Mega Fun Obby Codes (Expired)
extraskips3—Redeem for 3 Skips
bigskips—Redeem for 10 Skips
extraskips2—Redeem for 4 Skips
extraskips1—Redeem for 4 Skips
squidgame—Redeem for 2 Skips
extraskipsss—Redeem for 3 Skips

summer2021—Redeem for 2 Skips
dizc0rd—Redeem for Skips
finallylol—Redeem for Skips
m0nst3r—Redeem for Skips
almost500pog—Redeem for Skips
willybwin2—Redeem for 2 Skips
backonitt—Redeem for 2 Skips
onthegrind—Redeem for 1 Skip
shiftlock—Redeem for Skips
positivity—Redeem for Skips
m33s33ks—Redeem for Skips
merryxmas2020—Redeem for skips

update2245—Redeem for Skips
update2225—Redeem for Skips
imbaaack—Redeem for Skips
update2190—Redeem for Skips
stillonthegrind—Redeem for Skips
update2115—Redeem for Skips
goinonvacation—Redeem for Skips
pasta—Redeem for Skips
chiefskingdom—Redeem for Skips
onetwothree—Redeem for Skips
newyear2020—Redeem for Skips
ALMOST2020—Redeem for Skips

holiday2019—Redeem for Skips
update2050—Redeem for Skips
update2030—Redeem for Skips
vision2020—Redeem for Skips
twok—Redeem for Skips
wontgiveup—Redeem for Skips
dorian—Redeem for Skips
Roblox Mega Fun Obby Frequently asked questions
Here's everything you need to know regarding Roblox Mega Fun Obby codes.
How to Redeem Codes in Roblox Mega Fun Obby
Redeeming codes in Roblox Mega Fun Obby is a very simple process.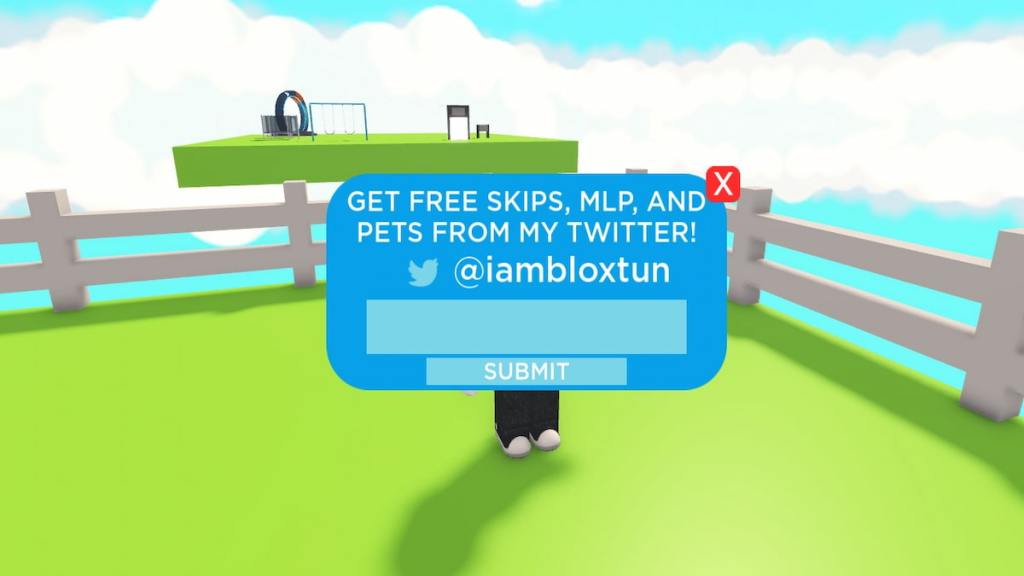 Open up the game
Look for the blue button on the side of the screen with the word Codes on it.
Click on that and you will get a menu that allows you to input codes.
Copy one of them from our list and paste it into the text box.
Hit the Submit button and you will be rewarded with some skips!
How can you get more Roblox Mega Fun Obby codes
To get the latest codes from the developer Bloxtun, follow them on Twitter @iambloxtun and their YouTube channel Bloxtun. We at Pro Game Guides have the latest codes for Roblox Mega Fun Obby, so save this page and return to redeem all the working codes.
Why aren't my Roblox Mega Fun Obby codes working?
It is most likely expired if you are having problems trying to redeem Roblox Mega Fun Obby codes. The developer will take down codes after a specific time, so make sure you claim the code when you see it on our list. Another reason that they could be redeeming is due to accidental spelling errors. In these cases, we recommend trying to copy and paste our codes exactly as they appear on our list to avoid making these spelling errors.
What is a Roblox Mega Fun Obby game?
In Roblox Mega Fun Obby game is a world where there are more than 2000 stages of obstacle courses. You can do speed runs and beat the times of players in the world to get to the top of the leaderboard on as many obstacle courses as you can.
If you're looking for codes for other games, we have a ton of them in our Roblox Game Codes post! You can also get a bunch of free stuff via our Roblox Promo Codes page.