Roblox Naturo Defense Simulator is a gatcha action game inspired by the Naruto anime series. In this game, you'll have an opportunity to train famous characters to defeat enemies. So, team up with friends to fight bosses and discover new maps! You'll need some Coins to improve quickly, and we have what you need!
Our Roblox Naruto Defense Simulator Codes has the most up-to-date list of OP codes you can redeem for Coins and additional freebies. Use these codes to summon and train your anime heroes to be ready for every challenge.
If you're a fan of Naruto, check out some great Roblox games like Roblox Naruto RPG Beyond Codes, Roblox Naruto War Tycoon Code, and All Star Tower Defense Codes. Be sure to also check out All Characters in Roblox Anime Battle Arena on Pro Game Guides.
All Naruto Defense Simulator Codes List
Updated October 16, 2022

Added a new Naruto Defense Simulator code.
Active Naruto Defense Simulator Codes
Here's a look at all of the working Naruto Defense Simulator codes.
halloween—Redeem for 3k Coins (New)
season2—Redeem for 2k Coins
escort—Earn 5k Coins
narutoworld—Earn 1.5k Coins
narutonice—Earn 1.8k Coins
fixsummonbug—Earn 1.5k Coins
narutogreat—Earn 1k Coins
narutomore—Earn 1k Coins
narutohero—Earn 800 Coins
naruto—Earn 500 Coins
Expired NDS Codes
These Naruto Defense Simulator codes no longer work.
There are no expired codes.
How to redeem Naruto Defense Simulator (NDS) Codes
It's easy to redeem codes for free rewards in Naruto Defense Simulator.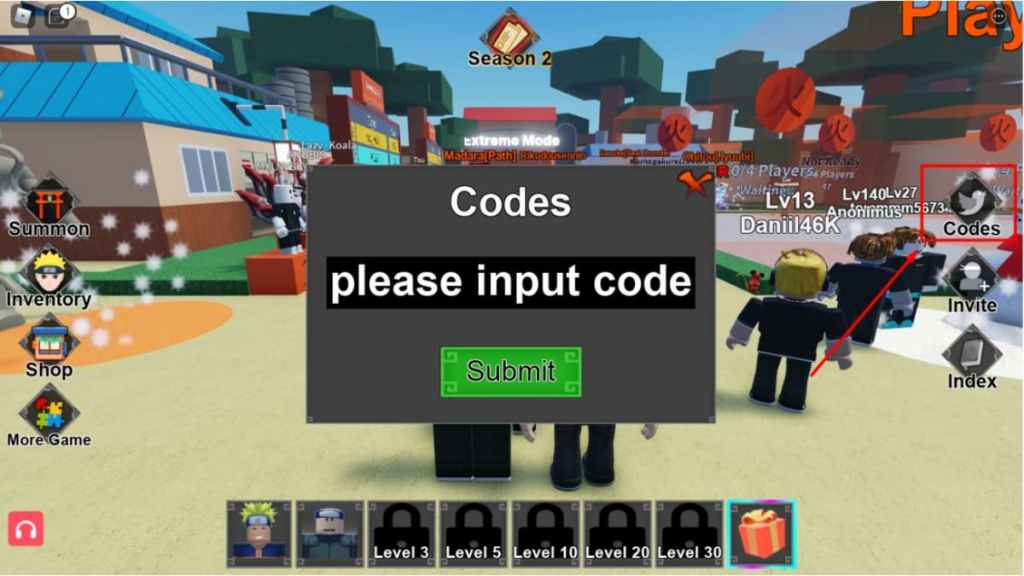 In the game, press the Twitter button on the right side of the screen.
When the window opens, enter the working code into the text box that says "please input code."
Press Submit button to receive your free reward.
How to find more Naruto Defense Simulator
Roblox developers usually add codes randomly rather than releasing them on a specific schedule. So the best way to stay up-to-date on Naruto Defense Simulator codes is by checking out this page regularly. You can also join the official Discord server or follow the Twitter account.
Why aren't my Naruto Defense Simulator codes working?
You should redeem these codes as soon as possible because you'll never know when they could expire. We've tested Naruto Defense Simulator codes on the date that this post was released. If you find one expired, please let us know the exact code in the comments below so we can remove it!
Another reason why NDS codes are not working is a spelling error. To avoid typos, enter the code exactly as it is listed. The best way to do that is to copy and paste codes from the list into the redeem text box.
What is Naruto Defense Simulator?
Naruto Defense Simulator is a Roblox action game that lets you summon and train mighty warriors from Naruto anime. Your goal is to become powerful enough to face the most challenging bosses, earn coins and upgrade your fighters. You can always play with friends for a better chance of success and more fun!
If you're looking for codes for other games, we have many of them in our Roblox Game Codes post! You can also get a bunch of free stuff via our Roblox Promo Codes page.