Our Roblox RoCitizens Codes post has the most up-to-date list of working codes that you can redeem for money and exclusive items! These codes can make it easier early on in the game when you're trying to build up your cash supply and grab some pretty cool items.
RoCitzens Codes
RoCitizens is pretty much a lifestyle role playing game where the game is what you make of it! You can get a job to earn money, complete quests for people who live in your town, create a home and customize it, drive fancy cars, and interact with players in the world.
Update Nov. 4
RoCitzens Codes (Active)
Here's a list of all the codes that are working in the game right now.
headlesscodeman - Redeem for 3K Candy (NEW)
Redeem for $2,500 & Trophy: MILLION
Redeem for $2,500 & Trophy: goodneighbor
Redeem for a Discord Trophy & $3,500: discordance
Redeem for a Twitter Trophy & $2,500: SweetTweets
Redeem for a Pet Rock & $4,000: truefriend
Redeem for $3,000: rosebud
Redeem for $1,337: easteregg
Redeem for $10: code
If you're looking for codes the second they go live, be sure to follow JB_Firebrand on Twitter!
RoCitzens Codes (Expired)
These codes have expired and are no longer working!
Redeem for $5,000: letsdosomelaundry
Redeem for 3x Gifts & $3,000: xmas19
Redeem for Snowglobe & $6,000: rocitizens6th
Redeem for $5,000 & Trophy: 500million
Redeem for $4,000 & Crystal Rose: 20valentine
Redeem for $4,000: supdatember
Redeem for $2,000: cantthinkofcodenames
Redeem for $4,000: ilovefirebrand1
Redeem for $1,500: xmasbonus
Redeem for $2,500: bugsareannoying
Redeem for $750: gimmegimmegimme
Redeem for $1,000: allthemoola
Redeem for a free Hot Tub: canigetahottub
Redeem for a free Pool Table: cornerpocket
Redeem for $10,000: ggpd
Redeem for a free Sovereignty Computer: goodluckspellingsovereignty
Redeem for $3,500: rainyday
Redeem for $1,500: youwishyouhadafish
Redeem for $1,000: ihaveafish
Redeem for $3,500: coldhardcash
Redeem for $4,000: alittlesomething
How-to Redeem Codes in RoCitzens
If you want to enter codes into RoCitizens, you will need to hit the bright green icon at the bottom left of the screen that looks like a shop. Click on the blue Twitter icon button and you'll be transported to the following screen: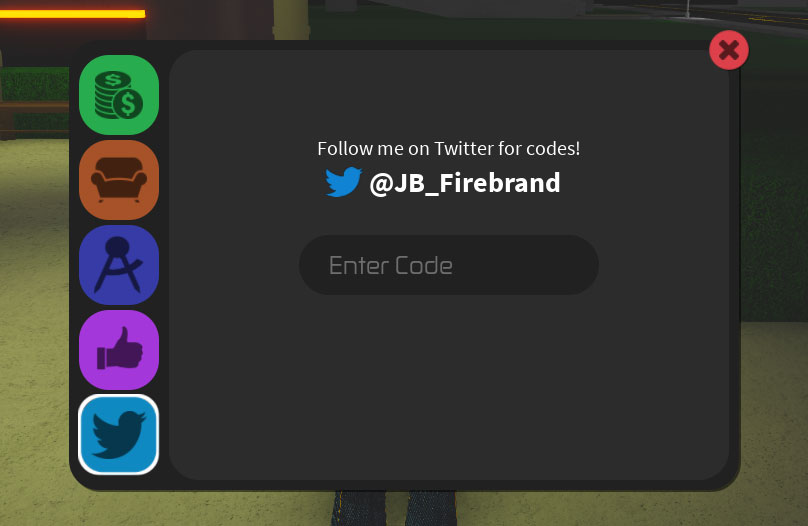 Copy one of the codes below and paste it into the "Enter Code" area shown in the image above. Hit the enter key and you will be granted a reward!