If you're looking for a World of Warcraft or Lost Ark-style experience on Roblox, prepare yourself for the challenges of The Dark Continents! Level up your character, learn new traits, and wield powerful weapons or spells against dangerous creatures as you explore the world and amass vast treasures. Sell unwanted loot in town, then group up with your friends to head out on new adventures.
Entering The Dark Continents codes can get you a variety of free rewards, including Gold to spend on items, Stat Points to improve your character, as well as unique Traits and items. And if you love Roblox RPGs, why not find more free codes for them here, including for Shadovis RPG Codes?
All The Dark Continents Codes List
The Dark Continents Codes (Working)
These are all the working The Dark Continents codes.
Free Gold—Redeem for 1,000 Gold (New)
Starter Pack—Redeem for 1,000 Gold and five Stat Points (New)
Demo Gang—Redeem for Demo Tester Trait (New)
Free Spear—Redeem for a Basic Spear (New)
Free Dagger—Redeem for a Basic Dagger (New)
Free Crate—Redeem for a Multi Loot Crate (New)
@kywl.inc—Redeem for 2,500 Gold and five Stat Points (New)
The Dark Continents Codes (Expired)
These are expired codes for The Dark Continents.
There are no expired codes for The Dark Continents
Related: Limitless RPG Codes
How to redeem codes in The Dark Continents
Follow the instructions below to redeem codes in The Dark Continents.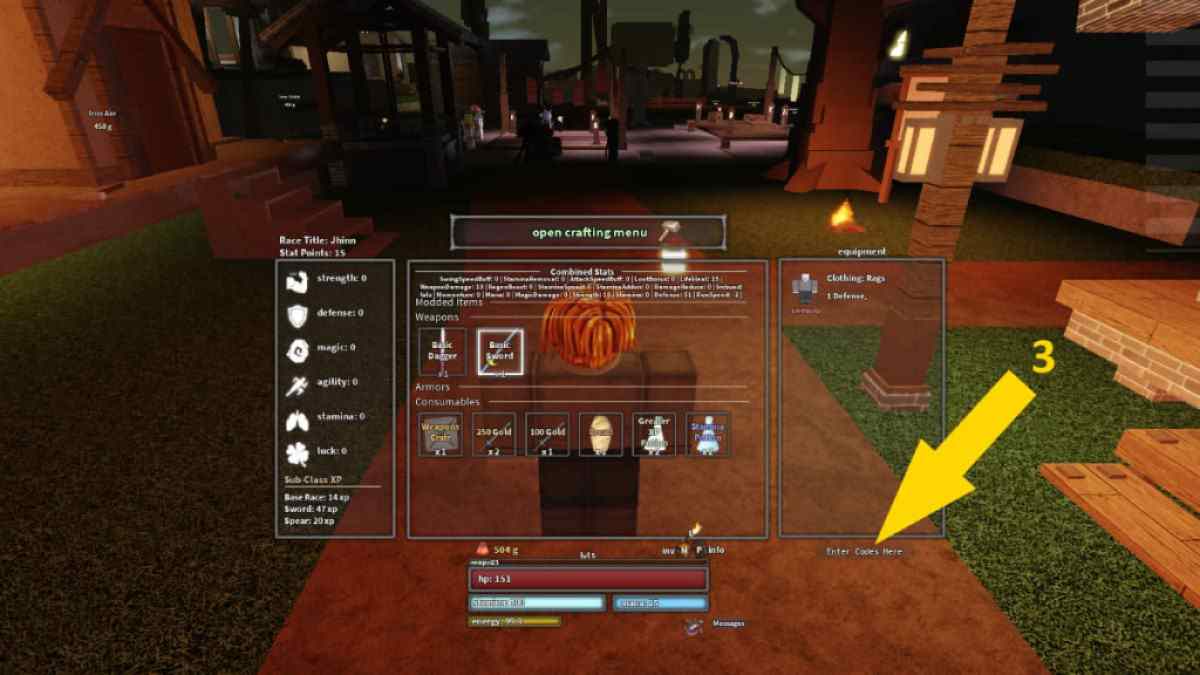 Launch The Dark Continents on Roblox.
Press M on your keyboard to open your Inventory.
In the pop-up box opens, enter the code where it says Enter Code Here (bottom right) exactly as it appears in the list above.
Press Enter on your keyboard to claim your reward!
Note that you may need to delete the previous code entered before you enter a new one.
How can you get more The Dark Continents codes?
If you're looking for all things The Dark Continents, a good place to start is by joining the Edens Realm Roblox Group. The Dark Continents Discord Channel has a lot of useful info and chat, but the best place to find codes is often on the Dark Continents Trello.
Why are my The Dark Continents codes not working?
If you've tried to enter one of our The Dark Continents codes and it isn't working, first check for typos. You need to get the capitalization exactly right, and it can be easy to mistake a letter for a number. This is why we suggest you cut and paste these codes directly from Pro Game Guides into Roblox. If that doesn't work, the code may have expired. If so, that's the end of it, I'm afraid. But check back soon for more codes!
Other ways to get free rewards in The Dark Continents
Other than using the codes you'll find above, the best way to get other free rewards in The Dark Continents is through exploration. As you wander the map, even in towns that tend to be relatively safe, you'll see crates marked as Loot. Press E while standing next to them, and they will open, giving you random free items. This can include fantastic, rare equipment, so never miss an opportunity! However, be aware that in towns, there are crates next to vendors. These have a gold amount over them. You can open them for the stated reward, but you will have to pay that much Gold to do so.
What is The Dark Continents?
The Dark Continents is an ambitious Roblox fantasy MMORPG that is currently under development but fully playable in its current demo phase. Fight creatures to gain experience, use trainers in towns to learn fighting traits, craft powerful items, and explore an expansive fantasy world in search of treasures and new challenges.
If you're looking for codes for other games, we have a ton of them in our Roblox Game Codes post! You can also get a bunch of free stuff via our Roblox Promo Codes page. And in the meantime, take a look at the latest news to stay up-to-date on all things entertainment.