Dungeon crawling is on full display here in Roblox Rumble Quest. For RPG fans, this game will have you grab your favorite pieces of gear and suit up for boss battle encounters and some of the most challenging dungeons in Roblox. Explore this fantasy world and don epic gear as you claim the crown of this world's strongest warrior!
Claiming these codes will give you the in-game currency of Gems and Coins. Gems and Coins will allow you to choose between different gear types that you can use to become stronger, especially at the start of the game if the dungeons feel too challenging.
Suppose you are looking for that epic adventure filled with lore and dangerous dungeons. We have a list of games and their codes to help you mold your all-time favorite hero and get that head start in these challenging RPGs, Roblox Era of Althea Codes, Sword Simulator Codes, Roblox Treasure Quest Codes, Roblox RPG Simulator Codes, and Demon Slayer RPG 2 Codes.
All Roblox Rumble Quest Codes List
Updated August 1, 2022

Added new info.
Roblox Rumble Quest Codes (Working)
secret—Redeem for 300 Gems
freegems—Redeem for 300 Gems
Tomb—Redeem for 150 Gems
gems—Redeem for 150 Gems
coins—Redeem for 1,250 Coins
release—Redeem for 100 Gems
Roblox Rumble Quest Codes (Expired)
There are currently no expired codes in Roblox Rumble Quest.
Roblox Rumble Quest FAQ, Answered
We answer all your questions about Roblox Rumble Quest below.
How to Redeem Codes in Roblox Rumble Quest
It's really easy to redeem your codes in Roblox Rumble Quest! Follow our guide below.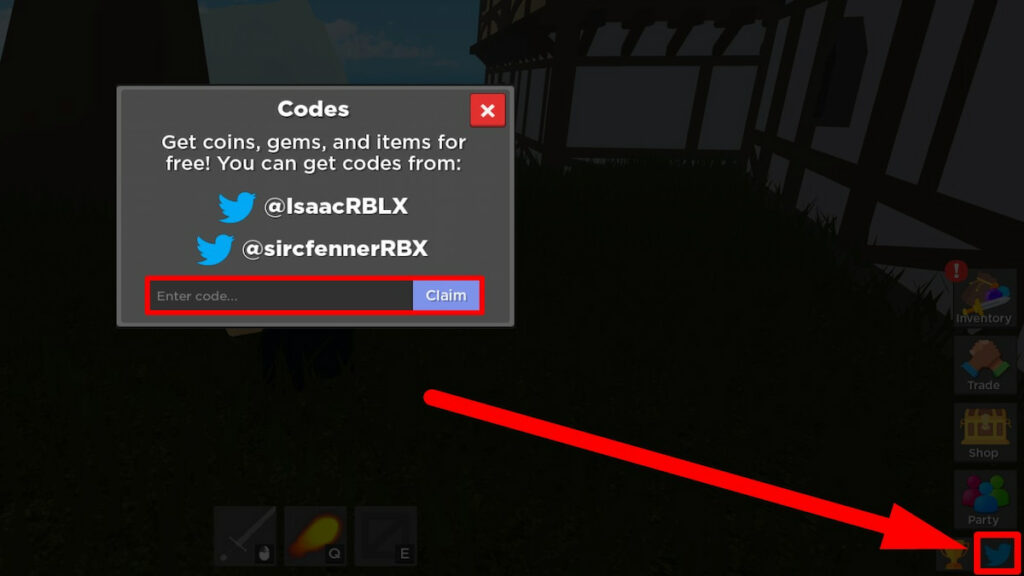 Launch the game.
Look for the Twitter icon on the right side of your screen.
Hit that button and you will need to copy one of the codes from above.
Paste it into the "Enter Code..." area on the screen.
Once you've got your code in place, just click the Claim button to receive the reward.
How to get more Roblox Rumble Quest Codes
If you want to get codes the second, they are available, be sure to follow IsaacRBLX and sircfennerRBX on Twitter. You should also join the Rumble Studios Group or join their Rumble Studios Discord Server because you can get some free cosmetics for your in-game character. Bookmark this page to stay in the know with all the latest codes. We have you covered here at Pro Game Guides.
Why aren't my Roblox Rumble Quest codes working?
Codes in Roblox Rumble Quest can fail to work for the following reasons. These codes are misspelled, or incorrect punctuation is placed into the text box. To avoid making these mistakes, just copy and paste the codes from our list. The codes could have expired already. Codes are time sensitive, so make sure that your codes are claimed before they expire and you lose out on those free rewards.
What are coins used for in Roblox Rumble Quest?
You can use Coins to purchase upgrades for your weapons and various gear. Weapons and gear can be purchased in the in-game store, and you can earn coins by completing dungeons and tasks in the game. You'll want to upgrade your weapon immediately if you want to go through dungeons solo.
What is a Roblox Rumble Quest game?
A Roblox Rumble Quest game is an RPG game where your main quest will be to go into dungeons for and claim better loot so that you can take on stronger enemies in harder dungeons. Loot the toughest of dungeons and become the strongest warrior in this world.
If you're looking for codes for other games, we have a ton of them in our Roblox Game Codes post! You can also get a bunch of free stuff via our Roblox Promo Codes page.