Our Roblox Rumble Quest Codes post has the most up-to-date list of codes that you can redeem for free gems. This is a quick and easy way to gain up some currency which will have you buying awesome new pets and upgrades for your character! These are all currently valid codes, and more will be added as soon as they are available.
How-to Redeem Codes in Rumble Quest
It's really easy to redeem your codes in Rumble Quest! Jump into the game and look for the Twitter icon on the right side of your screen.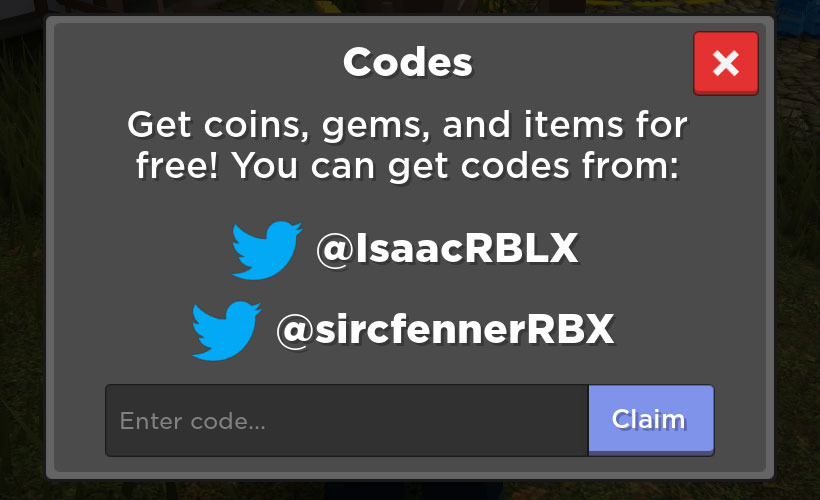 Hit that button and you will need to copy one of the codes from below and past it into the "Enter Code..." area on the screen. Once you've got your code in place, just click the Claim button to receive the reward!
Rumble Quest Codes List
Most codes will get you a bunch of free Coins and Gems! We'll be updating this post with additional codes once they have been released.
300 Gems: secret
300 Gems: freegems
150 Gems: Tomb
150 Gems: gems
1,250 Coins: coins
100 Gems: release
If you want to get codes the second they are available, be sure to follow IsaacRBLX and sircfennerRBX on Twitter! You should also join the Rumble Studios Group because you can get some free cosmetics for your in-game character.
What are coins used for in Rumble Quest?
You can use Coins to purchase upgrades for your weapons and various gear! You'll want to upgrade your weapon right away if you want to make your way through dungeons solo.
What are gems used for in Rumble Quest?
These are used for purchasing in-game cosmetics, normally you will only be able to get these by using Robux.