If you love being competitive in Roblox games but are turned off by the endless flow of anime battle RPGs (or just fancy a change of pace), Silly Simon Says is a great choice. Compete with your friends and others in a series of quick-fire randomized mini-games that will test your dexterity and timing to the max. My favorite is Lava Cross – what's yours?
Silly Simon Says codes can give you either free Coins or Tokens and may also give you unique cosmetics in the future. Tokens are tough to get hold of and can be spent on rare emotes. Coins are more common but equally useful, as they can be spent on randomized collection items from Chests. If you love competitive Roblox experiences, you should also check out Longest Answer Wins Codes.
All Silly Simon Says Codes List
Silly Simon Says Codes (Working)
These are all the working Silly Simon Says codes.
ilovesimon—Redeem for 200 Coins

wakeupsimon—Redeem for 10 Tokens
Silly Simon Says Codes (Expired)
These are expired codes for Silly Simon Says.
There are no expired codes for Silly Simon Says
Related: Super Party Codes
How to redeem codes in Silly Simon Says
Follow the instructions below to redeem codes in Silly Simon Says.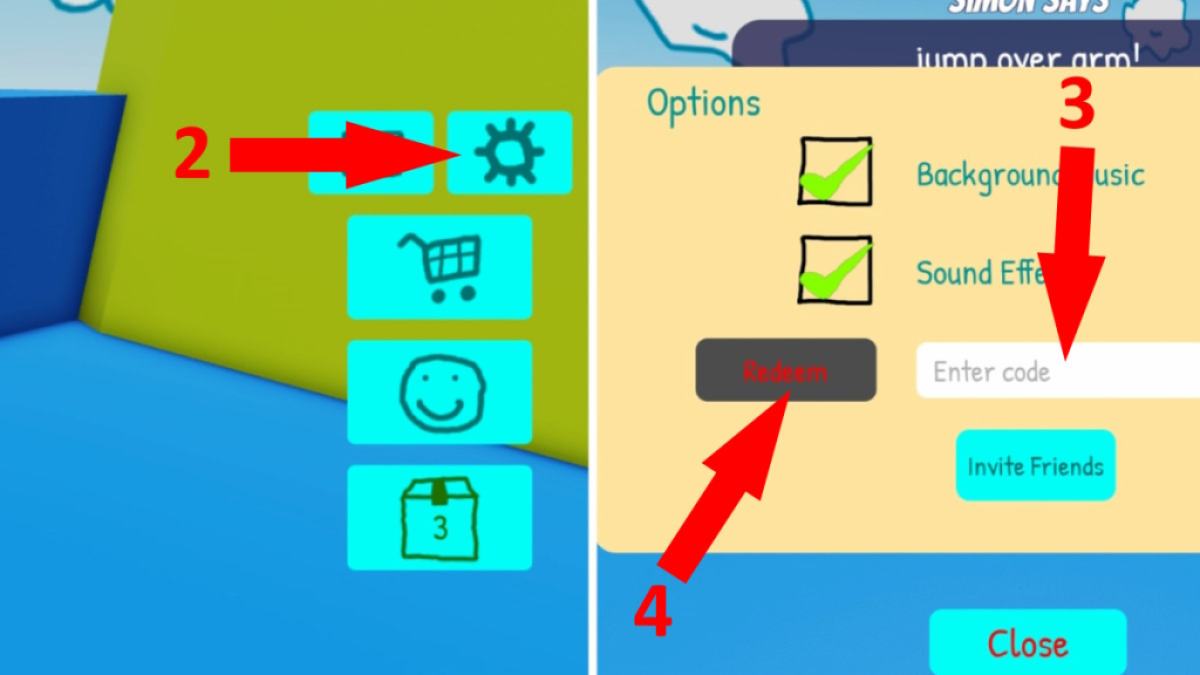 Launch Silly Simon Says on Roblox.
Press the Settings cog button on the left of the screen.
In the text box saying enter code, do so exactly as it appears in the list above.
Press the Redeem button to claim your reward!
How can you get more Silly Simon Says codes?
If you're searching for more Silly Simon Says codes, you can start the hunt by joining the Nomo Falls Roblox Group. If you want to venture outside of Roblox, your best bet is to become part of the official Nomo Falls Discord Server. Once verified there, you'll have access to a bunch of channels, including fan chat, announcement, and dev logs.
Why are my Silly Simon Says codes not working?
If you have tried to enter one of our Silly Simon Says codes above and it hasn't worked, there are a few potential issues. First, make sure you haven't made any errors. It is easy to miss a capital letter or mistake a letter for a number, which is why we suggest you cut and paste codes from here rather than typing them in yourself. If a code says it has expired, it is likely the game devs have removed it from circulation. Let us know, as we can't do anything except remove the code from our list. But check back in with us soon, as when one code dies, another is often born!
Other ways to get free rewards in Silly Simon Says
The best way to get more free rewards in Silly Simon Says is to play as much as possible. While winning games is the best way to get rewards, especially if they're ranked (three or more players competing), you'll also get 15 or 45 free coins every time you play a mini-game you haven't played before! With around 30 games to play and more being added regularly, that's a lot of free coins. You can claim them in the collections menu (the box below the codes button). The same applies when you spend your coins to get random effects. These are also added to your Collection, and you'll get some of the cost back by looking at your new items there.
What is Silly Simon Says?
Silly Simon Says is a competitive Roblox experience where players complete over five randomized mini-games to try and get the highest overall score. Just competing will earn you money, while wins get you even more. This can be spent on celebration emotes, effects, and phrases you can show off in later victories.
If you're looking for codes for other games, we have a ton of them in our Roblox Game Codes post! You can also get a bunch of free stuff via our Roblox Promo Codes page. And in the meantime, take a look at the latest news to stay up-to-date on all things entertainment.