Updated October 2, 2023

We searched for the newest codes today!
Each new destination in Slaying Legends will bring you new enemy types to slash through! Every world you unlock as you progress is themed and unique, making you want to slay harder enemies to find out where this adventure will take you next. It's good that you visited us because we have collected codes to help you as a super slayer on your adventure.
The codes you can use in Slaying Legends will redeem boosts to help you collect in-game currencies faster to level up and unlock pets to take with you on your journey. These boosts will give you luck, strength, and Gems.
Do you enjoy adventures that will have you exploring new worlds on Roblox? These experiences and codes will have you level up and take on any enemy that stands in your way. Try these codes for Demon Slayer RPG 2 Codes, Project Slayers Codes, Demon Slayer Legacy Codes, Slayers Unleashed Codes, and Roblox Demon Slayer Tower Defense Simulator Codes.
All Slaying Legends Codes List
Slaying Legends Codes (Working)
Here's a look at a list of all the currently available Slaying Legends codes:
LOVEYOU3000—Redeem code for 8 Minutes Luck Boost (New)
UPDATE3—Redeem code for 10 Minutes x2 Damage (New)
MILLI—Redeem code for 20 minutes Gem Boost (New)
UPD2!—Redeem code for 5 minutes Luck Boost
200K!—Redeem code for 20 minutes Gem Boost
THOUSANDLIKES—Redeem code for 30 minutes Gem Boost
Slaying Legends Codes (Expired)
These are the expired Slaying Legends codes:
300LIKES—Redeem code for Rewards
UPDATE1!—Redeem code for Rewards
20KVISITS!—Redeem code for Rewards
100LIKES—Redeem code for Rewards
10KVISITS—Redeem code for Rewards
Slaying Legends Frequently asked questions
Here's everything you need to know regarding Slaying Legends codes.
How to redeem Codes in Slaying Legends
If you want to redeem codes in Slaying Legends, follow the instructions below.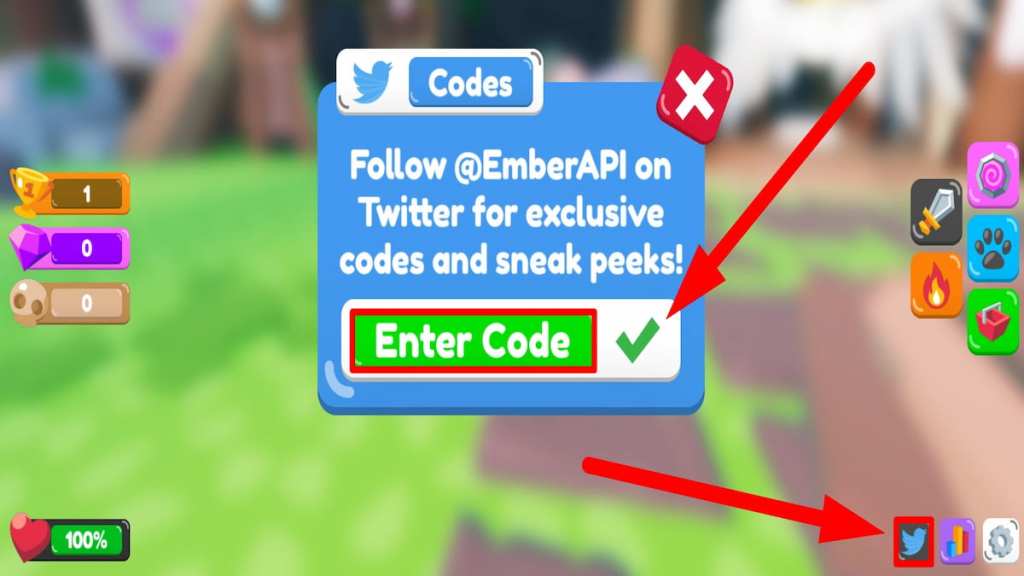 Launch Slaying Legends.
Click on the Twitter Bird Icon on the bottom left-hand side of the screen.
Enter the code into the Enter Code text box.
Click the green tick next to the text box to redeem your rewards.
How can you get more Slaying Legends codes?
To get the latest codes from the developer, Blazing Star Games, follow them on Twitter @EmberAPI and join their Ember Games Discord Server. We here at Pro Game Guides have all the latest codes from the developer, so make sure to visit us regularly and redeem the codes on our working list before they expire.
Why aren't my Slaying Legends codes working?
There may be a few reasons why your Slaying Legends codes are currently not working. These codes may be expired; developers have the final say when a code expires, so make sure you claim all the codes you see on our list before they are removed. These codes may be mistyped or entered in the text box incorrectly. Copy and paste the codes from our list to avoid making mistakes before redeeming the code.
How to trade in Slaying Legends?
To trade in Slaying Legends, you must follow a few steps to unlock the trading menu. To access trading and trade with other players in the game, you will need to kill as many of the enemies in the first area as possible. The enemies are marked as assassins and for each enemy defeated, you will be rewarded with Gems. You need to collect 49k Gems to unlock the next area called the Lizard Swamps. Once you have unlocked this area, click on the paw icon on the screen's right-hand side, which will open another menu window. Click on the yellow and blue arrow icon at the bottom of the window. You can now click any of the pets you have in your collection to trade with other players in the game.
What is Slaying Legends?
Slaying Legends is a click-fighting game. Defeat as many enemies as possible to collect resources to unlock eggs and pets to take with you on your journey through different stages. You can level up and equip new weapons to become stronger and take on bosses and higher-leveled enemies in each new area you unlock. By defeating enemies and bosses, you can climb to the top of the leaderboards by becoming the wealthiest in the game.
If you're looking for codes for other games, we have a ton of them in our Roblox Game Codes post! You can also get a bunch of free stuff via our Roblox Promo Codes page.