Update April 18: The Starcourt Mall is now open to play.
Netflix is bringing Stranger Things back to Roblox with a new mall-themed game, Stranger Things: Starcourt Mall. The event will hold multiplayer competitions and single-player challenges while offering opportunities to win new avatar items across four different experiences.
In Stranger Things: Starcourt Mall, players will roam the Starcourt Mall (as seen in the third season) to complete daily challenges and earn Stranger Things-related Avatar items. The four games to earn these exclusive rewards are:
Hawkins Lab Escape (5 vs. 1 Multiplayer)
Dueling Dice (1-2 Players)
Hi-Score Slingshot (1 Player)
Delivery Dash (1 Player)
Details are unknown about the Hawkins Lab Escape game, but judging how it is 5 vs. 1, it sounds like a survival horror game akin to Piggy and Kitty—two smash-hit examples of the escape genre on Roblox.
Dueling Dice (see image above) reminds us of a riff on Dungeons & Dragons, and due to the dice nature it sounds like some probability and luck will play a role in the player's chances of winning.
Related: Roblox Wonder Woman Event Guide – How to Complete Quests!
The remaining single-player games look to be standard experiences. Hi-Score Slingshot sounds like a classic carnival shooting game that involves high scores. Delivery Dash sounds like there will be plenty of hungry customers to find around the mall.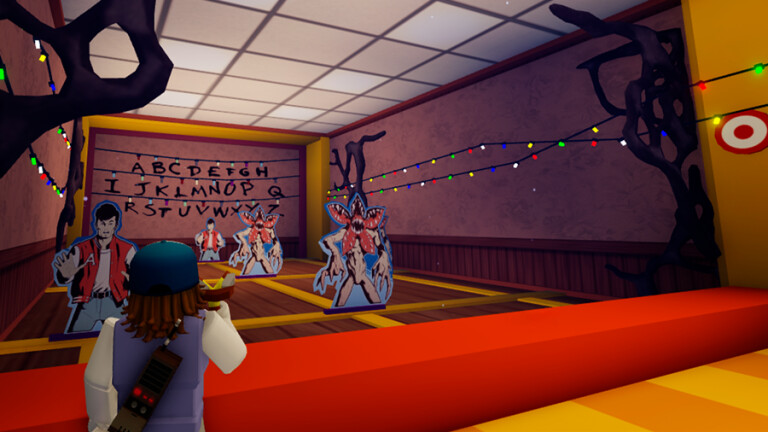 The Avatar items promised from this event have not been revealed, though the game description confirmed that they will be Stranger Things-themed, most likely matching outfits from main characters like Eleven, Dustin, Mike, and the rest of the gang.
Stranger Things is, of course, a sci-fi horror show fueled by 80's nostalgia. The story centers around a group of friends that discover government conspiracies operating within small town Hawkins, Indiana. There have been three seasons since it launched in summer 2016, with a confirmed fourth season on the way.
This isn't the first Stranger Things collaboration with Roblox. In July 2019, Netflix and Roblox created social media riddles that players were tasked with solving for exclusive rewards. But, players will actually get to experience the thrill of a mall during summer 1985.
The Stranger Things: Starcourt Mall Roblox experience is available now.
If you're looking for free rewards from your favorite Roblox games, we have a ton of them in our Roblox Game Codes post! You can also get a bunch of free stuff via our Roblox Promo Codes page.