Going to the gym can be such a bore. Still, now you can be the buffest dude in Strong Simulator Z! Working out in several different tropical locations might seem nice, but people are trying to knock you out. Still, you can bully other players with your power by knocking them out and getting the reputation as someone not to be pushed around. You can only do that by working out and never skipping leg day!
Codes for Strong Simulator Z will give you Strength, Gems, and free Pets. Use Strength and Gems to upgrade your character's stats and get buffer more quickly as you train! Equipping the Pet will get help to collect the resources to make you stronger.
Are you obsessed with being the strongest player in Roblox? These codes will help you get those gains at the start of these games. Get beefy and fast using Roblox Strongman Simulator Codes, Roblox Strong Pet Simulator Codes, Roblox Super Strong Simulator Codes, Roblox Muscle Magnet Simulator Codes, and Roblox Muscle Simulator Codes.
All Strong Simulator Z Codes List
Updated August 22, 2022
Added new codes.
Strong Simulator Z Codes (Working)
UPD1—Redeem for Strength (New)
RUSSO—Redeem code for Exclusive Pet and 200 Strength
muscle100—Redeem code for 100 Strength and 25 Gems
Strong Simulator Z Codes (Expired)
RUSSO—Redeem code for Exclusive Pet and 200 Strength
JeffBlox—Redeem code for 200 Strength and 100 Gems
launch125—Redeem code for Boost
Roblox Strong Simulator Z FAQ, Answered
Below is everything you need to know about Roblox Strong Simulator Z codes.
How to Redeem Strong Simulator Z Codes
To redeem codes in Strong Simulator Z, follow the steps outlined below: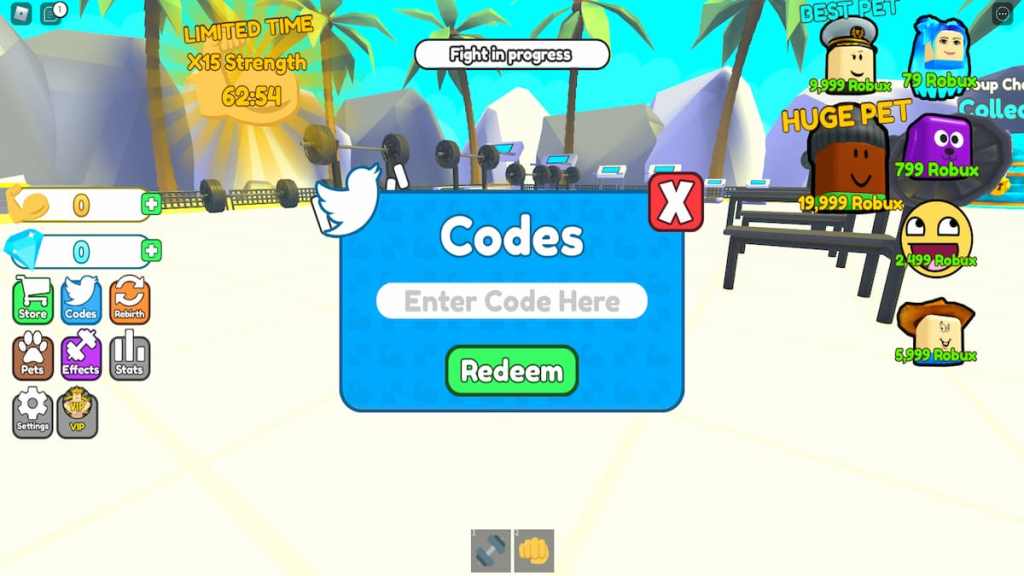 Launch the game.
Click on the Codes Twitter Icon on the left-hand side of the screen.
Enter the code in the Enter Code Here box.
Click on the green Redeem Button to claim your reward.
How to get more Strong Simulator Z codes
The latest codes for Strong Simulator Z can be found following the developer, Mobile Development Studio, on Twitter, @DevelopJames, and their Mobile Development Studio Discord Server. Alternatively, you can bookmark this page and return to Pro Game Guides often because we have all the latest codes for free rewards!
Why aren't my Strong Simulator Z codes working?
Things may go wrong while trying to claim your Strong Simulator Z codes. You may be trying to claim a code that is already expired. Most codes expire after a certain time; that is up to the developer. Try to claim these codes as soon as possible to avoid missing any free rewards. These codes may be mistyped in the text box, too. Copy and paste the codes from our list to avoid making any mistakes when you are trying to claim these codes! If you notice a code in the Working list isn't working, let us know in the comments. We'll check it out and update the page accordingly.
How to join fights in Strong Simulator Z
Joining fights in Stron Simulator Z is easy. When you're working out, a message board will appear across your screen that reads, "Hey! A fight is starting, want to join?" You will have the option to say yes or no to joining the fight. Press Yes, and you will get taken to a new location where you will be placed against other players to fight each other to the finish.
What is Strong Simulator Z?
Strong Simulator Z is a fighting game. You will need to bulk up and get strong to be the strongest fighter in the game. Explore the islands and work out to raise your attributes and become the strongest and biggest fighter on this island. You can terrorize other players by beating up smaller players or taking on opponents your size. This will give you reputation points as a good or bad player. Fight and work out to be the strongest and climb to the top of the leaderboards!
If you're looking for codes for other games, we have a ton of them in our Roblox Game Codes post! You can also get a bunch of free stuff via our Roblox Promo Codes page.