Want to get your cape on? Then head right into Roblox Super Power Simulator! First decide if you want to be a hero or a villain before heading off on your first quests to increase your stats and get your superpowers. Work out in the gym, explore the town, and battle other heroes and villains. Can you get on the leaderboard for defeating the most heroes or villains? Grabbing some Super Power Simulator codes will certainly help.
Super Power Simulator codes will translate into in-game dollars. You can spend in-game dollars in several ways to increase the speed at which you gain stats and complete quests. You can spend dollars to increase the amount each increment for actions you do. For example, increase the Agility you get each time you jump from 20 to 30. Or you can use it to skip stages of quests you don't want to do instead of auto-completing them.
If you're a fan of Super Power Simulator, you may also like these other Roblox games for which we have specific code pages. For example, why not check out Super Hero Masters, Superhero City, Super Hero Simulator, or Superhero Universe?
All Super Power Simulator Codes List
Updated October 21, 2022

Added a new code.
Super Power Simulator Codes (Working)
These codes for Super Power Simulator no longer work.
Codes15KCODE—Redeem code for $10,000.
Super Power Simulator Codes (Expired)
These codes for Super Power Simulator no longer work.
There are no expired codes for Super Power Simulator.
Super Power Simulator Frequently asked questions, Answered
Here's everything you need to know regarding Super Power Simulator codes.
How to redeem Super Power Simulator codes
Redeeming codes for free rewards in Super Power Simulator is no match for a superhero!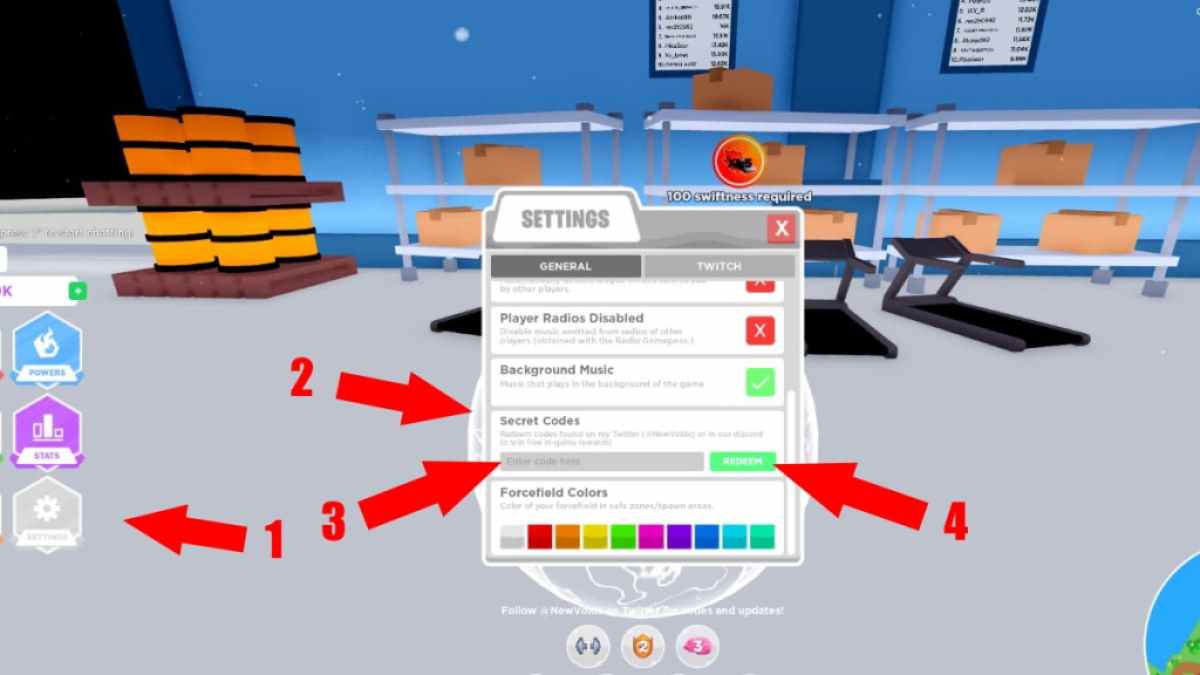 In the game, press the Settings icon on the left of the screen.
Scroll to the bottom of the Settings box until you see the Secret Codes section.
In the text box of Secret Codes, enter a code exactly as it appears in the list above.
Press the REDEEM button to claim your reward!
How can you get more Super Power Simulator codes?
Keep checking back with Pro Game Guides regularly, as we'll update codes for Super Power Simulator as soon as we see them. But if you want to do your research and go that extra mile, join them on Discord and become part of the Roblox Group.
Why aren't my Super Power Simulator codes working?
The most important thing to remember about Roblox codes is that they are case-sensitive (so capital letters are important), and you need to enter them exactly. It is usually best to cut and paste the code to make you have it correct. Even then, Roblox codes tend to have an expiry date, so if you're sure you've entered your Super Power Simulator code correctly and it still won't work, it has probably timed out. If the code is listed here as working, please let us know so we can update our guide. Sorry!
What do all my stats do in Super Power Simulator?
Once you've completed the first few quests in Super Power Simulator, you'll have all five of your stats available. Each has a specific purpose within the simulator:
Strength: When you hit an enemy with your powers, more Strength means more damage.
Endurance: This increases your Shield strength. Your Shield bar will always stay full, but it decreases the health you lose each time an enemy hits you.
Wisdom: This reduces the cooldown of your attacks, allowing you to attack more often.
Swiftness: The more you have, the faster you move.
Agility: Want to leap tall buildings in a single bound? Then increase your Agility!
What is Super Power Simulator?
Super Power Simulator does exactly what it says on the tin. As you complete more quests, you'll be granted more superpowers that you can then use to defeat your enemies. Each time you log in, you can choose whether to be a hero or a villain. Once inside Robloxia, compete to become the best hero or villain by increasing your stats, completing quests to get new powers, and defeating enemies to rise up the leader boards.
We're looking out for Roblox codes 24-seven, so you don't have to! Why not head over to our Roblox Game Codes page for hundreds more codes? Or for other Roblox freebies, take a look at our Roblox Promo Codes post.