Saints Row 2022 allows players to customize their characters, weapons, and vehicles freely. The customization options include custom mods, upgrades, signature traits, skins, and much more. Here's a guide on how to unlock the signature ability for various weapons in Saints Row.
How to unlock a weapon's Signature Ability in Saints Row 2022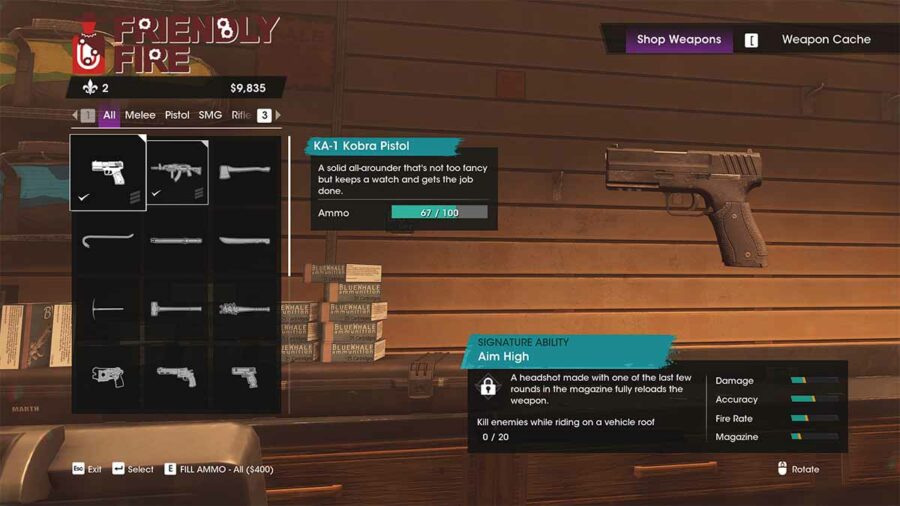 Every weapon has a different unlockable signature ability in Saints Row. You must visit a Friendly Fire Weapon Store to learn more about this special feature for your favorite weapon. These stores are marked with a handgun icon on your map at various locations.
Inside the store, interact with the shop owner to bring up the available weapons list. Scrolling over a weapon will pull out its statistics, next to which there will be a signature ability section. It mentions what this special ability does, and the unlock challenge, which needs to be done using that weapon.
For instance, the KA-1 Kobra Pistol has the "Aim High" signature ability that automatically reloads the magazine if you hit a headshot with the last few bullets. Also, remember that once you have unlocked the signature ability for a weapon, you need to activate it from the weapon store first to use it.
Related: How to unlock the signature ability for vehicles in Saints Row
Signature Ability unlocks for all default weapons in Saints Row
Melee
Axe: Kill 15 enemies from behind with regular attacks.
Machete: Kill 30 Panteros with regular attacks.
Stun Baton: Stun 30 Marshall.
Crowbar: Stagger 250 Idols.
Pickaxe: Kill five Specialists with regular attacks.
Sledgehammer: Kill five Specialists with heavy attacks.
Smelterville Slugger: Kill 25 Specialists with heavy attacks.
Pistol
KA-1 Kobra: Kill 20 enemies while riding on a vehicle roof.
ElectroStun P1 200: Tase 30 enemies.
Handcannon .44: Shoot 24 tires from hostile Panteros vehicles.
MDI-39m Sixguns: Kill 30 Marshall.
Idol Lite: Get 20 headshot kills.
SMG
1921 Johnson: Destroy 20 hostile enemy vehicles.
D4th Blossom: Shoot 10,000 bullets.
Machine Pistol: Get 20 Idol double kills.
TEK Z-10: Get 20 Marshall double kills.
Rifle
K-8 Krukov: Kill 10 enemies with your last magazine.
.585 Safari Express: Get 10 long-range kills.
AR-55 Burst: Get five kills on your last magazine.
Shotgun
AS3 Ultimate: Get 10 triple kills
MDI-50 Tac: Kill one Gatling Gunner.
Police Shotgun: Get 10 double kills
Stagecoach: Kill five Marshall Gunslingers.
Sawed-Off: Kill 30 Idols.
Stay tuned to Pro Game Guides for more on Saints Row. In the meantime, head over to our article on Where to find the UFO in Saints Row.