Season 10 is upon us, and Rare has given a preview of what players can expect for the latest season of Sea of Thieves. I've been dying for one feature in particular, and after many years, Rare has delivered. But I'm getting ahead of myself; let's look at what treasures you can expect in Sea of Thieves Season 10.
All features added in Sea of Thieves Season 10
Season 10 of Sea of Thieves is on the horizon at last and sets sail on October 19, 2032. New content is coming, and I've never been more excited for a Sea of Thieves season. You're probably wondering what you can expect in Sea of Thieves Season 10, so let's look at everything added in Sea of Thieves throughout Season 10.
Guilds
First Competitive Voyage
Safer Seas Private Servers
Cosmetics
Related: All The Quest for Guybrush Memoir Spots in Sea of Thieves
How do Guilds work in Sea of Thieves
Guilds are a new feature added in Season 10 of Sea of Thieves. Guilds differ from crews, allowing you to add 24 pirates to your roster. Players can come together under a shared name and work toward a common more than ever with this new feature. A captain must start a Guild and pledge their ship to it before other players can join.
Starting a Guild allows you to name it, give it a motto, and choose the branding of it. Once a ship has been pledged to the Guild, you can toggle whether or not it is shared with your Guild. Sharing it allows players to use your ship and progress your captaincy even when you're offline. Guilds can work together to unlock new cosmetics and earn levels of distinction for more rewards.
Sea of Thieves - Skull of Siren Song Voyage Explained
The Skull of Siren Song is the first competitive Voyage in Sea of Thieves and will pit all crews on the server against one another in a race for treasure. It happens randomly, but when it occurs, a note will be pinned to the mast of every crew on the server, signaling the Voyage beginning. With this system, all players will know when the Voyage begins and must race against one another to complete.
If you accept the Voyage, the Ghost of Captain Briggsy will appear and give your crew two maps. One leads to a chest, and the other to a key, but you'll need both items to discover the treasure inside the chest. However, all players on the server may be seeking the chest and key, so you'll need to move quickly and likely have to fight over them. The location of the chest and key will be marked on the map and as a beacon in the world, so you cannot simply hide the items.
With both key and chest, you can open it and claim the Skull of Siren Song, a powerful new weapon. It also comes with its own objectives, so your work is not done simply because you got the Skull. Other players can still fight you and take the Skull, which may be easier due to the curse the Skull lays on your ship, slowing you down.
Related: Sea of Thieves Monkey Island Memoir Spots Locations
How does Safer Seas work in Sea of Thieves
At long last, Sea of Thieves gets private servers, allowing you and your friends to play without other players. You can sail alone or invite your crew to Safer Seas and enjoy Voyages, Tall Tales, and more at your leisure. Safer Seas are a great way to learn the game but also provide uninterrupted fun. It should be noted Safer Seas offered diminished rewards compared to High Seas, which we'll explore below.
Safer Seas vs High Seas - Sea of Thieves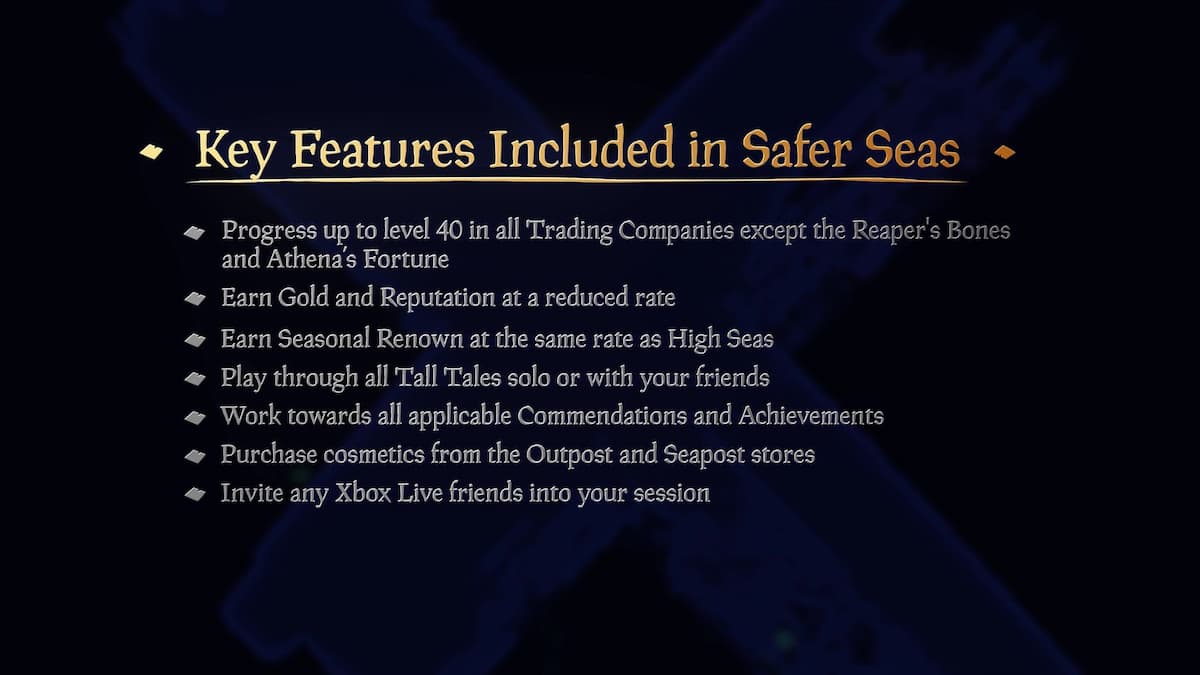 Sea of Thieves Season 10 New Cosmetics
We haven't gotten a full look at what cosmetic items are coming in Sea of Thieves Season 10, but the few we saw during the Season 10 Preview look shiny and delightful. Many of these will likely be tied to Guilds and the Skull of Siren Song Voyage, so enjoy everything Season 10 has to offer and unlock cool new looks for your pirate, or stick with Monkey Island cosmetics if that floats your boat.
Sea of Thieves Season 10 Preview Trailer
You can check out the preview for Season 10 of Sea of Thieves below and on the official Sea of Thieves YouTube channel. Dive into the trailer and discover what lays on the horizon for Sea of Thieves.
For more information on Sea of Thieves, check out All Sea of Thieves The Quest for Guybrush Tall Tale Commendations and How to Get Them and How to get Pieces o' Eight in Sea of Thieves on Pro Game Guides.