Season seven introduced many new features, mechanics, and cosmetics to Sea of Thieves. One of these is the ability to captain your own ship. Part of this includes a Captain's Logbook that records your adventures. However, this logbook can be stolen by other players, and you can steal theirs. This may leave you wondering what to do with another player's Captain's Logbook in Sea of Thieves.
If you manage to capture another player's captain's logbook, you can steal it and sell it for gold. Logbooks can either be salvaged from sinking another player's ship or by sneaking aboard and stealing it. Captain's Logbooks become more valuable the longer that player's ship has not sunk.
Related: How to drop things in Sea of Thieves
Where to sell another player's Captain's Logbook in Sea of Thieves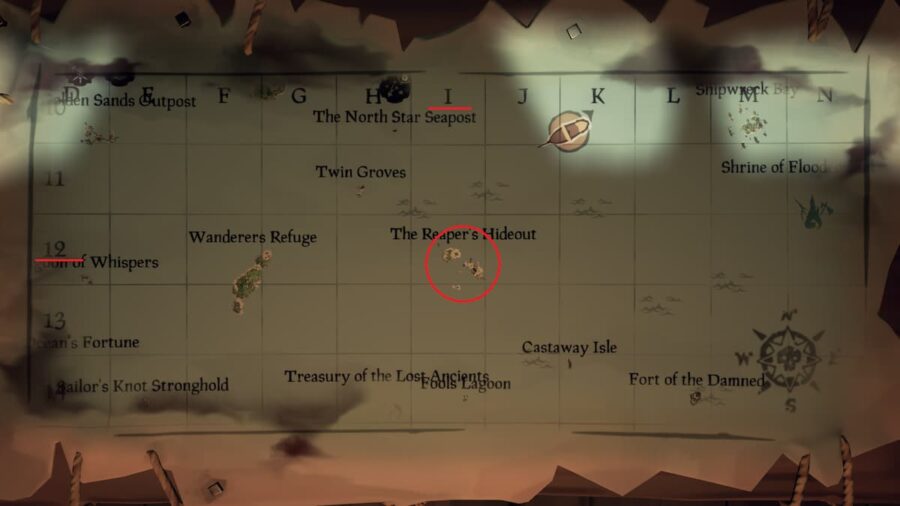 To sell captured captain's logbook in Sea of Thieves, you must go to The Reaper's Hideout and speak to The Reaper's Bones. This location can be found at I12 on the map in the image above. The Reaper's Bones vendor is located in the center building. Speak with him to sell the Captain's Logbook.
All Captain's Logbook Prices
When it comes to Captain's Logbooks, you will want to get your hands on rarer ones, like the Remarkable and Extraordinary. Noteworthy Logbooks are not really worth the trouble of stealing or salvaging. Here are all Sea of Thieves Captain's Logbooks sell prices.
Your Captain's Logbook – 1 Gold
Noteworthy Captain's Logbook – 300 Gold
Accomplished Captain's Logbook – 2,500 Gold
Remarkable Captain's Logbook – 10,000 Gold
Extraordinary Captain's Logbook – 25,000 Gold
For more information on Sea of Thieves, check out Fastest way to sink your own ship in Sea of Thieves and How to upgrade your ship to Legendary in Sea of Thieves on Pro Game Guides.