EA's The Sims 4 is one of the most popular simulators out there for recreating real-world actions and occurrences in a game setting. It is also the most popular for some of the more improbable things as well! Not only can you build your dream home and have a career as a social influencer turned astronaut, you can try your chances at getting abducted! It would seem that E.Ts are not just for Steven Spielberg it seems, but for all Simmers! So with that being said, here is how to get abducted in The Sims 4.
How to get Abducted by Aliens in The Sims 4
Getting taken up into an alien U.F.O is one of the most interesting events that can happen in-game. Not only is it a bewildering experience for your sim, but can also introduce an alien family member!
Please note: the add-on pack Get to Work is required for this to be possible. It, unfortunately, does not occur in any other add-on or the base game itself.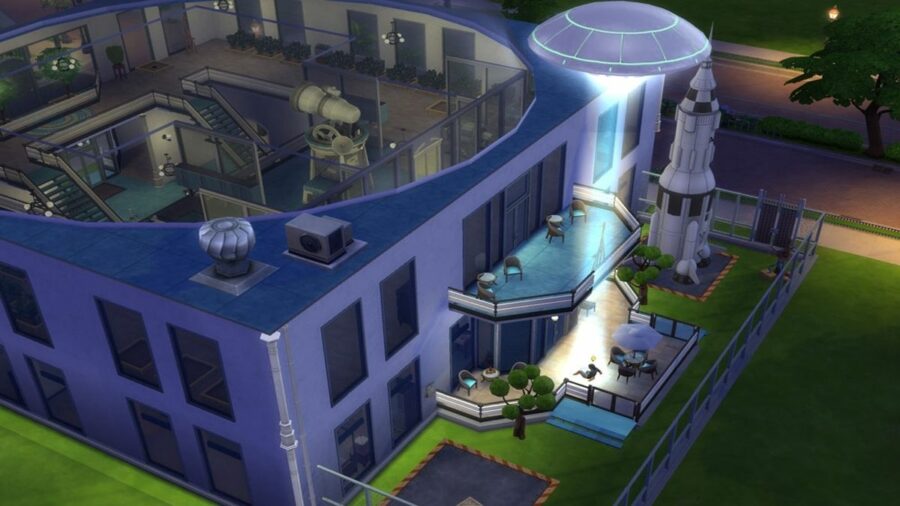 There is actually already a small chance of being abducted each night between 10pm and 4am without doing anything extra or abnormal. However, there are of course ways that will increase this probability. Behind the HUD system (Heads-up Display), there is an invisible meter which tracks the possibility of being abducted.
Certain actions in-game will increase the likelihood. These will add a buff that lasts for 24 game hours. After this the meter will start to decrease again, so you will need to keep doing certain things to maintain the buff.
Follow these steps:
— Join the Scientist Career
— Purchase the Out of this World Desktop or Satellite Dish (available at Level 4 of your career)
If you want to access these items quicker, you can use this cheat code:
— Press CTRL + SHIFT + C to open the cheat bar at the top of the screen
— Type testingcheats true to activate the ability to input cheats
— Then type bb.IgnoreGameplayUnlocksEntitlement to buy the computer
— Type bb.ShowHiddenObjects to be able to buy the satellite dish
You can then use either of these items to use the Contact Aliens prompt, which will then fill your bar and increase your chances of abduction for the next 24 hours.
Getting Abducted Another Way
If you don't want to become a scientist to achieve this, you can increase your chances by using the telescope at the Observatory. When you have achieved Lvl 7 of the Logic skill, you can use an interaction called Search for the Truth, which will fill your meter slightly for every in-game minute the telescope is used. If you are not at Lvl 7 and want to jump to it simply:
— Press CTRL + SHIFT + C again
— Then type stats.set_skill_level Major_Logic 10
This will set your logic level to 10, and you will be able to activate the interaction with the telescope.
When successful, your sim will go to investigate a strange light and afterward will come back Dazed. They will also have a moodlet for the next 24 hours. You also have a 25% chance of a male sim becoming pregnant with an alien baby! Told you that there was a possibility of gaining an alien family member.
Need more help with your sims gaming marathon? Check out how to change the weather in The Sims 4.