Sniper Elite 5's Kill Challenges task you with taking down high-value targets using unique methods. Kill Challenges may remind players of the Hitman series, where many assassinations can be carried out in creative ways. The Mission 6 Kill Challenge in Sniper Elite 5 is very Hitman-like, as you have to poison your target. Mission 6 drops you into a French town as you work to liberate it from Nazi forces. The mission map is rather large and many objectives are spread out, so getting to Trautmann takes a little time and stealth.
Sniper Elite 5 Mission 6 Kill Challenge
The Mission 6 Kill Challenge is pretty unique since most other Kill Challenges require you to directly kill the target. For this Kill Challenge, you will need to rely on items and staying hidden to complete it.
Where to find Trautmann
In order to poison Trautmann, you will have to go to his manor located in the southwestern corner of the map. Trautmann can be found on the second floor of the manor, locked in his room. The manor is guarded by a few officers, which you can sneak past or take down, but be careful not to alert anyone. If Trautmann becomes aware of you, you will not be able to complete the challenge. The exact location of Trautmann can be seen in the image below.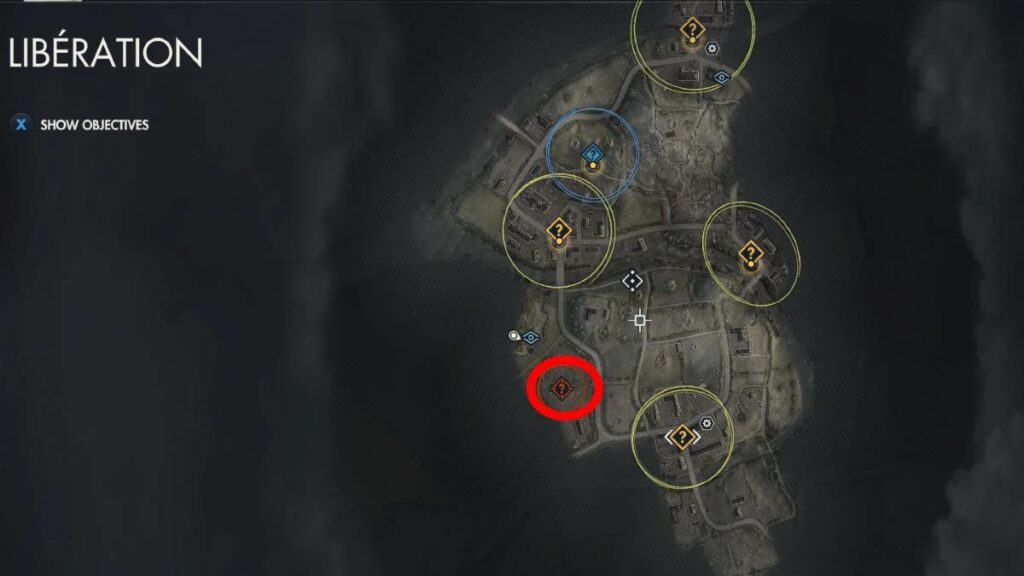 How to poison Trautmann
The first step to completing the Kill Challenge is finding the poison. Luckily, there are a couple poison bottles located in the manor. The easiest poison bottle to find is in the front area next to the stairs on some crates. Using Focus will help a lot for this challenge, since the poison and target will be highlighted.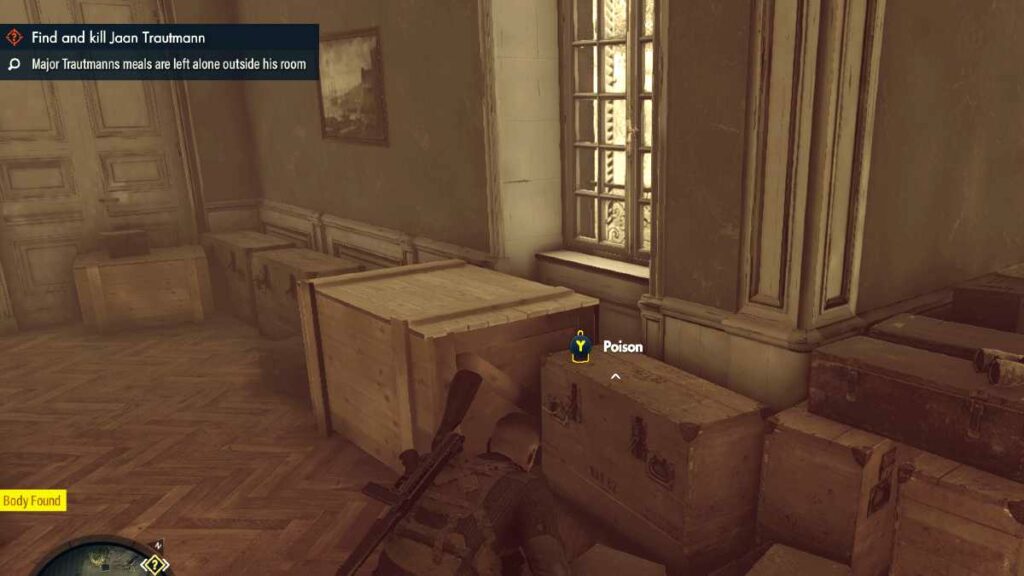 After getting the poison, walk upstairs and find the table to the right of his door. Poison his drink by approaching the cup and pressing Triangle (PlayStation) or Y (Xbox). Then, press the same button next to the bell on the table to lure him out. Make sure you are out of sight, and he will soon come out and drink the poison.
Mission 6 Kill Challenge Reward
The reward for completing the Mission 6 Kill Challenge is the Model D pistol. A powerful pistol that is extremely mobile and can penetrate helmets with standard ammo. The Model D is a great choice for the loadout, especially for quick campaign missions.
For more Sniper Elite 5 guides, check out How to bury Baumann in concrete in Sniper Elite 5 on Pro Game Guides.