What happens if you take the Borderlands genre and put it into an isometric Diablo-esque view? Well, that is Space Punks. It's a very interesting take on combining genres, especially when loot is involved.
Instead of a single whole world to explore, you instead go out on a mission and do various odd jobs while earning fame to increase your standing back on the hub area called Devil's Gambit. With new skills to unlock by leveling up and a massive talent tree, there is plenty to keep you occupied in this Early Access title.
Combat, Characters and Co-op
They are four characters you can choose from, all using unique skills and talents, and each one has their preferred stats. You can equip one gun and a melee weapon, and you can dodge. This is the main premise of Space Punks, apart from the skills available at your disposal.
Each one plays differently from each other, but not at the start of the game. When you begin, you get access to one ability and one alone. You have to level up your characters to earn the other three abilities. As a result, the game starts off extremely repetitive. You can fire, melee, use one ability, and dodge—that's it. This is all you'll be doing until you get your next ability, which is where Space Punks starts to open up.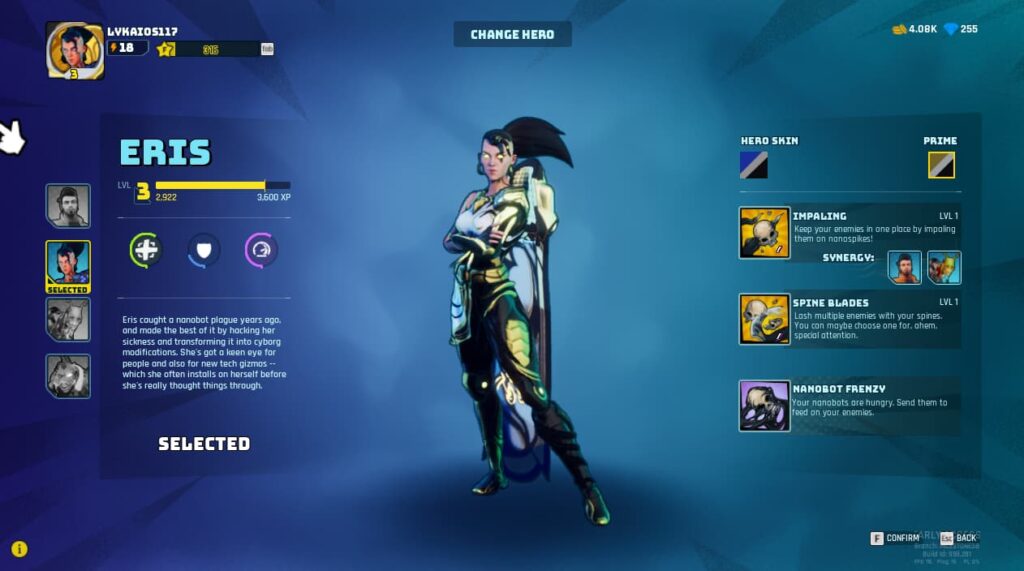 There's plenty of weapons and melee options to choose from and each one is quite different, more so melee than guns. Hammers have knockback and hit hard, swords are a happy medium, and dual wield daggers attack fast (not as much damage, but zero knockback). Find the weapon that you like and roll with it.
In combat, enemies will run at you like you're the first person they've seen in eons. But instead of dishing out hugs, they want to kill you. They attack from all different directions but ultimately there is a rhythm to combat: just fire your gun, then switch to melee when they close the distance, add a sprinkled use of your ability. Don't get me wrong, the game opens up tremendously when you have all four skills at your disposal, but forcing the player to unlock abilities over time slows down the early game.
However, this is countered by starting the game in co-op. Your one ability now feels fine when you've got three other teammates at your back. Bullets spray from everywhere, which is how the game feels like it was meant to be played. In this regard, the multiplayer outshines the single-player with ease.
Equipment, The Vault, and Loot
Another main aspect is equipment. Each character can equip up to five pieces (technically six but one is a Work in Progress). These pieces come equipped with stats, buffs, and all sorts of things, but you cannot change your gear from anywhere, whenever you please.
You need to return to the hub area and find the Vault to change gear. Yet it just feels strange for a looting game, not being able to access and equip your awesome loot as soon as it's acquired.
Along with loot comes your power level. This is the average level of all of your equipment combined. The higher this level is, the more difficult missions you can accept. If you are having trouble with a mission, increase your power level by getting better gear, then attempt it again.
But this is not a loot-heavy game despite the mechanic. There's loot, but it doesn't fly out of enemies and drown you with goodies like Diablo. Space Punks is more akin to you sometimes getting loot when opening chests and defeating a boss—you'll never get it off normal enemies. You are guaranteed loot after completing a mission, which the amount can be increased by altering the difficulty. By doing so increases the rewards you get after the mission.
It makes sense. Due to the mission-based system Space Punks has in place, you always end up back in the Devil's Gambit, no matter what.
Fame, Leveling, and Talent Points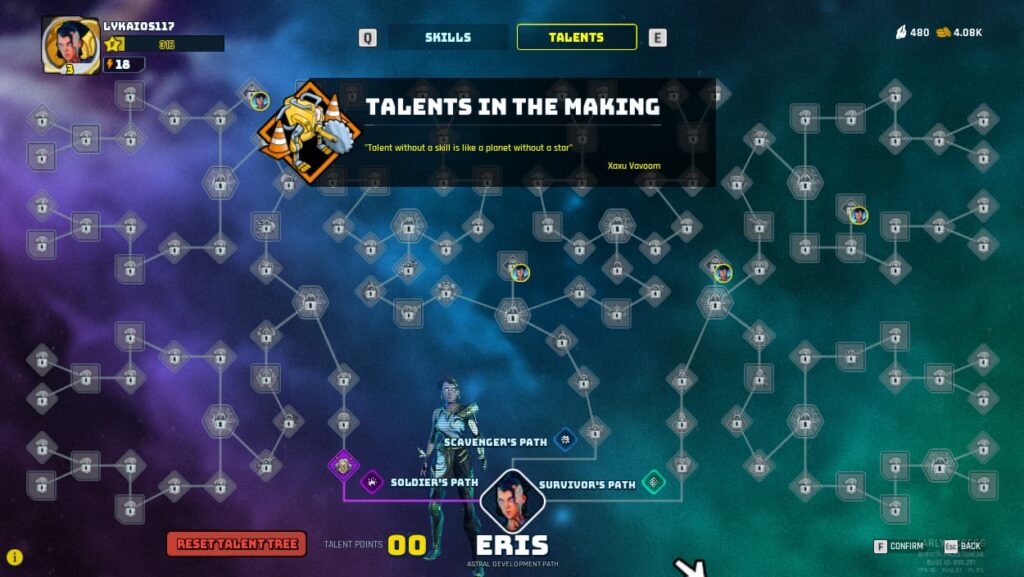 Fame resembles a free Battle Pass of sorts. The more fame earned grants unlocks at certain increments, such as chests to open for loot, new quests/missions. As well as new vendors to appear in the Devil's Gambit hub area, like weapon merchants. It makes Devil's Gambit from feeling somewhat empty, to something more.
There is a leveling system in the game, but it only exists for you to earn talents points and unlock more abilities. But talents points are where Space Punk really shines as the Talent trees are absolutely massive. You can reset your tree for free as many times as you want. Meaning, you can make and create as many builds as you desire. If you don't like what you've done, reset it and build another one free of charge.
Each class has three Talent trees they can go down or mix and match throughout each one. The potential here is enormous and is easily the best aspect of Space Punks.
Verdict
The various amount of weapons there are and the feeling of melee weapons are a nice touch in Space Punks. But it's a shame that developer Flying Wild Hog starts all players with one initial ability before allowing others to unlock. The game would started off stronger if all four abilities were available, able to be tweaked as you level up for stronger or different abilities.
It is blatantly obvious that the game was designed for multiplayer in mind. Single-player balance seemed like an afterthought, as some of the missions seep in tedium. You'd definitely enjoy this game if you have four friends to play through it with you. Sure, you can play with randoms, but there is nothing like playing with friends.
Space Punks always has to be online, and because of its early access nature, you can easily get kicked out of the game, and you cannot reconnect. However, they are constantly updating the game with new content, improvements, and the like.