Star Wars Jedi: Survivor has had numerous performance issues since its launch. Various glitches and performance drops have plagued player experiences, including mine. I am playing the game on PS5, yet even I have experienced occasional frame stuttering, regardless of whether I am out in the open or a tight space. This issue leaves many of us wondering: will there be a Day One patch?
Some folks online claim they received the Day One patch for Star Wars Jedi: Survivor, which supposedly addressed performance issues. My colleagues and I, playing the game on various platforms (PS5 and PC), have yet to see the Day One patch. We suspect that the file downloaded by those who reported the patch might have been the preload remnants and not an official Day One patch because the official patch notes are nowhere to be found. Rest assured that we will update this article as soon as we find any evidence to the contrary.
How to (potentially) solve Star Wars Jedi Survivor performance issues
Performance issues with stuttering frame rates and trouble with HDR have been a constant problem since Star Wars Jedi Survivor was released. While we have posted several links trying to troubleshoot both problems, it is also up to the developers at Respawn Entertainment to fix the issue with a patch.
From my experience, I had to play in Performance mode to ensure any fluidity and playability. Upon turning the mode off, I experienced a drop in frame rates, enough to make combat nearly impossible. If you want to turn the Performance mode on, follow the steps below: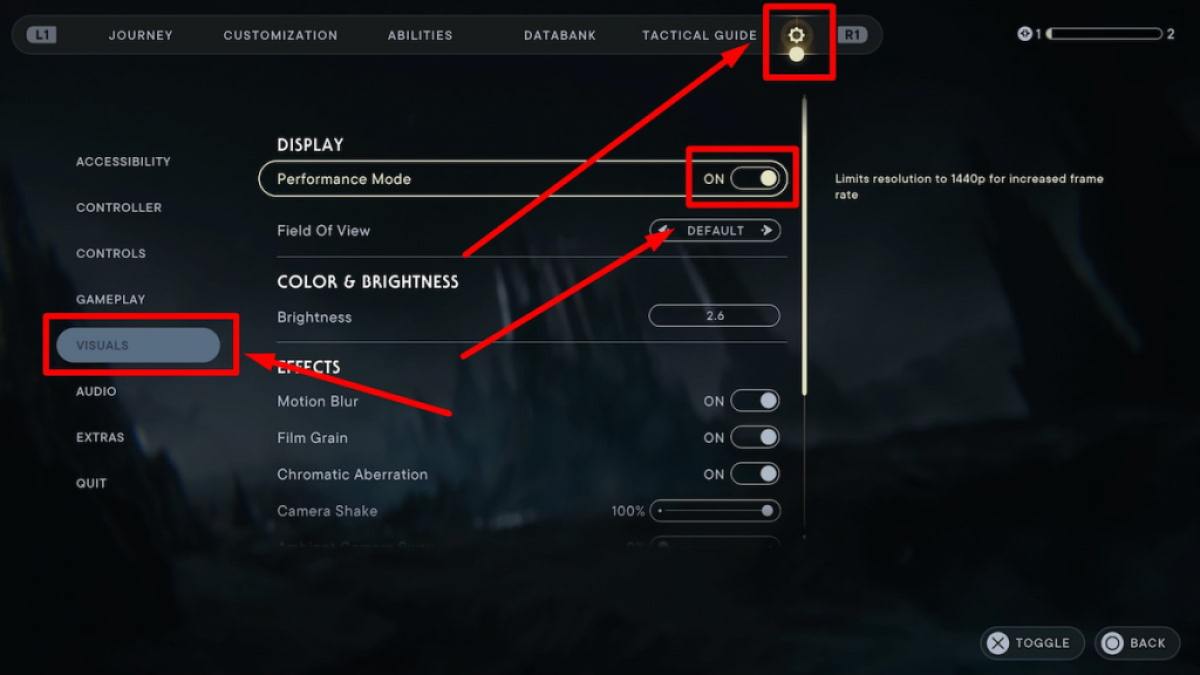 Launch Star Wars Jedi: Survivor on your device.
Once you are in the game, go to Settings.
Select Visuals from the side menu.
On the Display section, select Performance mode.
Toggle the button to the ON value.
Enabling the Performance mode caps your resolution to 1440p in favor of an increased frame rate. There are several more tweaks you can try if you play on PC; you can lower the resolution even further, down to 1080p, and turn off the biggest performance killers, like ray-tracing and anti-aliasing. However, if the problem is optimization itself, which it looks like it is, no matter how bad or good the game looks, the performance will chug along. I believe we'll have to wait for a patch or two before Star Wars Jedi Survivor runs smooth as butter.
Need more guides to help you fight the Galactic Empire in Star Wars Jedi: Survivor? Check out Jedi Survivor Priorite Shards – Where to spend & what to buy first and Jedi Survivor Arachnophobia – How to Enable Safe Mode here on Pro Game Guides!