In Stardew Valley, there are a ton of fish players are able to capture and sell or make into other items. One of these is called a Sturgeon, and here we will explain how to capture it.
How to get Sturgeon in Stardew Valley
To catch a Sturgeon, you will need to head to the mountain lake in the northern part of Stardew Valley, and there you will need to cast your line as far as possible into the lake in the summer and winter seasons. However, you can only catch fish in the winter when it is raining, which is only possible if you have a rain totem.
Related: How to put bait on the fishing rod in Stardew Valley
If you want to make a rain totem to fish for Sturgeon in the winter, you will need to unlock the recipe with level nine foraging. Additionally, you will need the following resources:
One Hardwood

One Truffle Oil

One Pine Tar

Level Nine Foraging
That being said, we recommend getting the best fishing rod possible and using attachments such as a trap bobber in the spot shown in the image below.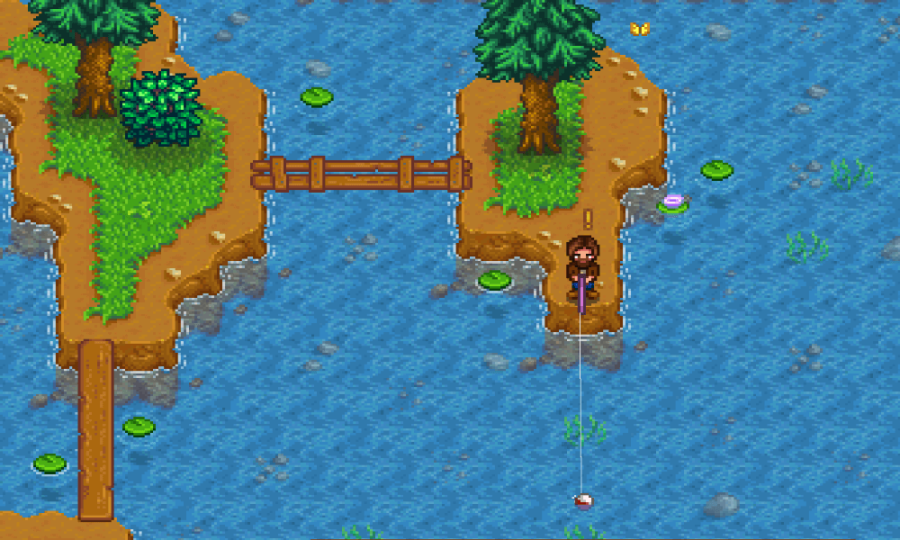 Doing so will increase your chances of getting the highest tier Sturgeon possible, which you can later sell for a nice profit. You can also purchase trap bobbers from the fishing shop for 500 gold when you reach level 6 in fishing. Along with that, you can also make them with the following resources below.
If you are still having trouble catching fish, we recommend farming easier fish to increase your fishing level, as this will increase your ability to catch fish every few levels.
We recommend checking out the following guides to increase your fishing skills even further.
For more on Stardew Valley, we at PGG have you covered with tons of guides like how to get sashimi and how to propose in Stardew Valley.