If you have played games on your PC, then you more than likely know what Steam is. Steam is basically a platform where users can buy and play countless video games. While there is no limit to how many games you can have in your Steam Library, your computer's Storage is a finite resource. So you will often have to clear out some old games before downloading new ones. Here is how to uninstall Steam games.
Uninstalling Steam games is just about as easy as installing them. All you need to do is launch the Steam client and log in. Once logged in, navigate to your Library and click on the game you want to uninstall. To the right side of each games page, there will be a cogwheel.
Related: Is Steam down? Here's how to check Steam Server Status
Clicking on that wheel will give you a drop-down menu. If you hover your mouse over the Manage option in that drop-down menu, you will get another menu to pop up. There at the bottom, you will see an Uninstall button. Once you click that, Steam will ask if you want to delete that game. Upon clicking the Delete button, Steam will fully uninstall the game from your PC.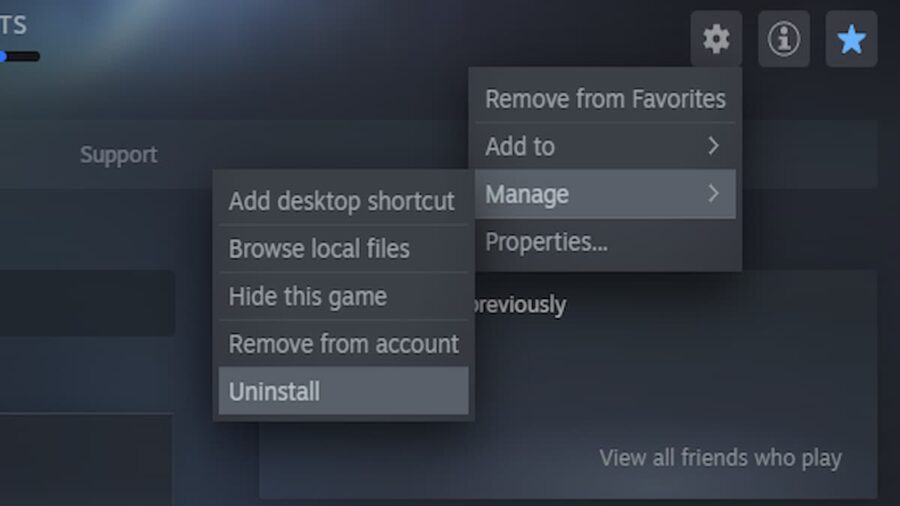 When you uninstall a Steam game, remember that the game will remain in your Steam Library. However, if you want to play the game again, you will have to reinstall it onto your PC.
For more Steam guides, check out How to connect an Xbox One Controller to Steam right here on Pro Game Guides.