Work Permits are special items that can be used to increase your chances of conducting Business Consult and Operational Assessment debates under the Legal Studies section of the X-Note menu. While these resources can be used any time, it's a good idea to stock up on a few as the game may prompt attorneys to use them to complete event tasks, such as the instance in the Love in the Air event.
How to get Work Permits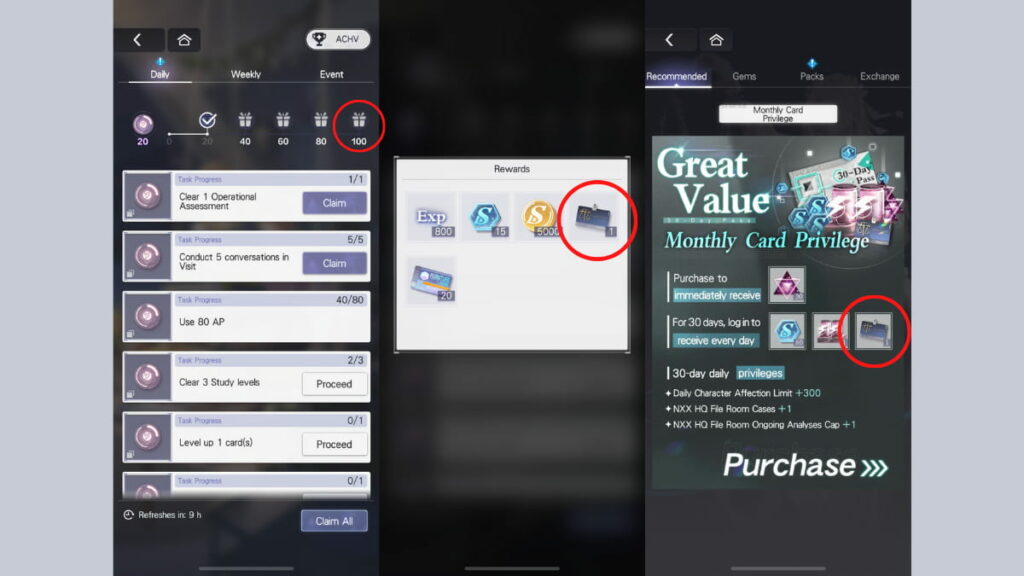 Work Permits are scarce resources that can only be obtained in two ways.
Daily Tasks: one Work Permit can be claimed as a reward for reaching 100 Activeness every day. Keep in mind that it must be manually claimed by clicking on the present icon or the Claim All button from the Task menu before the end of the day, as the next day's reset will nullify all unclaimed rewards from the previous day.
Monthly Card: The Monthly Card, which requires real-life money to purchase, grants you an additional Work Permit for every day the privilege is active. This is automatically rewarded to you upon logging in. Missing a day will nullify the previous day's rewards.
How to use Work Permits
Work Permits can be used by clicking on the plus sign beside the Work Permit icon on the upper right of the screen. It only appears inside the Business and Operations stages, as these are the only areas where the resource can be used.
Each Work Permit will give you an additional chance to clear a stage every day, but will not remove the 20 AP cost of each stage. If you fail to use an extra chance from a Work Permit, the two free chances from the next day will not overflow.
For example, if you use two Work Permits today but fail to clear the stages, you won't receive the two free chances the next day. Likewise, if you only clear one out of two refilled stages today, you'll only receive one free chance the next day.
Check out our Tears of Themis Love in the Air event guide to claim amazing MR cards of your favorite male leads.