The Millennium Dream - Another Life in Ancient Khaimit is a Tears of Themis web event that runs until May 18, 2022. It's a lottery-style event where five random winners will be chosen to win a Secrets of the Tomb merchandise pack, while 20 lucky winners will be chosen to win S-Chips. Keep in mind that the merchandise reward is a physical package that will be shipped to your address, so make sure to get your guardians' permission if you're a minor.
Access the event by heading to the event page on HoYoLAB website or app. Log in using your Tears of Themis account, which is also your universal HoYoverse account.
How to Participate in the Millennium Dream Event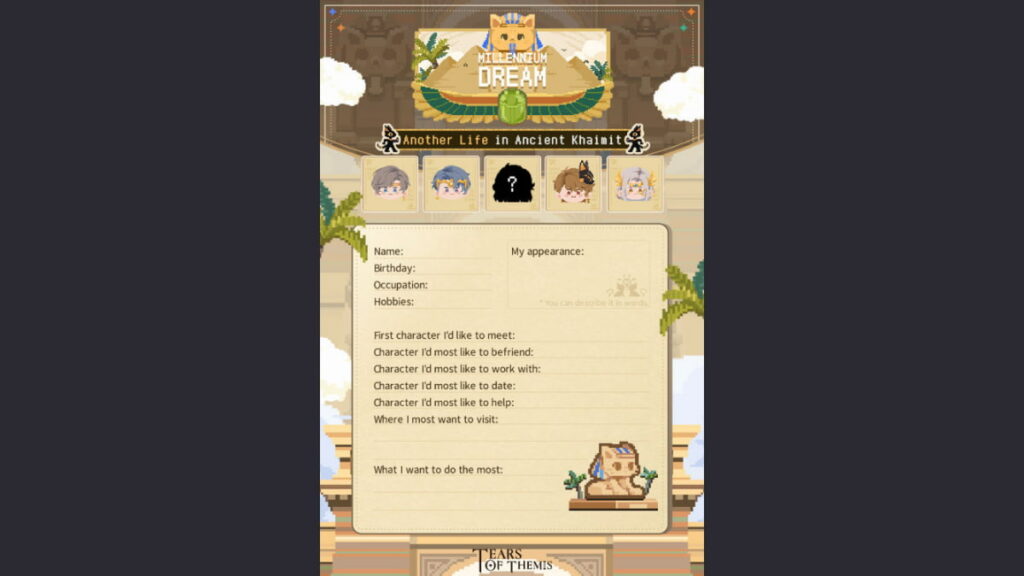 To start, head to the event page and save the provided template. You need to fill the information up and attack a photo on the upper right. Tears of Themis recommends not using your real identity and photo for safety purposes.
As the provided template is an image, you may need to use a photo-editing app like Canva or Picsart to fill in the form. Your phone or computer may also have a built-in app that can allow you to input text into the provided template. You must use the template as-is—don't edit the design, or your submission may not be considered!
Related: Which male lead should you take to the Tomb of Ita in the Tears of Themis Secrets of the Tomb event?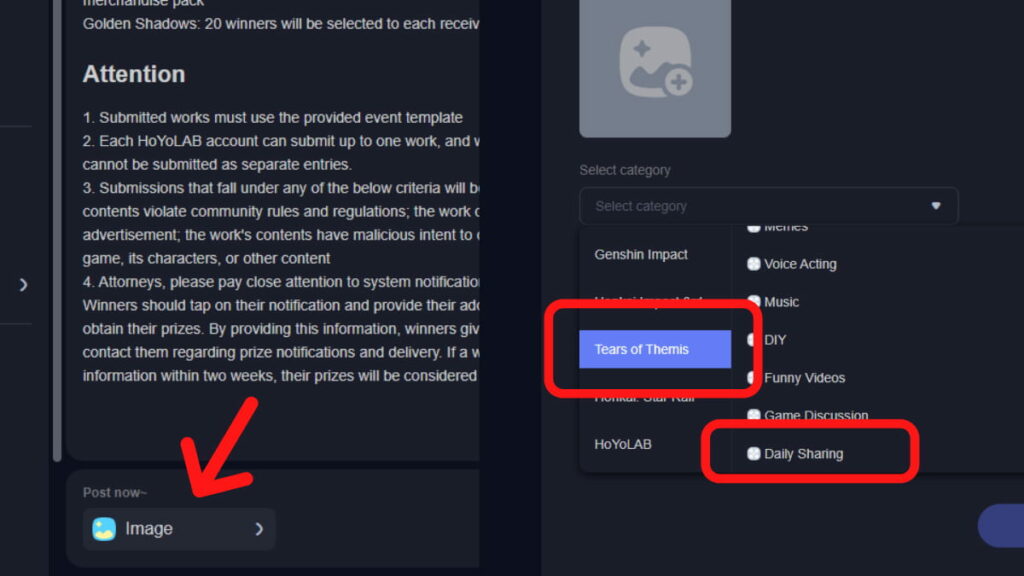 Once your template is ready, click the Image button under the event details to submit your entry. Fill in the required information. Under the category section, make sure to select Tears of Themis and Daily Sharing, or your submission won't be valid. You can only submit one entry. If your entry is a copy of another, it will be considered invalid.
How to Receive Rewards
Only 25 people will win rewards based on a random lottery. Five winners will get a Secrets of the Tomb merchandise pack, and 20 will get 200 S-Chips each. Winners will be contacted via HoYoLAB after May 19, 2022. Make sure to keep your notifications on to claim your prize—otherwise, the reward may be forfeited.
Check out our guide on How to get all copies of the Secrets of the Tomb event R cards in Tears of Themis to score pretty cards for free.