The Tears of Themis Nostalgic Winter event runs from December 6, 2022, to December 16, 2022, and is open to all attorneys. During the event period, you can complete limited-time tasks to claim rewards, including event-exclusive R cards featuring the four male leads.
How to complete the Nostalgic Winter event in Tears of Themis
Head to the event menu and select Nostalgic Winter to open the event interface. You'll be given a list of daily and event tasks, rewarding you with Memorable Photos and Limited-Time Activeness.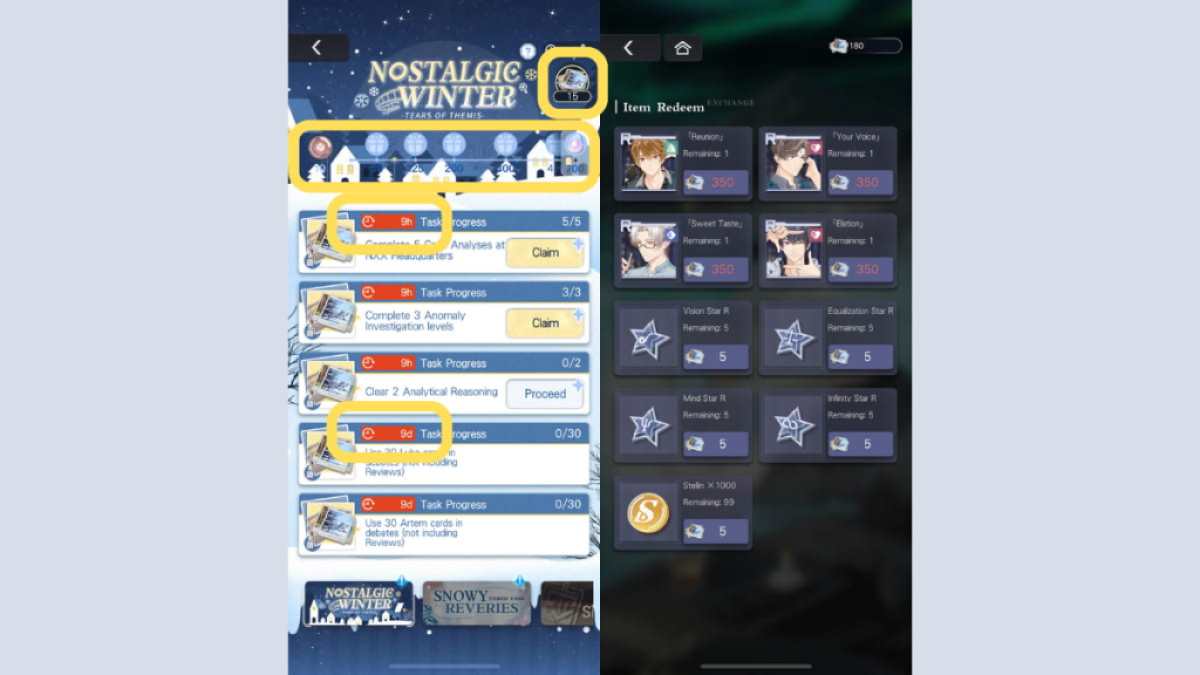 Daily tasks refresh every day at server reset, so we highly recommend prioritizing them, as you can only get all the rewards by consistently doing these dailies. Meanwhile, event tasks can be completed until the event's last day.
Limited-Time Activeness is not a physical event currency but acts like an "EXP bar." It can be used to claim rewards above the task list once you reach milestones from 50 to 700 Limited-Time Activeness. Unclaimed rewards can't be retrieved after the event ends.
Related: Where to obtain Empathy, Logic, and Intuition Impression I, II, III in Tears of Themis
How to get limited R cards in the Tears of Themis Nostalgic Winter event
Click on the Memorable Photos icon on the upper right of the event page to open the exchange shop. You can redeem one copy of each of the R cards for x350 Memorable Photos:
Luke R "Reunion"
Artem R "Your Voice"
Vyn R "Sweet Taste"
Marius R "Elation"
Since you can only get one copy each, make sure to purchase Vision, Mind, Infinity, and Equalization Star Rs from the event shop to Upgrade your R cards.
If you start the event too late and want these limited rewards, you can purchase Memorable Photos from the Event section of the Mall from December 14. However, all unused Memorable Photos will be converted to Stellin at a rate of 1:100 after the event ends.
Check out our guide on How to conduct debates with Luke, Marius, Artem, and Vyn in Tears of Themis here on Pro Game Guides to help you complete even tasks.