Knowing where you are and what is around you is beneficial information for a player. Yet some games go beyond, allowing users to add their own custom map markers to the Map. This enables them to remember to go back to places or track their own priorities. This may leave you wondering if you can add custom map markers in Tower of Fantasy.
How can you customize the map in Tower of Fantasy?
You customize the map in Tower of Fantasy in one of two ways. The first is to press/click the arrow button on the right side of the screen in the middle when on the Map screen. Doing this will open up five custom markers for you to place on the map. Now you only need to click on a vacant part of the map, and a text box will appear in the middle of the screen. Allowing you to choose what pin you want and even add some text about why you are pinning this particular pin. You have a limit of 99 custom markers.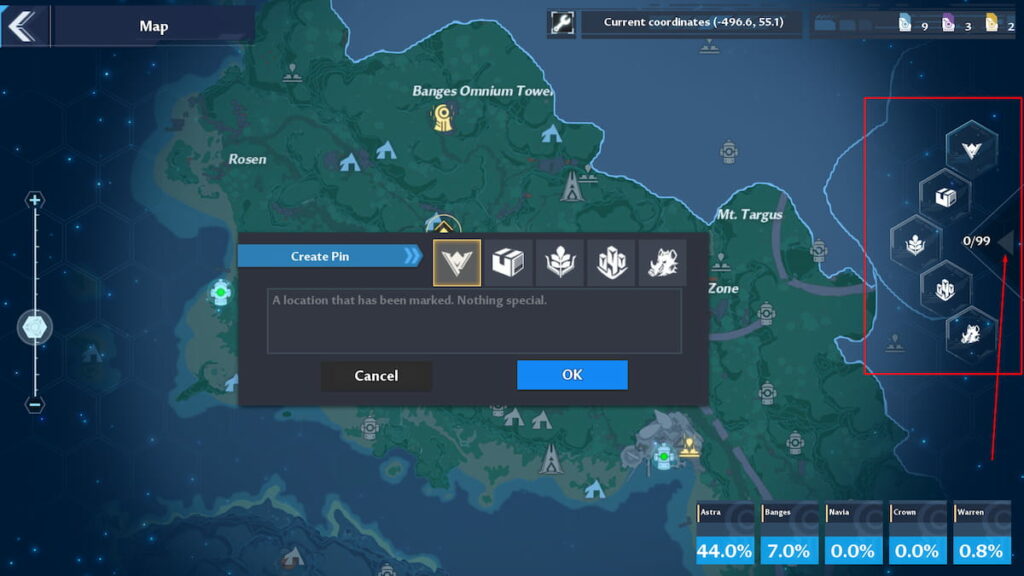 To remove a custom pin, click on the marker and press/click the trash can on the menu that appears.
Related: Tower of Fantasy Codes
The second way to customize the Map is to remove some aspects from the Map, such as Missions, Ruins, Supply Pods, etc.
To remove these certain items from the Map. Open up the Map, and at the top of the screen, to the left of Current coordinates, is a Spanner button. Press this to bring up the six things you can remove from the Map.
Missions
Pin
Ruins
Supply Pod
NPC
Cooking point
Just click on the Hexagon next to each name to remove the green tick and remove it from the Map. To enable it again, click the Hexagon, and it'll return.
For more Tower of Fantasy guides, Pro Game Guides has you covered. Check out What to do at all Exploration Points in Tower of Fantasy or Is the Monthly Pass worth buying in Tower of Fantasy?